•
•
•
•

Action for USS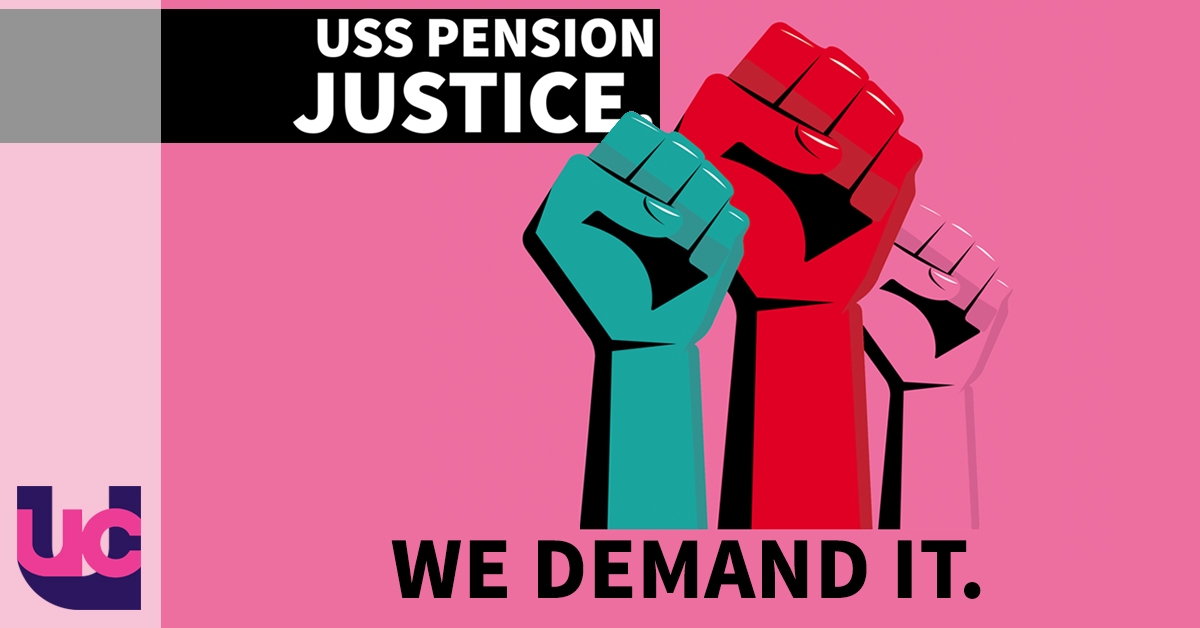 Action for USS
UCU members took serious and sustained industrial action in the face of damaging proposals from the employers which would effectively destroy the USS pension scheme. But the fight is not over!
Demand USS pensions justice!
The employers wanted to end guaranteed pension benefits.
They said your final pension should depend on how your 'investments' perform and not on your contributions.
We said it's wrong to risk our members' futures.
They now want you to pay more for your existing pension.
It's time, once again, to make a stand.
---
Follow the work of the USS national dispute committee, providing a representative steer to the dispute.
Key member updates
10 February 2020
With ten days to go until the next wave of strike action in our higher education disputes, UCU general secretary Jo Grady has answered some of the questions and address some of the issues members have raised and has invited members to join her for a Facebook Live Q&A on Thursday 13 February from 1pm to 2pm.
3 February 2020
Members in affected branches are being called to take 14 more days of strike action during February and March. UCU general secretary Jo Grady said that while members' action has made employers more cooperative, 'we haven't yet seen the movement we need.'.
The full strike dates are:
week one: Thursday 20 and Friday 21 February
week two: Monday 24, Tuesday 25 and Wednesday 26 February
week three: Monday 2, Tuesday 3, Wednesday 4 and Thursday 5 March
week four: Monday 9, Tuesday 10, Wednesday 11, Thursday 12 and Friday 13 March.
29 January 2020
The

results of the reballots in the USS dispute [45kb] are now available.

UCU general secretary Jo Grady said: 'UCU members at 74 universities could walk out this term. We have been clear from the outset that we are prepared to take serious and sustained action to defend pay and conditions, as well as our pensions, and these latest ballot results show that members are just as determined as ever': Staff at another 14 universities can join strike action
UCU's higher education committee meets on 30 January to discuss next steps in the dispute.
22 January 2020
UCU general secretary Jo Grady updates members on negotiations, revealing that negotiators have won a small but significant victory for USS members.
The next meeting takes place on 23 January.
17 January 2020
The USS Joint Expert Panel has released a short statement on the first meeting of the tripartite group.
16 January 2020
UCU general secretary Jo Grady has reported that the first of five meetings scheduled to discuss the recommendations in the second report of the Joint Expert Panel (JEP) has taken place. UCU representatives including Jo met with representatives from Universities UK and from USS and the meeting was chaired by the chair of the JEP, Joanne Segars. For the time being the content of the talks remains confidential, but a fuller update on the matters discussed will be published online within the next week.
Delegates at last December's higher education sector conference on USS voted to schedule 14 further days of strike action over USS, starting on 20 February and spread over four weeks. This schedule will be discussed when the higher education committee meets on 30 January.
You can read Jo's full update here.
8 January 2020
Five January dates have been set for meetings to look at reforming the Universities Superannuation Scheme (USS). UCU representatives alongside those from Universities UK and USS will attend meetings chaired by the chair of the USS Joint Expert Panel (JEP) Joanne Segars. The recent second report from the JEP, looking at the valuation process of USS and the scheme's governance, called for meetings between the different parties.
Ballots opened today at a further 25 branches, bringing the total now being reballoted to 37. UCU general secretary Jo Grady has written to remind members what's at stake.
23 December 2019
It was announced today that talks will take place at the start of the new year to look at USS. UCU says the talks offer a real opportunity to deliver a fairer valuation process, that could reduce costs for universities and members, and could help avert further strikes likely to hit universities in spring.
UCU general secretary Jo Grady told members that the talks represent a significant milestone in negotiations.
18 December 2019
The UCU superannuation working group (SWG) welcomes the publication of the second report of the Joint Expert Panel. SWG has identified many areas requiring further in-depth discussion and said it looks forward to exploring the recommendations including the possibility of facilitating talks.
Also today it was announced that strike ballots were to open at another 25 institutions..
13 December 2019
The

second report [2mb] of the Joint Expert Panel (JEP) is published today.
The panel's report makes a series of interlocking recommendations covering the governance of the scheme, the valuation methodology and the way forward: more on this can be found on the USS JEP website.
UCU general secretary Jo Grady welcomed the report, saying 'we would like to thank the panel members for all their work and also thank those who submitted evidence.
'This second report looks at key issues around the governance of the scheme and makes some strong recommendations that, if implemented, should give scheme members greater confidence about how the scheme is run. We are particularly pleased that the report highlights the importance of mutuality.'
Read the UCU response in full here.
In a message to members Jo said that the report shows that members were right to challenge employers' attempts to downgrade our pension scheme last year.
5 December 2019
UCU revealed today that more than £100,000 has been donated to the UCU's fighting fund since the ballots for strike action at universities opened in September. UCU said the support and generosity from students, sister trade unions and the general public has been overwhelming, and will only help to strengthen members' resolve.
4 December 2019
With eight days of strike action drawing to a close and action short of a strike about to begin, UCU general secretary Jo Grady tells members 'employers should be in no doubt: they badly misjudged us'.
2 December 2019
After meeting and corresponding with our negotiators, Universities UK (UUK) requested a further meeting. Following this meeting the UCU negotiators made the following statement: 'The solid support for the strikes is having an impact and we want to thank members for their continued efforts. At today's meeting we pushed the demands set out in

last week's letter [291kb]. If we are going to move forward, we need vice-chancellors to do more than just acknowledge members' anger on picket line visits. Vice-chancellors need to speak out and press their negotiators to come back to the table with meaningful actions that can actually resolve the dispute. The strikes for Tuesday and Wednesday remain on and we will be meeting with branches at the end of the week at a special conference to discuss the dispute.'
29 November 2019
UCU has

written to the USS employers [291kb] setting out some areas where we want them to commit to meaningful action. The letter, from UCU's says there should be full, collaborative consultation between USS and the USS employers over the technical provisions for the 2020 valuation and therefore the contribution rate. It also says the trustee chair, David Eastwood should recuse himself pending full investigation into his conduct, especially around The Pension Regulator's complaint of misrepresentation by USS and the treatment of Jane Hutton.
28 November 2019
UCU general secretary writes to update members on the strike action and the latest talks with the employers, reporting that they 'are making vague promises about the way they will approach the next USS valuation in 2020, but so far they refuse to put money on the table to cover the contribution increases that are already pricing members out of the scheme'.
26 November 2019
UCU announced that more universities are to be balloted over strike action. These institutions* being balloted over USS are:
Imperial College London
University of Kent
SOAS (simultaneous pay ballot also)
University of Surrey (simultaneous pay ballot also).
Another eight institutions are being balloted over pay at the same time: Leeds Beckett University, Leeds Trinity University, University of Worcester, University of East Anglia, University of Arts London, University of the West of Scotland, Falmouth University, and Northumbria University.
Also today, UCU said Sheffield Hallam University should stop trying to use strong-arm tactics and get back round the negotiating table after the university was accused of trying to students into snitches.
*Institutions updated from initial list
25 November 2019
UCU said that strong shows of support for strikes at 60 UK universities sent a clear message that staff would not settle for increased pension costs: Solid support for strikes sends clear message to universities
24 November 2019
The day before action begins UCU general sceretary Jo Grady says 'We strike to improve our working conditions, but we also know as well as any group of workers that strikes are about education. Let's take this opportunity to remind our students and the wider world how much our work matters'.
21 November 2019
Industrial action confirmed after universities are accused of being 'all spin and no substance' in their response to disputes over pensions, pay and working conditions: University strikes ON after universities refuse to deal with pensions, pay and working conditions
18 November 2019
With one week until the strikes in 46 institutions over USS, UCU general secretary Jo Grady says the best way to make that happen is to be ready to follow through on our threat of strike action and make it as effective as possible: One week from strike action
15 November 2019
FAQs, resources and more in the new strike info centre.
12 November 2019
Employers have just under two weeks to meet us and find a solution to our disputes over USS pensions and pay and equality and Jo Grady makes clear that the ball is in the employers' court.
5 November 2019
Sixty UK universities will be hit with eight days of strike action from Monday 25 November to Wednesday 4 December, UCU announced today: UCU announces eight days of strikes starting this month at 60 universities
UCU general secretary Jo Grady told members 'I am serious about using the powerful mandate you have given the union to get round the negotiating table and achieving a meaningful, lasting resolution': Eight days of strike action called in HE disputes
31 October 2019
UCU members working in UK universities have backed strike action in ballots over both pensions and pay and working conditions: UCU members back strikes over both pensions and pay and conditions
The general secretary, Jo Grady, said that the HE ballot results send a strong message to employers.
28 October 2019
With time nearly up, Jo Grady says every vote counts in the HE ballots.
25 October 2019
With the ballot deadline looming, Jo Grady urges members to beat the 50% threshold.
24 October 2019
national agreements that hold the sector together says the general secretary.
21 October 2019
Jo Grady argues that we need to fight to defend the national agreements that hold the sector together.
17 October 2019
With less than two weeks left to vote in the ballots in higher education branches on USS pensions, UCU general secretary Jo Grady urges members to say no to 'death by a thousand cuts': Give UCU a mandate to resolve the USS dispute
11 October 2019
UCU has expressed concerns about how Jane Hutton has been removed from the Universities Superannuation Scheme and has called on the scheme to release its evidence: UCU concerned about process behind sacking of USS board member
10 October 2019
After worrying leaks from the HE employer's annual conference, the general secretary says it could not be clearer that USS members need to act now and vote yes: Leaks show USS members need to act now
9 October 2019
UCU has urged university employers to 'stop spinning and start talking' on pay and pensions, after the Universities and Colleges Employers Association published a second misleading report within a week down-playing problems with pay and contracts in the sector, while failing to respond to a call for renewed talks from the shadow education secretary, Angela Rayner.
8 October 2019
Shadow education secretary Angela Rayner has said that she 'fully supports' UCU members fighting for fair pay and decent pensions, while calling for urgent talks to try and resolve the disputes.
4 October 2019
UCU has announced it is pursuing investigation into the possibility of legal action against USS Trustee Ltd after a leading pensions QC found that there are grounds to proceed on the basis of breach of trust: Possibility of USS trustee legal action
3 October 2019
Access to UCU's fighting fund will be changed to enable better support for members in the event of strike action being taken as a result of the USS industrial action ballot, UCU general secretary, Jo Grady, has announced: Strike fund support
2 October 2019
We've published an FAQ on the USS dispute and how we've got to where were are now: USS - explained!
For a more indepth review of what's at stake, please watch this presentation by UCU USS negotiator Sam Marsh: USS: what's at stake
30 September 2019
The general secretary announces that the National Union of Students (NUS) has agreed to work with UCU and throw its full weight behind both of our strike ballots: We stand 'shoulder to shoulder' with you. Read the full joint public statement: Joint UCU/NUS statement on the current HE disputes
23 September 2019
With the USS ballot of higher education members now well under way, the general secretary, Jo Grady, explains why we need a resounding 'yes' vote to secure the future of the scheme.
17 September 2019
Vote yes, urges UCU general secretary Jo Grady, so that we can put pressure on the employers to enter into meaningful negotiations to find a long-term solution to the sector's ongoing issues.
12 September 2019
UCU general secretary Jo Grady is touring higher education institutions across the UK this autumn, calling on members to vote YES in both the USS pension ballot and the higher education pay and equality ballot.
6 September 2019
Industrial action ballots confirmed: University strike ballots will open on Monday 9 September
5 September 2019
As the USS and equality and pay-related ballots are due to open in higher education, UCU general secretary updates members on the latest developments and the importance of the ballots.
3 September 2019

New analysis [425kb] reveals staff will lose tens of thousands of pounds in retirement because of a series of detrimental changes made to USS. Read the full story here.
23 August 2019
Employers' strike ban rejected by UCU in pensions dispute
22 August 2019
The likelihood of another round of strikes has increased after universities backed measures that will increase costs for staff in USS: Autumn pension strikes more likely as universities impose higher costs
2 August 2019
Responding to employers' assertions about the USS dispute: UCU has issued branches with an open letter that the national dispute committee (NDC) recommends should be issued publicly to members and university management to help build support for the ballot. Given that the issues at stake in the USS dispute affect all scheme members, whether or not they are members of UCU, we would like to share this message with all USS members.
25 July 2019
The USS annual report shows that satisfaction among scheme members has fallen dramatically: USS member satisfaction plummets
24 July 2019
UCU negotiators have presented proposals at USS JNC for employers to cover members' costs from the 2018 valuation: UCU counter-proposals
22 July 2019
UCU's general secretary-elect, Jo Grady, updates members on the position of the employers on USS and the annual negotiations: Defending our profession
1 July 2019
In her latest message to HE members, UCU's general secretary-elect, Jo Grady, updates on the simultaneous strike ballots over pay and USS planned for September: Simultaneous HE strike ballots over pay and pensions
28 June 2019
UCU's higher education committee has set out a September timetable for a ballot on USS pensions and also for a pay ballot to run at the same time: Industrial action timetable announced
26 June 2019
Professor Jane Hutton has appeared on the Today programme on BBC Radio 4 outlining her concerns about governance failings at USS: Professor Hutton speaks to Radio 4 on USS failings
24 June 2019
Jo Grady, UCU general secretary-elect, has updated members about the Universities Superannuation Scheme dispute and possible further industrial action: USS and further industrial action
21 June 2019
Trinity College, Cambridge faces academic boycott over USS withdrawal decision: Union censures Cambridge's Trinity College in row over pension scheme
7 June 2019
UCU has written to 69 USS institutions warning over industrial action later this year if they do not rule out benefit cuts or contribution increases: Autumn strike warning for universities in USS pensions dispute
23 May 2019
An update on the latest Joint Negotiating Committee (JNC) meeting, the three options proposed by USS to finalise the 2018 valuation and key dates for next steps.
There's also an update from the chair of the USS Joint Expert Panel.
20 May 2019
UCU's Superannuation Working Group (SWG) has produced a report on USS to the higher education sector conference being held during UCU Congress 2019: SWG report on USS
9 May 2019
This update outlines USS's formal response to the employers' stance on contingency contributions, with three proposals for finalising the 2018 valuation: USS proposals for finalising the 2018 valuation

See also: UCU response to pension scheme proposals from USS board
1 April 2019
Report on recent phase 2 meetings from the Joint Expert Panel which considered updates on the 2018 valuation from stakeholders UCU and UUK: Phase 2 meetings of the Joint Expert Panel
13 March 2019
This update seeks to explain as straightforwardly as possible the employers' proposal for contingency contributions and sets out UCU's policy: Further update on USS
13 February 2019
Briefing on the latest USS position alongside a similarly concise recap of the key points so far: The latest news on USS
12 February 2019
Report from the Joint Expert Panel's first meeting which discussed phase two of its work: JEP action points
5 February 2019
The JEP has recently started its second phase of work on the USS valuation and is looking for submissions on the roles and involvement of UCU, UUK and others in the valuation process: call for submissions - Joint Expert Panel (JEP)
1 February 2019
UCU's Superannuation Working Group has appointed Bryn Davies to the Joint Expert Panel (JEP): New USS JEP appointment
24 January 2019
An update on the latest developments on USS, the JEP and the employers: A ten point update on the USS dispute
11 January 2019
UCU is seeking to appoint a new JEP panellist to sit on the JEP as phase 2 of the work commences: UCU Joint Expert Panel vacancy
7 January 2019
UCU branches have been updated on the latest developments with USS and in particular the 'live' technical provisions consultation with employers.
17 December 2018
Members receive an update on the latest USS developments.
14 December 2018
The Pensions Regulator has called upon USS to reach a formal agreement with UUK on how to manage any possible downside from the employers' new commitment to undertake more risk.
23 November 2018
The Universities Superannuation Scheme (USS) has announced that it is to carry out another review of its funding position.
21 November 2018

First Actuarial: three questions on the valuation [1mb]
9 November 2018
Universities UK has said that 'it is clear that there is support from most employers for the JEP's recommendations': Clear employer support for JEP recommendations, says UUK. UCU later called this is a 'hugely important step' for members
31 October 2018
UCU national head of policy and campaigns, Matt Waddup, updates members on the USS dispute and the ongoing response to the first report of the Joint Expert Panel.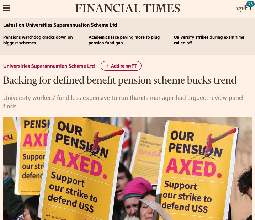 27 September 2018

The Financial Times reports on the significance of the JEP report [768kb] following UCU member action, stating 'the panel's 100-page report made for uncomfortable reading for the key players, including the regulator, which the panel accused of misjudging the ability of the university sector to financially support the scheme'.
21 September 2018
13 September 2018
The joint expert panel (JEP) set up to independently review valuation of the Universities Superannuation Scheme (USS) has delivered its first report: JEP reports on 2017 USS valuation
7 September 2018
5 September 2018
1 July 2018
17 July 2018
9 July 2018
29 June 2018
22 June 2018
Delegates at a special higher education sector conference on the USS dispute held on 21 June passed a number of important motions on the Joint Export Panel and possible future action.
15 June 2018
7 June 2018
The USS Joint Expert Panel has held its first meeting and agreed that initial submissions from stakeholders should be sought on the 2017 valuation and in particular on:
the three tests used by USS
the prudence or otherwise of the assumptions used by USS
the strength of the covenant; and
alternative valuation models and assumptions to those used by USS.
Submissions on these matters or comments for the attention of the Panel are warmly welcomed and should be sent to: submit@ussjep.org.uk
25 May 2018
21 May 2018
18 May 2018
30 April 2018
UCU general secretary Sally Hunt has updated members on USS developments following the decision by UCU members to accept revised proposals from the employers, which includes a significant milestone in UCU's campaign: Significant milestone in defence of USS
18 April 2018
13 April 2018
Consultative ballot result
The result of the members consultation on accepting the latest proposal on ending the dispute from the employers was as follows:

Total balloted: 53,415
Total votes cast: 33,973
Total number valid votes: 33,913
Turnout: 63.5%

Yes to accept the UUK offer 21,683 (64%)
No to reject the UUK offer 12,230 (36%)

In line with the decision of members all current and future industrial action is suspended but the union will keep the legal strike mandate live until the agreement between UCU and UUK is noted by USS.
6 April 2018
4 April 2018
28 March 2018
Update on the branch briefing meeting and Higher Education Committee decision on the latest proposal on USS:
26 March 2018
Sally Hunt writes to members with answers to questions on the latest UUK proposals:
23 March 2018
ASOS continues
Note that members will be consulted by their branches over the detail of the offer, who will then feed back to the Higher Education Committee (HEC) on 28 March 2018. HEC will then decide whether it should be put to a full member ballot. Until then, action continues.
19 March 2018
Final strike day at: University of Edinburgh; Institute of Development Studies; King's College London; Queen Mary, University of London; Ruskin College; St George's, University of London; and the University of Stirling
Elsewhere: ASOS
19 March 2018
Strike Day at: University of Edinburgh; Institute of Development Studies; King's College London; Queen Mary, University of London; Ruskin College; St George's, University of London; and the University of Stirling
Elsewhere: ASOS
18 March 2018
16 March 2018
Strike Day #14
Members at Ulster University and Queen's University of Belfast are not taking strike action on Friday 16 March but action short of a strike continues.
15 March 2018
Strike Day #13
14 March 2018
Strike Day #12
13 March 2018
Strike Day #11
12 March 2018
Strike Day #10
11 March 2018
Talks at Acas resume tomorrow morning and as you would expect, UCU has been busy working over the weekend in preparation. Please continue to participate in the strike tomorrow. Your negotiators are doing an important job and they really need your support. If you are a new member or someone who has not yet visited the picket line why not come down to say hello tomorrow; you will get a very warm welcome.
9 March 2018
There has been constructive engagement and progress on the challenging issues in the dispute. Talks will continue on Monday, although both sides will be working over the weekend. For the avoidance of doubt, the strikes remain on.
8 March 2018
Strike Day #9
7 March 2018
Strike Day #8
6 March 2018
Strike Day #7
5 March 2018
Strike Day #6
4 March 2018
2 March 2018
ASOS Day
1 March 2018
ASOS Day
28 February 2018
Strike Day #5
27 February 2018
Strike Day #4
26 February 2018
Strike Day #3
22 February 2018
Strike Day #2
22 February 2018
Strike Day #1
21 February 2018
On the eve of the biggest HE strike action ever Sally Hunt explains that the employers have left us with no choice: We have no choice: strike together for fair pensions

20 February 2018
UCU general secretary Sally Hunt appears on the BBC Radio 4 Today programme to explain the USS strike action: Strike action warnings on BBC Radio 4
UCU estimates that over 1 million students will be hit by the action with 575,000 teaching hours lost: Over 1 million students will be affected by university pensions strikes
19 February 2018
In her latest message to members UCU general secretary Sally Hunt talks about 'the letter' they have received from employers in recent days: Let talk about 'the letter'
15 February 2018
USS strikes force cancellation of Southampton science and engineering event
10 February 2018
'Stop spinning and start talking' employers told: Sally Hunt warns time is running out to stop USS pensions strikes at 61 universities
9 February 2018
'I don't cross picket lines' says Manchester Central MP Lucy Powell as she cancels lecture at University of Manchester.
8 February 2018
With less than two weeks to go until the first wave of strikes branches are now building for action.
7 February 2018
Sally Hunt reports there is still no sign of the employers moving away from their hard-line position of wanting to remove the right to a guaranteed pension: Employers refuse to engage
1 February 2018
What to tell students and your employer, financial support and the likelihood of negotiations: Four questions about the strikes
30 January 2018
The National Union of Students has sent its support to UCU ahead of the wave of beginning of the strike action: National Union of Students' message of support to staff ahead of USS pension strikes
29 January 2018
Strike dates confirmed: UCU announces 14 strike dates at 61 universities in pensions row
24 January 2018
UCU's general secretary Sally Hunt has updated members on the implications of the latest negotiating meeting: Members updated on hard-line employer stance
23 January 2018
Strikes now look increasingly likely after talks end without agreement and the chair sides with the employers' representatives and their plans to transform the scheme from one with a guaranteed retirement income to a defined contribution scheme. UCU says strikes now look like a reality as pension talks end
22 January 2018
The USS ballot result has now been counted. In a message to UCU members, UCU general secretary Sally Hunt said, 'The results provide a very strong mandate for UCU to continue the fight for a decent, guaranteed pension': USS ballot results announced
UCU's higher education committee congratulated members on the mandate to defend pensions and agreed escalating strike action in the event of an unsatisfactory outcome to the talks: USS strike action agreed
18 January 2018
A letter from nearly 1,000 professors on the importance of USS has been published in the Times Higher: 1,000 professors on the importance of USS
17 January 2018
Sally Hunt again asks vice-chancellors to use their influence to change the national position taken by Universities UK: Sally Hunt's letter to vice-chancellors

16 January 2018
4 January 2018
New year update to USS members from the UCU general secretary on the extended negotiation timetable and the approaching ballot deadline.
19 December 2017
USS negotiations timetable extended

14 December 2017
Your dispute questions answered, including: the impact of proposals, impact analysis, the significance of 18 December, the state of current negotiations, affordability, breakthrough prospects, imposition implications, the 50% turnout requirement, replacement ballot papers, new joiners and voting, and what form of action is likely?
12 December 2017
Update on employers' intransigence
7 December 2017

Letter: pensions regulator to Universities UK, 7 Dec 2017 [114kb]
5 December 2017
Shadow education secretary raises concerns over pension changes for 'brilliant university staff'
National Union of Students calls for negotiations in USS pensions dispute
4 December 2017
Form for requesting duplicate ballot paper goes online
30 November 2017
Overhaul of university pensions could leave staff £200,000 worse off in retirement
See also:

A comparison of TPS with USS with and without a salary threshold [1mb]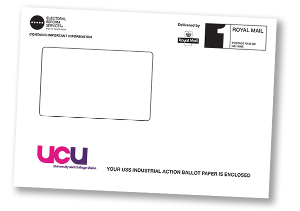 Look out for your ballot papers 29 November 2017
Voting papers are now being sent out in the ballot for industrial action over proposals to end guaranteed pension payments in USS. They should reach members over the next few days. Please look out for your ballot envelope.
You can

read the statement that accompanies the ballot here [131kb].
28 November 2017
University vice-chancellor breaks rank to criticise proposals for staff pensions - see also the statement from the University of Glasgow
27 November 2017
UCU general secretary Sally Hunt has written to members in USS ahead of the ballot papers being sent on 29 November: read her message here
17 November 2017
UCU general secretary Sally Hunt updates members on the employers' alarming proposals for the future of the scheme which would mean the effective end of USS as we know it, and Sally reports is 'the worst proposal I have received in twenty years of representing university staff': read her full message here
See also:
Last updated: 11 February 2020