•
•

Equality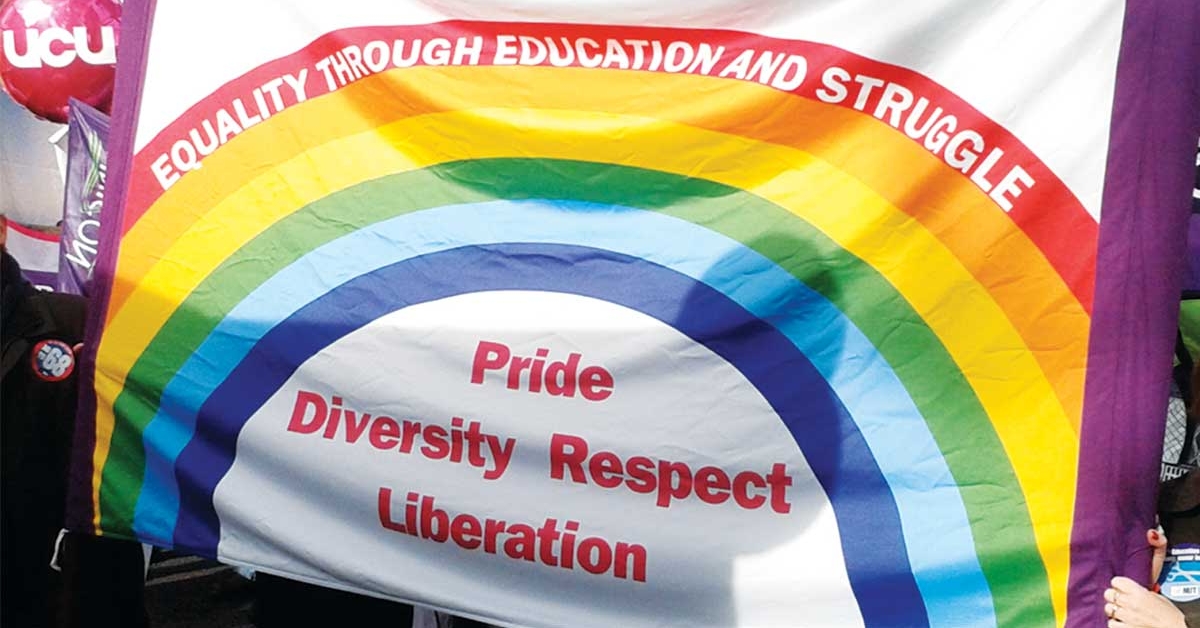 Equality
UCU has put equality at the heart of its activities on behalf of its members.
Many UCU branches have equality officers who can assist you if you have any concerns on an equality-related issue. Otherwise your UCU departmental rep or other branch officer will be able to help. To find out if there is an equality officer at your branch and how to contact them ask your departmental rep or branch secretary/president. If you don't know how to contact any local UCU representative contact your regional office.

Important dates in the equality calendar
The local contact finder will give you details of the relevant branch officer for your institution.
---
Solidarity statement with footballers experiencing racism
UCU condemns the racist abuse which has been directed towards Marcus Rashford, Bukayo Saka, Jadon Sancho and other members of the England national football squad in the days following Sunday's European Championship final.
Racism has no place in our society or our workplaces, but this week's events are a stark reminder that Black people and communities across the UK continue to receive racist abuse on a regular basis.
UCU sends our solidarity to all those experiencing racism and reaffirms our commitment to tackling racism in all its forms.
Read UCU's guide to building anti-racist workplaces
---
Joint statement on the Sewell report
Responding to the final report of the Commission on Race and Ethnic Disparity, the UCU has supported a joint statement with NUS and sister unions which describes the findings as an 'insult' to those facing racism in Britain every day. The statement, which was informed by UCU's Black Members' Standing Committee, refutes the report's assertion that Black communities do not face structural or institutional racism and points to a wide range of evidence of how systemic racism is manifested across the UK. You can read the full statement here.
---
Capturing migrant members' experience of the immigration system
UCU is currently supporting some research into migrants' experiences of the UK immigration system; if you'd be willing to be interviewed for this, or for similar research in the future, please email here.
---
Pregnancy & maternity (redundancy protection) bill
UCU has joined with Maternity Action and 19 other organisations and trade unions to call on business secretary Kwasi Kwarteng to act swiftly upon the Women & Equalities Committee recommendation to adopt Maria Miller's pregnancy & maternity (redundancy protection) bill and speed it into law.
---
Insecure labour: the realities of insecure work for pregnant women and new mothers
UCU has worked with Maternity Action and UNISON on a joint project that explores the impact of insecure work on the rights of pregnant women and new mothers at work. This has resulted in a report with a series of recommendations, launched on 25 November 2020. Based on interviews with ten women in precarious work, it examines the lived experience of pregnant women seeking to negotiate a safe working environment, a secure income and fair treatment. It also shines a light on how the pandemic has exacerbated pre-existing inequalities and made life significantly more difficult for pregnant women in insecure work. You can download the report here.
---
Building anti-racist workplaces: a short guide for UCU branches
In recent weeks, many institutions have declared support for George Floyd whilst reiterating their anti-racist credentials. While these statements are welcome, it is more important than ever for branches to consider how they can challenge racism at all levels and work to create anti-racist environments.

UCU has produced a short guide for branches [288kb].
---
Oppose plans to shelve reform of the Gender Recognition Act
UCU has a proud history of enabling members to self-identify, including when it comes to their gender. As outlined in our statement on trans inclusion, UCU supports a social model of gender recognition which recognises that gender is not solely defined by the sex assigned at birth. We are champions of equality and welcome the increased visibility and empowerment of trans and non-binary people in our society.
We are therefore concerned by recent reports suggesting the government intends to shelve long-awaited reforms to the Gender Recognition Act. These reforms would make it easier for trans and non-binary people to obtain a Gender Recognition Certificate that legally acknowledges their gender identity.
UCU's policy is clear: there should be no delay in reforming the Gender Recognition Act. We're not alone in this view - 70% of the 100,000 responses to the government's consultation supported progressive reform.
We are asking members to help us support trans rights and put pressure on the government by writing to your MP and asking them to push for these much-needed reforms to be taken forward.
---
UCU - standing proudly against racism
Yet another black person has been killed at the hands of the police in the USA. The events taking place there are the latest bloody chapter of centuries of racism and oppression of black people. The magnitude of his death can be felt across the world by black people who experience the violence of state and other racism every day.
Here in the UK, as in the USA, black communities face structural inequalities resulting in disproportionately high numbers dying as a result of Coronavirus, unprecedented levels of unemployment and ongoing race discrimination in the workplace.
UCU stands in solidarity with George Floyd and we send our sincerest condolences to his family and loved ones.
UCU stands in solidarity with protestors across the world seeking to address generations of injustice.
UCU stands against racism.
UCU stands on the side of justice.
UCU stands for #blacklivesmatter.
From the Coronavirus pandemic to the economic crisis we are facing, it is evident that inequality and systemic racism is on the rise. You can find a range of tools to challenge all forms of discrimination on the UCU's equality webpage.
How you can help:
---
UCU urges the government to scrap the immigration health surcharge
Following the government's decision to exempt NHS and care workers from the Immigration Health Surcharge, the Migrant Members' Standing Committee has published a statement calling for the government to go further and scrap the charge entirely. The statement outlines how the £400 a year fee is a punitive double tax on migrant staff and calls for it to be abolished alongside other up-front costs for health care as part of a move towards a more humane immigration system.
You can read the full statement here:

MMSC statement on IHS May 2020 [262kb]
Read UCU's press statement, including details of a letter to the Home Secretary on this issue, here: Immigration health surcharge should be scrapped, urges UCU
---
UCU statement on anti-Semitism and academic freedom
UCU has been concerned to learn of a recent incident on social media where a link was made between a Jewish member, Rosa Freedman, and Holocaust denial. UCU condemns this incident and reaffirms its commitment to tackling anti-Semitism and all other forms of discrimination and prejudice.
UCU is a staunch defender of academic freedom, and believes the ability to challenge received wisdom and discuss controversial topics is of crucial importance to our education system, our union and our democracy.
At the same time, the union recognises that academic freedom is inextricably bound up with other human rights and civil liberties. Academic freedom offers important protections, but it also comes with the responsibility to respect the democratic rights and freedoms of others.
UCU is committed to championing equality, celebrating diversity and opposing all forms of prejudice, discrimination, harassment and oppression. As outlined in our statement on academic freedom, UCU's rules clearly require all members to refrain at all times from harassment, prejudice and unfair discrimination whether on the grounds of sex, race, ethnic or national origin, religion, colour, class, caring responsibilities, marital status, sexuality, disability, age or other status or personal characteristic.
As a diverse and inclusive union, we are committed to encouraging respectful discussion on important and sometimes controversial issues, while simultaneously working to protect and advance the rights of those who are oppressed and marginalised in our society. UCU will continue to work towards a world where everyone, regardless of their personal characteristics, can live and work without fear of harassment, discrimination or marginalisation.
---
UCU update on sexual harassment
This year's Heart Unions week has reminded us that sexual harassment is a shamefully widespread problem faced by workers across the UK. Recent statistics show that half of women and two-thirds of LGBT+ people have reported experiencing sexual harassment in the workplace. Sexual harassment and violence are endemic across society; the trade union movement and the sectors we organise in are unfortunately not exempt.
UCU recognises that those who experience violence and harassment face huge challenges, often including pressure from perpetrators and employers to keep quiet about their experience. This is especially true for those who experience sexual harassment and violence directly, but can also be the case for those who witness harassment or support students and colleagues to speak out about their experiences.
All those who experience or are affected by sexual harassment and violence have a right to be listened to and supported. The union is fully committed to ensuring there are safe, fair and accessible systems in place to provide as much support as possible - both in the workplace and in the union.
That starts with making sure members can be confident about the support UCU will provide if they want to raise a complaint about sexual harassment. We acknowledge that, unfortunately, this hasn't always been the case in the past but we are committed to learning and improving where we can.
To that end, the union is currently undertaking a wide-ranging review of how we support members who have experienced or are impacted by sexual harassment. In the coming months we will be drawing on the expertise of organisations including Acas and the 1752 Group to take forward this work, so we can learn from best practice and ensure our approaches - including the union's own disciplinary procedures - are as accessible and supportive as possible.
We also need to redouble our efforts to tackle sexual harassment in the workplace. UCU has a range of resources and training to support members and branches, but we will also be further developing our work in this area through a new task group on sexual misconduct, harassment and violence. The task group is a new initiative that will draw on the wide experience of members to explore these issues in more depth and consider how we can tackle them effectively. We will be announcing more details about this in the coming weeks.
The union stands in solidarity with all organisations working to tackle sexual harassment, and is supporting the TUC's This Is Not Working campaign for a new duty on employers to take steps to prevent sexual harassment in the workplace. If you haven't already done so, please take a moment to sign the petition calling on the government to act.
If you have been affected by sexual harassment or violence and would like advice or support you can contact your branch, email SHsupport@ucu.org.uk or call UCU's dedicated helpline on 0800 138 8724.
---
Supporting members to challenge discrimination and harassment
Being subject to discrimination can be incredibly upsetting and undermining. It can feel like a personal attack and those subject to it can feel isolated and vulnerable. It is important that UCU representatives and members work together to identify what treatment is discriminatory and challenge employers where that is the case.
Discrimination takes many forms and people respond differently to how they have been treated in a variety of circumstances.
This toolkit is designed to help you and your UCU representatives identify that what you have experienced amounts to discrimination, how to gather relevant evidence and the practical steps and procedures to be followed through internal processes and, if applicable, to the employment tribunal stage. Not all cases will result in an employment tribunal claim. Many claims of discrimination can be resolved through the internal procedures and this guide will ensure that you and your UCU representatives have put your best case forward.

Challenging discrimination - how to build an effective case: a toolkit for UCU members [705kb]
---
Trans inclusion
UCU's position on trans inclusion
This document presents UCU's position on trans inclusion. The position is based on policy made at UCU annual congresses and explores key concepts which inform the position such as intersectionality and academic freedom:

UCU's position on Trans inclusion [164kb]


UCU's position on Trans inclusion [69kb]
UCU supports trans workers' rights and, as champions of equality, we welcome the increased visibility and empowerment of transgendered and non-binary people in our society. It is our responsibility to promote equality and ensure the provisions of the Equality Act are implemented and adhered to by our members and in the sectors where we organise. This is also written into our rules. Our rules commit us to ending all forms of discrimination, bigotry and stereotyping.
UCU has a long history of enabling members to self-identify whether that is being black, disabled, LGBT+ or women. At UCU's annual congress and further and higher education conferences, policy on gender identity has been developed over many years.
UCU supports the right of all women (including trans women) to safe spaces and the continuation of monitoring that can help identify discrimination against women, men and those who identify as non-binary. UCU also supports a social, rather than a medical, model of gender recognition that will help challenge repressive gender stereotypes in the workplace and in society.
The fight for women's rights is far from won. For too many women, sexual harassment and domestic violence is a daily reality, alongside unequal pay and other forms of discrimination at work, including maternity pay and leave. UCU will continue to campaign hard to protect the rights of working women.
UCU is aware that the debate around gender identity has in some quarters become bitterly divisive. Our strength is to bring members together and to build bridges rooted in our values of equality. UCU opposes any violence, intimidation, bullying or disrespect towards any group that faces discrimination, and from whichever quarter. Trans people, including students and staff in tertiary education, face physical and verbal abuse, prejudice and discrimination, marginalisation and misrepresentation. UCU is fully committed to providing practical support and policy guidance for reps and trans members in challenging discrimination and harassment.
---
Dying to work
Many people get a serious illness at some time during their working lives, often returning back following a period off work for treatment and to recuperate. However, for many people, the situation is different if they have been diagnosed with a terminal illness. Currently, a person diagnosed with a terminal illness is not classified as having a protected characteristic and therefore may have limited legal protection against employers dismissing them due to an illness.
The TUC's 'dying to work' campaign is calling for additional employment protection for terminally ill workers and to implement a terminal illness policy which would ensure that all employees would not risk losing their job along with the financial security of their families after receiving a terminal diagnosis. In addition, the campaign is calling for terminal illness to be made a 'protected characteristic'.

Read our briefing paper on the campaign here [651kb]
You can order campaign packs by emailing contact@dyingtowork.co.uk
---
Challenging far right activity - Who are Generation Identity?
Written by UCU activists for Stand up to Racism, this insightful report is vital reading for everyone on the dangers of far right activity on university and college campuses.

Challenging the rise of the far right [694kb]


Challenging the rise of the far right [1mb]
---
Mental health
Members who may need mental health support or advice will face their own unique challenges and many may need little or no changes to their working environment. However, understanding their needs and being able to advise and support members is paramount to ensuring that the stigma, stereotypes and discrimination associated with mental health are addressed.
Branches are encouraged to work with campus unions (where possible) to adopt the Mental Health Charter which has been endorsed by the Disabled Members' Standing Committee. The charter is a visible demonstration of our continued commitment to provide mental health support to members and reps in the workplace.
Branches are also reminded of UCU resources and training courses on supporting members and reps including:
guidance, briefing and toolkits documents
One in Four - a briefing on mental health at work
supporting members with mental health conditions and issues
mental health awareness training - www.ucu.org.uk/training
advice for reps - members who have feelings of despair
Education Support provides free confidential 24/7 counselling and independent advice for UCU members. Telephone 08000 562 561 or visit their website at www.educationsupport.org.uk.

Mental Health Charter - providing for a healthy workplace [401kb]


Mental Health Charter final Oct 2018 [311kb]


World Mental Health Day 2018 [324kb]
---
Toolkit - a strategic approach to gender-based violence prevention in Scottish higher education institutions
The University of Strathclyde has produced a toolkit, 'Equally Safe in Higher Education', with support from the Scottish government. This valuable and practical collection of university specific materials provides a free resource for all universities to utilise and apply to their own institutions. It encourages and embeds a strategic approach for the prevention and eradication of all forms of violence against women and girls.
The toolkit (which has been developed by UCU members amongst others), plus other resources, is now available here.
---
Equality and policy unit
UCU has a national team of staff with expertise and involvement in the whole equality agenda. They implement the policies and priorities determined by members through the democratic lay structures'.
If you have a general equality query, or to join one of our equality network mailing lists (black, disabled, LGBT+, migrant and women & members) contact eqadmin@ucu.org.uk
If you think you might be interested in becoming a UCU equality officer you can find out more about what is involved on the Equality reps page.
---
About UCU's equality work
There are advice leaflets for members on various types of discrimination, bullying and harassment in the getting support section of this website.

Resources and guidance for UCU equality officers and activists can be found at
Equality advice and guidance
Equality research and policy
Getting involved in events
Equality Events
If you have a general equality query, contact eqadmin@ucu.org.uk
UCU has negotiated national equality agreements in both HE and FE (see pay and conditions section) which branches/LAs strive to get implemented locally. The National Equality and Policy Unit (see above) supports branches/LAs and regional offices on equality issues and work to influence government policy on equality.
The union provides many opportunities for members to become involved in our equality work. UCU organises events specifically for black, disabled, LGBT+, migrant and women members. We also have email lists for each of these groups which you can join by emailing eqadmin@ucu.org.uk.
Helping out at a local level is a great way to promote equality at your workplace - you don't necessarily need to become an equality officer, just an offer to circulate newsletters or put up posters for example will be appreciated. See How do I get involved? for more information. If you do think you might be interested in becoming a UCU equality officer you can find out more about what is involved on the Equality reps page.
UCU policy on equality is determined democratically by our members,
While our prime concern is to fight for greater equality at work, we also strive to campaign against injustices members face in other areas of their lives, whether on grounds of sex, race, disability, sexual orientation, gender identity, being a migrant, religion or belief, age or any other aspect of identity which can lead to discrimination.
---
Support
If you are experiencing discrimination or harassment at work see the Equality advice and guidance for advice on getting support.
If you have a problem and need your union's help, your first step should always be to contact your local branch.

Our dealing with problems page offers some basic advice on resolving problems at work. Please be aware that time limits can apply, so please don't delay if you need to raise an issue.
---
Getting involved in equality
The UCU equality conference is held each year in November/December. The current format is for the conference to include four separate sessions for black members; disabled members, LGBT members and women members. During those sessions, the conference will elect members to the four national equality standing committees. These are:
Black Members Standing Committee (BMSC)
Disabled Members Standing Committee (DMSC)
LGBT+ Members Standing Committee (LGBT+MSC)
Migrant Members Standing Committee (MMSC)
Women Members Standing Committee (WMSC)
There are 12 members of the BMSC, DMSC, LGBT+MSC and MMSC and 15 members of the WMSC.
The main objectives of each committee is to advise and make recommendations to the National Executive Committee of the union on issues specific to the members whom they represent.
For example:
the BMSC is advising the NEC on actions and initiatives that will ensure Black members are visible in all aspects of the union's work including establishing regional networks
the DMSC has advised the NEC on reasonable adjustments at work for disabled workers
the LGBTMSC has advised the NEC on the issues for LGBT+ staff working abroad
the MMSC advises NEC on issues for migrant staff
the WMSC is advising the NEC on the impact of sexual harassment at work.
The committees also plan the agenda for their conference every year and also participate in the TUC national equality conferences. The committees can also put motions to UCU Congress and the sector conferences which ensures the issues facing equality groups are visible in our core campaigns and policies. Members of the committees are also encouraged to participate in their branches and regions so equality knowledge and expertise is shared across the union.
To be on the committees you must self-identify as belonging to that equality group. For example, to be on the DMSC, you must self-identify as a disabled worker. All levels of experience of being active in the union are welcome as the committees provide support and guidance to all members, working together collectively.
To find out more, please contact a member of the Equality and Policy team who would be happy to speak to you. Please email: eqadmin@ucu.org.uk
The annual young members' conference is open to any member aged 35 or under. The conference does not have decision making powers and is non-resolutionary but aims to bring younger members together and showcase campaign work and resources available. For further information contact campaigns@ucu.org.uk
Find further information on our work for young members here.
UCU via its regional structure has been establishing regional retired members' branches.
National Executive Committee
Women members
There are a minimum number of NEC seats that must be filled by women. The total number of seats a geographical constituency has on the NEC depends on its size, but of these at least one quarter to one third must be filled by women. This quota also applies to the UK-elected HE and FE seats. Of the eleven equality seats on the NEC elected directly by all members, three of these seats are for representatives of women in HE, and two for women in FE.
Black members
Of the eleven equality seats on the NEC, two are for representatives of black members, one of which must be a woman.
Disabled members
Of the eleven equality seats on the NEC, two of these are for representatives of disabled members. One must be from further education and one must be from higher education.
LGBT members
There are eleven equality seats on the NEC, two of which are for representatives of lesbian, gay, bisexual and transgender members, one from further education and one from higher education.
Migrant members
There are eleven equality seats on the NEC, two of which are for representatives of migrant staff.
Last updated: 10 August 2021