•
•
•
•

Disability History Month
Disability History Month
Disability History Month runs from 22 November to 22 December every year.
Disability History Month is supported by a wide range of disability groups, unions and voluntary organisations, and aims to promote disabled people's rights and their struggle for equality now and in the past.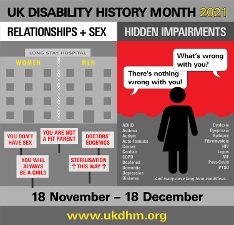 The theme for this year's disability history month is 'Disability: Leadership, Research and Culture'. The focus will be on disabled leaders throughout history and their struggle for acceptance.
Events about disability will be held around the UK and further information can be obtained from http://ukdhm.org
---
Day of action for disability equality in education
UCU will be holding a day of action for disability equality in education which will kick off our action for Disability History Month 2019.
Visit www.ucu.org.uk/disabilityequality for further information on how to get involved.
---
Previous year's themes
Disability History Month theme for 2018
UKDHM 2018 will focus on disability and music.
The aim is to explore the links between the experience of disablement in a world where the barriers faced by people with impairments can be overwhelming. Yet the creative impulse, urge for self expression and the need to connect to our fellow human beings often 'trumps' the oppression, as disabled people have faced, do face and will face in the future. Each culture and sub-culture creates identity and defines itself by its music. 'Music is the language of the soul. To express ourselves we have to be vibrating, radiating human beings!' Alasdair Fraser.

Disability History Month 2018 [2mb]

Disability History Month 2018 [3mb]

Disability History Month poster [46kb]
UCU disabled members' took part in a photo montage at the annual Disabled members' conference in December 2016 to mark Disability History Month:

Disability History Month 2016 - member montage [2mb]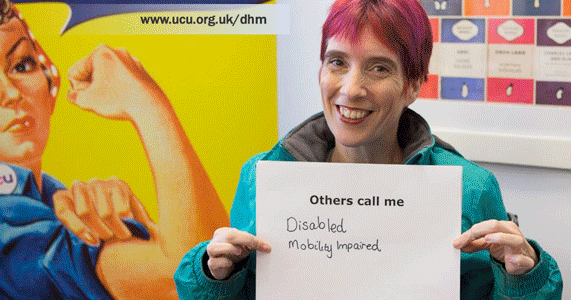 The challenges
Achieving equal rights has happened because disabled people have organised through their trade unions, community groups and organisations. These rights are now under attack because of the huge cuts in public spending and blatant ideological attack on benefits which support disabled people to work or live with dignity without work. Some disabled people are prevented from working because of the negative attitudes and prejudice of employers. The Disability History Month helps support UCU's priority of equal and fair treatment at work and our wider agenda of equal rights in all aspects of our lives.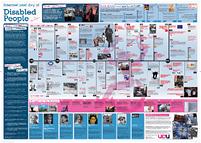 UCU marked Disability History Month 2010 through our disability wallchart.

International Day of Disabled People - UCU wall chart [4mb]
UCU has also produced a film as a contribution to Disability History Month). We have aimed to make this film accessible to all members and welcome any feedback. Please use this film to commemorate disability history and as a trade union and teaching resource to raise awareness of the importance of the social model of disability.
Please send any comments to Sharon Russell, Equality Support Official for Disability
Last updated: 14 January 2020