•
•
•
•

Holocaust Memorial Day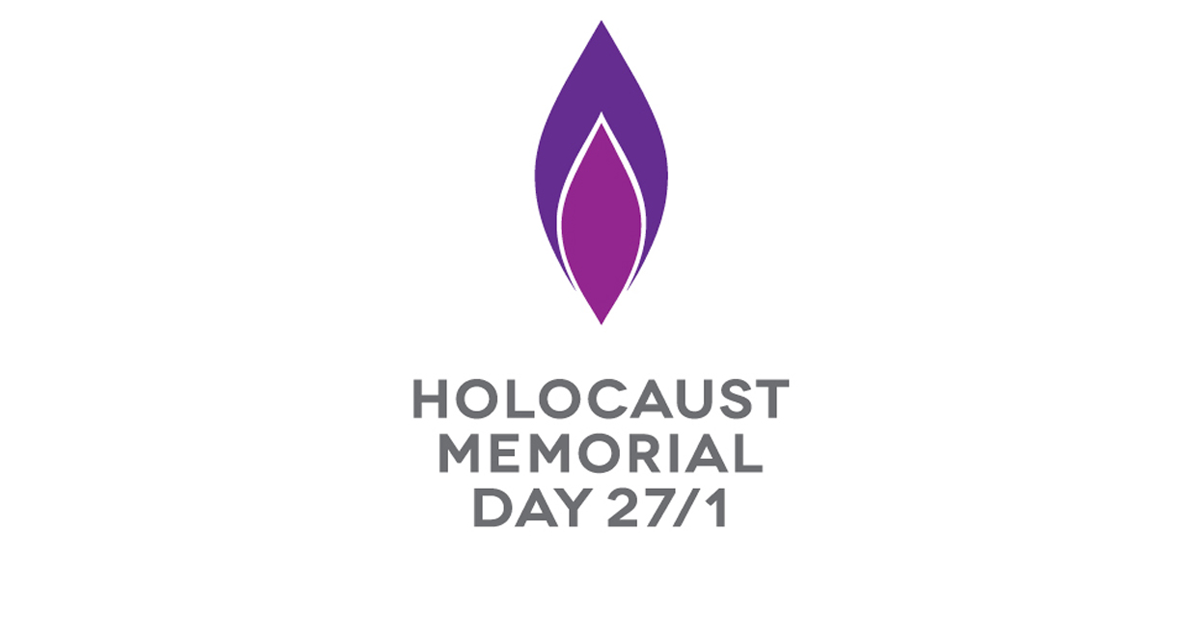 Holocaust Memorial Day
UCU commemorates Holocaust Memorial Day (HMD) observed annually on 27 January. It does so in memory of the six million Jews murdered in the Holocaust and the millions of people killed by Nazi persecution and in subsequent genocides in Bosnia, Cambodia, Darfur and Rwanda, and in order to challenge hatred and persecution in the UK today.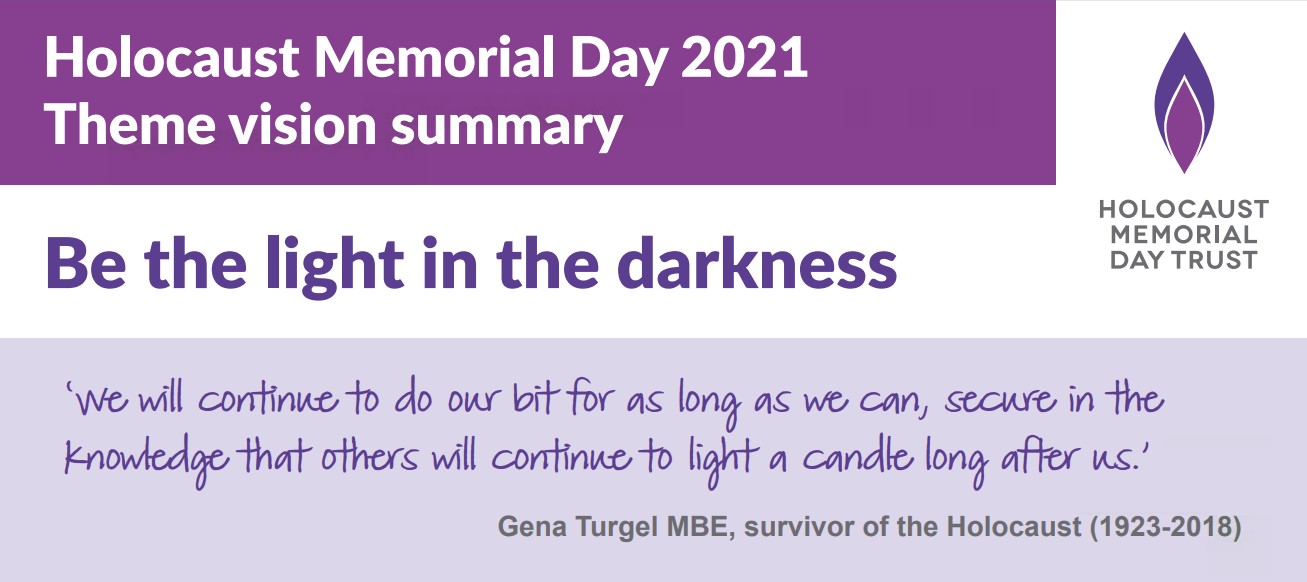 Take part in the UK Holocaust Memorial Day 2021 digital ceremony

This year the Holocaust Memorial Day Trust will hold its first fully digital ceremony. The ceremony will take place at 7pm on Wednesday 27th January - you can register here. At 8pm, join people across the country in lighting a candle in your window - to remember all those murdered in the Holocaust and subsequent genocides, and stand against prejudice and hatred today. Upload a photo of your candle on social media, using the hashtags #HolocaustMemorialDay #LightTheDarkness
The theme for Holocaust Memorial Day 2021 is 'Be the light in the darkness'. This theme asks us to consider different kinds of 'darkness' - from identity-based persecution to misinformation and denial of justice; and different ways of 'being the light', for example, resistance, acts of solidarity, rescue and illuminating mistruths.
The theme encourages everyone to reflect on the depths humanity can sink to, but also the ways individuals and communities resisted that darkness to 'be the light' before, during and after genocide.
Increasing levels of denial, division and misinformation in today's world mean we must remain vigilant against hatred and identity-based hostility. Rapid technological developments, a turbulent political climate, and world events beyond our control can leave us feeling helpless and insignificant. The utterly unprecedented times through which we are living currently are showing the very best of which humanity is capable but also - in some of the abuse and conspiracy theories being spread on social media - the much darker side of our world as well.
For further information about the theme for this year and to find out how you can get involved, please visit the Holocaust Memorial Day website.
We are encouraging all members to take part in the national digital ceremony at 7pm - you can find out more and register here.
Please let us know how your branch will be commemorating the day by emailing us at eqadmin@ucu.org.uk. You can find a range of resources to support your local events below.
UCU films to commemorate the Holocaust
UCU Holocaust Memorial Day Commemoration (2013)
Our award-winning film, produced to commemorate Holocaust Memorial Day 2013, provides personal testimonials of the Holocaust.
The film was accompanied by a short publication of testimonials by UCU members and others who survived genocides in Armenia, Bosnia, Cambodia, Darfur and Rwanda

Holocaust Memorial Day: UCU member testimonials [2mb]
Journeys to Safety: Memories of the Kindertransport (2014)
A short UCU film produced to commemorate Holocaust Memorial Day 2014. Prior to World War II, many children made journeys through Europe to escape the Nazis and the growing wave of anti-Semitism. The memories of those who travelled to safety as part of the Kindertransport programme are shared. The film also marks the 75th Anniversary of the Kindertransport programme (1938 - 2013).
How can life go on - Holocaust Memorial Day (2017)
Our short film for Holocaust Memorial Day 2017 provides a moving testimony by John Fieldsend, a Kindertransport child, reading the final letter, he and his brother received from his parents, after the war had ended.
---
Other available resources
The Paths to Genocide
Download the 10 Stages to Genocide here

10 Stages to Genocide [459kb]
UCU anti-semitism leaflet
UCU is committed to combating anti-semitism. It has produced a leaflet which has been revised in January 2015 on the subject for branches to use, which you can download below, or request a hard copy from eqadmin@ucu.org.uk.

UCU - challenging anti-semitism leaflet [67kb]
Holocaust Memorial Day offers an opportunity for reflection on past atrocities and the chance to come together to create a safer, better future. By focusing on memory, the theme will also enable us to challenge those who seek to deny the Holocaust and subsequent genocides.
Bosnian genocide
To commemorate the 20th Anniversary of the Bosnian genocide (1995-2015), we produced a short publication outlining the events that led to the murder of around 8,000 men and boys. The single largest mass murder in Europe since 1945:

Keep the memory alive: UCU commemorates the 20th anniversary of the Bosnian genocide [2mb]
Remembering Rwanda
To commemorate the 20th Anniversary of the Rwandan genocide (1994-2014), we produced a short publication outlining the events that led to the slaughter of an estimated 1 million Tutsis and moderate Hutus over a period of 100 days from 7 April to 16 July 1994. The testimonial of Jean Bosco Ngabonzima delivered to UCU members in 2011 has also be reproduced.

Remembering Rwanda: UCU Holocaust Memorial Day 2014 [187kb]
Reading/viewing materials

Holocaust Memorial Day suggested reading [214kb]
Holocaust Memorial Day wallchart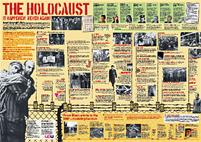 The UCU Holocaust Memorial Day wallchart has been brought up to date and includes new sections about the recent fight against fascist organisations like the BNP and EDL. This resource can be used in your institution to educate against the dangers of anti-Semitism, fascism and racial discrimination.

Holocaust Wall Chart [1mb]
Links to external organisations
Holocaust Memorial Day Trust
Holocaust Educational Trust
The Wiener Library
The Jewish Museum
The Holocaust Centre
SURF Survivors Fund
Last updated: 20 January 2021