•
•
•

Wales FE: overworked & underpaid
Wales FE: overworked & underpaid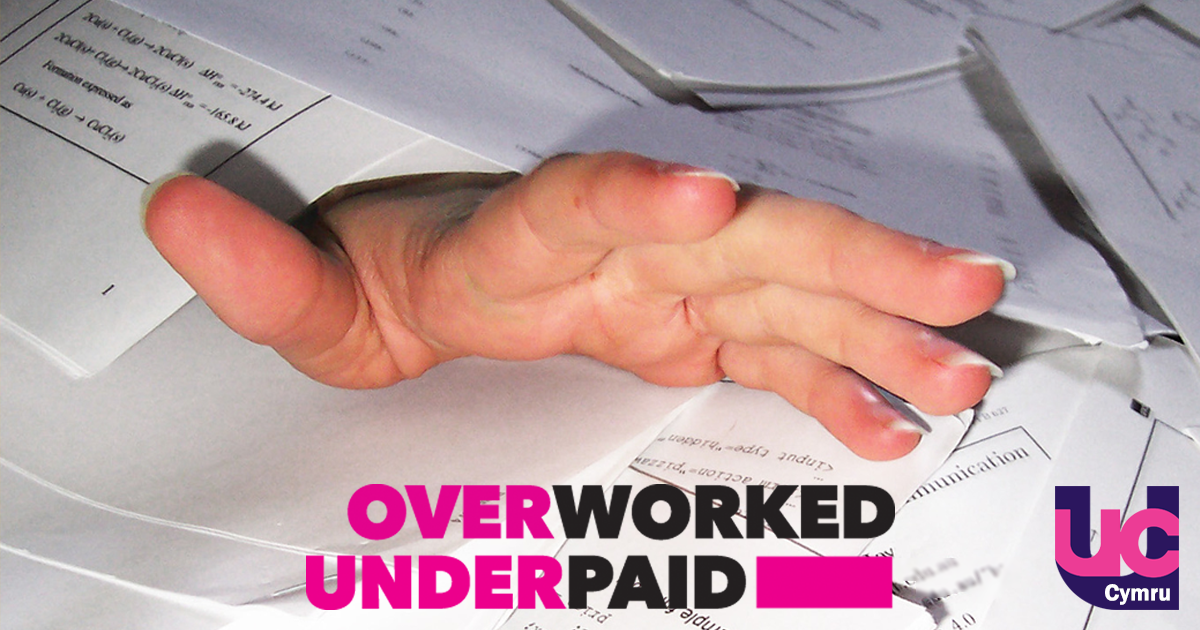 Overworked and underpaid
Updates on UCU's campaign to address workload issues in Welsh further education.
Campaign enters new phase
16 October 2019
The Further Education Sector Committee (FESC) met on 12 October 2019 and decided to withdraw from the current dispute on workload. A

letter went to the employers [97kb] on the 14 October explaining this decision.
FESC's rationale was that ColegauCymru refused to sign a

joint letter on the workload dispute [112kb] encouraging the Welsh government to use the Barnett consequential (additional money being given to Wales as a consequence of the Johnson announcement for an extra £440m for further education in England).
Withdrawing from the current dispute allows us to register a new dispute, this time with our colleagues in the other academic unions recognised in the FE colleges in Wales.
Update 26 March 2019
The drafting group of the Welsh negotiating committee further education (WNCFE) met on 15 March and discussed UCU's five-part claim to amend the national workload agreement. Members from HR agreed to draft wording into a drafting group proposal to be considered by the WNCFE. The drafted proposal was not ready for the meeting on the 22 March and therefore the meeting had to be postponed to the 11 April.

In previous meetings with ColegauCymru (CC) to discuss the claim UCU submitted on workload - addressing the maximum number of weekly teaching hours, HE, tariffs for quality assurance, tariffs for course leadership roles and where new curricula is being delivered by a member of staff and - we agreed the following schedule:
CC have agreed to produce a paper outlining the scope for drafting group to draft changes to national workload agreement. This paper will be ready for circulation to the joint trade union (JTU) side by 5 March 2019 to allow discussion before the main meeting with CC already scheduled for 7 March.

week commencing 11 March 2019: drafting group will meet to make drafting amendments to national workload agreement

week commencing 18 March 2019: further meeting with CC to consider, amend and agree the drafting group amendments to the national agreement

UCU consultative ballot on whether to accept the changes and end dispute week commencing 25 March - 5 April 2019.

8 April 2019: formal communication on outcome of ballot with CC and JTUs.
UCU members in 12 FE colleges in Wales had previously voted to take action in ballots over pay and workload. The two industrial action ballots were called after CC offered 1% in response to the joint unions' claim of a 7.5% pay increase and refused to negotiate over workoad.
Following the Welsh government's announcement of further money to ensure that pay parity with school teachers, the unions accepted a revised pay offer and planned strike action was suspended as CC then agreed to enter talks over workload.
What can you do?
Keep up to date with the latest UCU pay and workload campaign newsletters and attend local branch meetings, to discuss the issues with your fellow branch members.
Let your branch officer know whether you will support a campaign, including industrial action, to address the issues of workload in your college.
Talk to your colleagues who are not members of UCU and encourage them to join UCU and add their voice to the campaign, they can join online at: www.ucu.org.uk/join
Information

Managing workloads - UCU Wales information sheet [549kb]
Last updated: 17 October 2019