•
•
•

Part-time hourly paid - it's not fair! • Rhan amser a delir fesul awr - nid yw'n deg!
Part-time hourly paid - it's not fair! • Rhan amser a delir fesul awr - nid yw'n deg!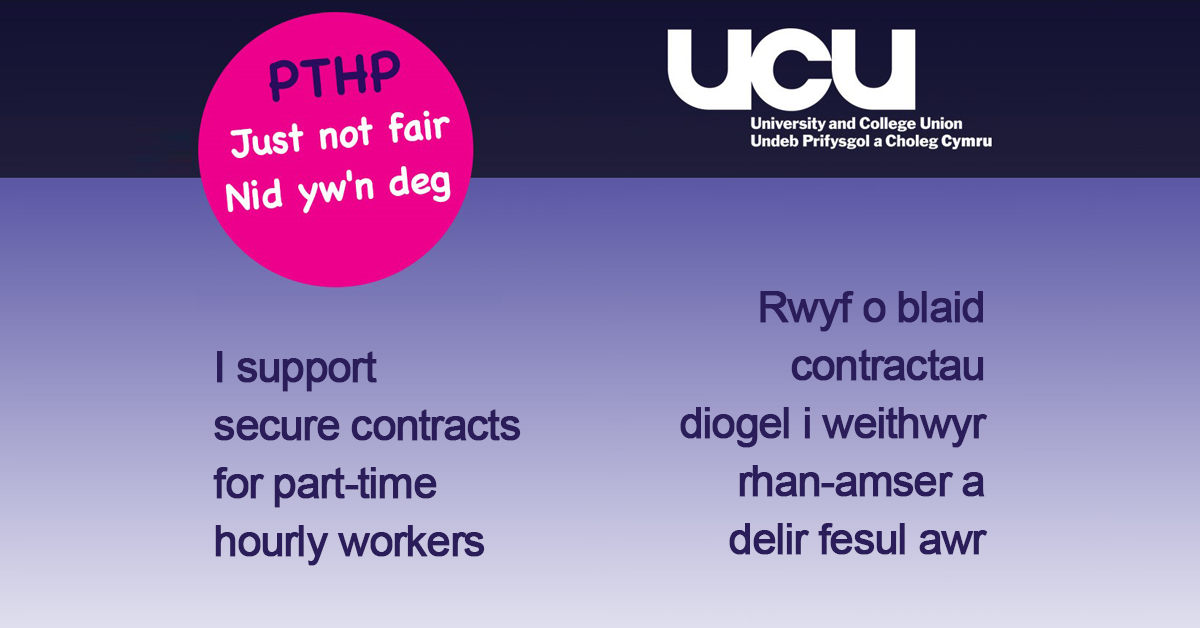 Part-time hourly paid - it's not fair! • Rhan amser a delir fesul awr - nid yw'n deg!
UCU Wales' part time hourly paid - it's not fair! campaign is about addressing the issue of casualisation in further education in Wales
UCU Wales played a significant role in negotiating the Employment of Part Time Hourly Paid Lecturers agreement that was updated in June 2018. The agreement is for use by individual colleges to develop policy and procedure for the use of part-time contracts for lecturing staff. In determining local policy, normal consultation arrangements should apply with recognised trade unions in accordance with the terms set out in this agreement. You can view

the Employment of Part Time Hourly Paid Lecturers agreement here [126kb].
Please attend one of the online UCU Wales part-time hourly paid - it's not fair! meetings to find out more about how you can make a difference and bring about change. Please email Karen Williams to book a place. Also encourage your part-time hourly paid colleagues to attend where they can also find out the benefits of joining UCU:
Friday 23 April: 12-1pm
Monday 26 April: 4.30-5.30pm
Tuesday 27 April: 9.30-1030am
Wednesday 28 April: 3.30-4.30pm
The purpose of the agreement was to ensure that colleges recognise the responsibilities placed on them by the Part Time Workers (Prevention of Less Favourable Treatment) Regulations 2000 and other legislation. Where part time contracts are used, colleges will ensure that their use complies with the Joint Agreement for the Employment of Fixed term Employees (March 2015).
The Employment of Part Time Hourly Paid Lecturers agreement and contract will be reviewed in May 2021
---
There are generally two types of part time contracts used by employers, fractional and part time hourly paid.
Fractional vs hourly paid contracts:
Fractional part-time staff (FPT) are employed on a fraction of the full-time post and are entitled to pro-rata pay and terms and conditions of service, including pension
Hourly paid part-time staff (PTHP) are employed and paid by the hour, usually on termly or annual (nine month) contracts and suffer a detriment when it comes to the Teachers' Pension Scheme.
What does this mean for the workers?
Those employed on fractional contracts have a level of security that those on hourly paid contracts don't; their hours are regular and not subject to change without consultation and negotiation, whereas a part time hourly paid contract can be increased or decreased with minimal notice, providing very little security for the employee.
The type of part time contract workers are on also has implications for their pension arrangements too. For instance, members of Teachers' Pension Scheme contribute the same percentage of their pay, whether they are full time, part time fractional or part time hourly paid. However, PTHP employees can only accrue pensionable hours on the hours spent actually working, whereas those on a fractional contract accrue pensionable hours on a pro rata basis for the whole year. This means that someone on a 0.5 PTHP contract accrues 414 hours, whereas someone on a 0.5 FPT contact would accrue 1274 hours. That makes a significant difference to the pension you can expect! Click here for a more detailed explanation [16kb].
Nearly all further education colleges in Wales rely heavily on part-time hourly paid (PTHP) teaching staff. Part-time hourly paid lecturers can work anything from a couple of hours a week, perhaps in the evening, to substantial periods, sometimes with almost as much teaching as many full-time staff. The conditions endured by hourly-paid staff are often inadequate, they do not have departmental duty time, yet there is an expectation that they will undertake most, if not all the same duties as their fractional and full-time colleagues, this is patently unfair.
PTHP staff can also miss out on those other basic tools of the job - such as access to their own desk, storage space, phone, post, library facilities, classroom equipment or computer facilities - enjoyed by most permanent staff. What is apparent is that PTHP's are often prevented from progressing onto fractional or full-time contracts therefore, limiting PTHP staff from progressing further in their careers to save money in colleges.
UCU understands that there are occasions where flexibility is necessary, we are increasingly concerned about the number of workers who remain on PTHP contracts when regular hours have clearly been established. For instance, if a worker has been issued with a Part time hourly contract schedule for the same hours over a number of academic years, then clearly those hours are regular and established and we would expect the employer to consider issuing a fractional contract instead, or, in the case of those having their hours 'topped up' on an hourly paid basis, an increase to their fractional contract
UCU Wales' Part Time Hourly Paid - It's not fair campaign is challenging the use of PTHP contracts collectively, and as with any collective negotiations, the more UCU members there is, the louder UCU's voice! We have already established that this is an issue that has to be addressed collectively and to do so, we need your support. We want to hear about your experiences and views of being on a part time hourly paid contract. We would like to know what would having a fractional or full time contract mean for you?
We are encouraging and supporting branches to get hourly paid contracts firmly on the agenda for meetings with management and to seek the opportunity for those part time hourly paid staff that want more security to be able to progress onto fractional and full-time contracts where appropriate.
We are also asking your branches to elect a PTHP representative to their branch committees, to ensure that this group of workers is represented in the branch decision making process. If you are interested in getting more involved in the campaign and/or with other branch activities please contact your branch chair.
It's quite simple really; the more part time hourly paid members there are the stronger we are when campaigning on issues such as this.
---

Email banner: English - download

Email banner: Welsh - download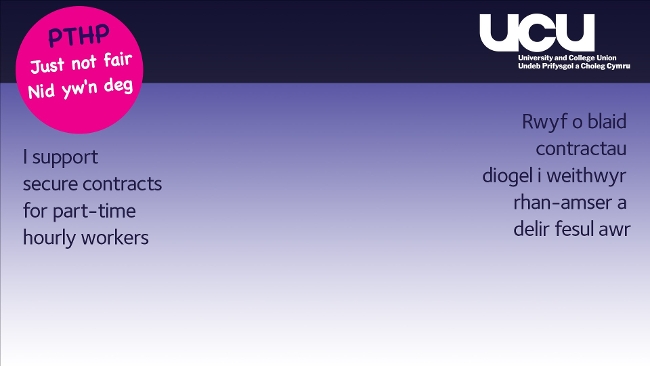 MS Teams background - download
Nod ymgyrch rhan amser a delir fesul awr UCU Cymru - nid yw'n deg! yw mynd i'r afael â phroblem contractau dros dro yn y sector Addysg Bellach yng Nghymru.
Chwaraeodd UCU Cymru ran bwysig yn y gwaith o negodi cytundeb Cyflogi Darlithwyr Rhan Amser a Delir Fesul Awr a gafodd ei ddiweddaru ym mis Mehefin 2018. Mae'r cytundeb yn un at ddefnydd colegau unigol fel y gallant ddatblygu polisïau a gweithdrefnau ar gyfer defnyddio Contractau Rhan Amser i staff darlithio. Wrth bennu polisïau lleol, dylai trefniadau ymgynghori arferol fod ar waith gydag undebau llafur cydnabyddedig yn unol â'r telerau a nodir yn y cytundeb hwn.

Gallwch weld y cytundeb ar Gyflogi Darlithwyr Rhan Amser a Delir Fesul Awr yma [126kb].
Dewch ymlaen i un o gyfarfodydd ar-lein rhan amser a delir fesul awr UCU Cymru - nid yw'n deg! i ddysgu mwy am sut y gallwch wneud gwahaniaeth a sicrhau newidiadau. E-bostiwch Karen Williams i drefnu lle. Dylech hefyd annog eich cydweithwyr rhan amser a delir fesul awr i ddod, fel y gallant hefyd ddysgu am fanteision ymuno ag UCU:
Dydd Gwener, 23 Ebrill: 12-1pm
Dydd Llun, 26 Ebrill: 4.30-5.30pm
Dydd Mawrth, 27 Ebrill: 9.30-10.30am
Dydd Mercher, 28 Ebrill: 3.30-4.30pm
Nod y cytundeb oedd sicrhau bod colegau yn cydnabod y cyfrifoldebau a osodwyd arnynt gan Reoliadau Gweithwyr Rhan Amser (Atal Triniaeth Lai Ffafriol) 2000 a deddfwriaeth arall. Lle caiff contractau rhan amser eu defnyddio, bydd colegau yn sicrhau bod y defnydd hwn yn cydymffurfio â'r Cytundeb ar y Cyd ar gyflogi Cyflogeion Tymor Sefydlog (mis Mawrth 2015).
Caiff y cytundeb ar Gyflogi Darlithwyr Rhan Amser a Delir Fesul Awr a'r contract eu hadolygu ym mis Mai 2021.
---
Caiff dau fath o gontract eu defnyddio'n gyffredinol gan gyflogwyr, sef contractau ffracsiynol a chontractau rhan amser a delir fesul awr.
Contractau Ffracsiynol a Chontractau a Delir Fesul Awr:
Caiff staff rhan amser ffracsiynol (FTP) eu cyflogi ar sail canran o'r swydd llawn amser, ac mae ganddynt hawl i gael cyflog pro rata yn ogystal â thelerau ac amodau gwasanaeth, gan gynnwys pensiwn.
Caiff staff rhan amser a delir fesul awr (PTHP) eu cyflogi a'u talu fesul awr, fel arfer ar gontractau tymor neu flynyddol (sef naw mis), ac maent yn dioddef niwed mewn perthynas â'r Cynllun Pensiwn Athrawon.
Beth mae hyn yn ei olygu i'r gweithwyr?
Mae gan unigolion a gaiff eu cyflogi ar gontractau ffracsiynol lefel o ddiogelwch na chaiff unigolion ar gontractau a delir fesul awr; maent yn gweithio oriau rheolaidd ac nid yw eu horiau yn debygol o newid heb neb yn ymgynghori â nhw neu heb negodi. Ond gellir cynyddu neu ostwng contract rhan amser a delir fesul awr heb lawer o rybudd, sy'n golygu nad yw sefyllfa'r cyflogai yn ddiogel iawn.
Mae'r math o gontract rhan amser sydd gan weithwyr hefyd yn effeithio ar eu trefniadau pensiwn. Er enghraifft, mae aelodau o'r Cynllun Pensiwn Athrawon yn cyfrannu'r un ganran o'u cyflog, p'un a ydynt yn gweithio'n llawn amser, yn rhan amser, yn ffracsiynol neu'n rhan amser a delir fesul awr. Fodd bynnag, dim ond ar yr oriau a gaiff eu treulio yn gweithio mewn gwirioneddy gall cyflogeion rhan amser a delir fesul awr gronni oriau pensiynadwy, lle mae cyflogeion â chontractau ffracsiynol yn cronni oriau pensiynadwyar sail pro rata drwy gydol y flwyddyn. Mae hyn yn golygu bod rhywun â chontract 0.5 PTHP yn cronni 414 awr, lle bod rhywun â chontract 0.5 FPT yn cronni 1274 awr. Mae hynny yn gwneud gwahaniaeth sylweddol i'r pensiwn y gallwch ddisgwyl ei gael! Am esboniad mwy manwl, cliciwch yma. [15kb]
Mae bron pob coleg Addysg Bellach yng Nghymru yn dibynnu'n fawr ar staff addysgu rhan amser a delir fesul awr. Gall darlithwyr rhan amser a delir fesul awr weithio oriau amrywiol iawn, o ychydig oriau yr wythnos, efallai yn ystod y nos, hyd at gyfnodau sylweddol o amser, weithiau gan wneud bron yr un faint o addysgu ag y mae llawer o aelodau o staff llawn amser yn ei wneud. Mae'r amodau y mae staff a delir fesul awr yn eu profi yn annigonol yn aml. Nid yw eu contractau yn cynnwys amser adrannol, ond eto mae disgwyl iddynt ymgymryd â'r rhan fwyaf, os nad pob un, o'r dyletswyddau y mae eu cydweithwyr ffracsiynol a llawn amser yn eu gwneud. Mae hyn yn annheg.
Gall staff PTHP hefyd golli allan ar adnoddau sylfaenol y swydd sydd ar gael i'r rhan fwyaf o'r staff parhaol, megis eu desg eu hunain, lle storio, ffôn, post, cyfleusterau llyfrgell, offer ystafell ddosbarth neu gyfleusterau cyfrifiadura. Mae'n amlwg bod darlithwyr PTHP yn cael eu hatal rhag symud ymlaen i gontractau ffracsiynol neu lawn amser yn aml, sy'n eu rhwystro rhag gwneud cynnydd yn eu gyrfaoedd, er mwyn arbed arian i golegau.
Mae UCU yn deall bod angen cael hyblygrwydd ar adegau, ond rydym yn poeni fwyfwy am nifer y gweithwyr sy'n parhau â chontractau PTHP lle ei bod yn glir bod oriau rheolaidd wedi cael eu sefydlu. Er enghraifft, os bydd gweithiwr wedi cael contract Rhan amser a delir fesul awr ar gyfer yr un oriau dros nifer o flynyddoedd academaidd, mae'n glir bod yr oriau hynny yn rheolaidd ac yn sefydledig, a byddem yn disgwyl i'r cyflogwr ystyried cynnig contract ffracsiynol yn lle un PTHP, neu, yn achos gweithwyr sy'n gweithio oriau ychwanegol a delir fesul awr, byddai'r contract ffracsiynol yn cael ei gynyddu.
Mae ymgyrch Rhan Amser a Delir Fesul Awr UCU Cymru - Nid yw'n Deg yn herio'r defnydd o gontractau PTHP mewn modd cyfunol ac, fel yn achos unrhyw negodiadau, po fwyaf yw'r nifer o aelodau UCU sy'n cymryd rhan, y mwyaf swnllyd fydd llais UCU! Rydym eisoes wedi cadarnhau bod angen mynd i'r afael â'r mater hwn mewn modd cyfunol, ac mae angen eich help arnom er mwyn i ni allu gwneud hynny. Rydym yn awyddus i glywed am eich profiadau a chael eich barn ar fod ar gytundeb rhan amser a delir fesul awr. Hoffem wybod beth fyddai cael contract ffracsiynol neu lawn amser yn ei olygu i chi.
Rydym yn annog canghennau ac yn eu cefnogi i sicrhau bod lle cadarn i gontractau a delir fesul awr ar yr agenda ar gyfer cyfarfodydd â rheolwyr, ac i chwilio am gyfleoedd i bobl sydd â chontractau rhan amser a delir fesul awr, sy'n awyddus i gael swydd fwy diogel, allu symud ymlaen i gontractau ffracsiynol a llawn amser lle y bo'n briodol.
Rydym hefyd yn gofyn i'ch canghennau ethol Cynrychiolydd PTHP ar eu pwyllgorau cangen, er mwyn sicrhau bod y grŵp hwn o weithwyr yn cael ei gynrychioli ym mhroses gwneud penderfyniadau'r gangen. Os byddwch yn awyddus i gymryd mwy o ran yn yr ymgyrch a/neu mewn gweithgareddau cangen eraill, cysylltwch â chadeirydd eich cangen.
Mae'n ddigon syml mewn gwirionedd; po fwyaf o aelodau rhan amser a delir fesul awr sydd, y cryfaf y byddwn wrth ymgyrchu ar faterion o'r fath.
---

Baner e-bost: Cymraeg - dadlwythwch

Baner e-bost: Saesneg - dadlwythwch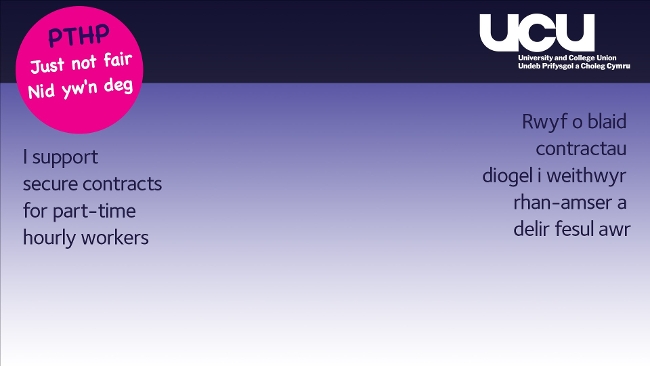 MS Teams: cefndir - dadlwythwch
Last updated: 21 April 2021