•
•
•

FE pay in England
A new approach to collective bargaining in English further education sector
UCU is now approaching collective bargaining in further education in England in a new way. Read why the new approach is necessary, what it offers and how you can get involved: National Plus in FE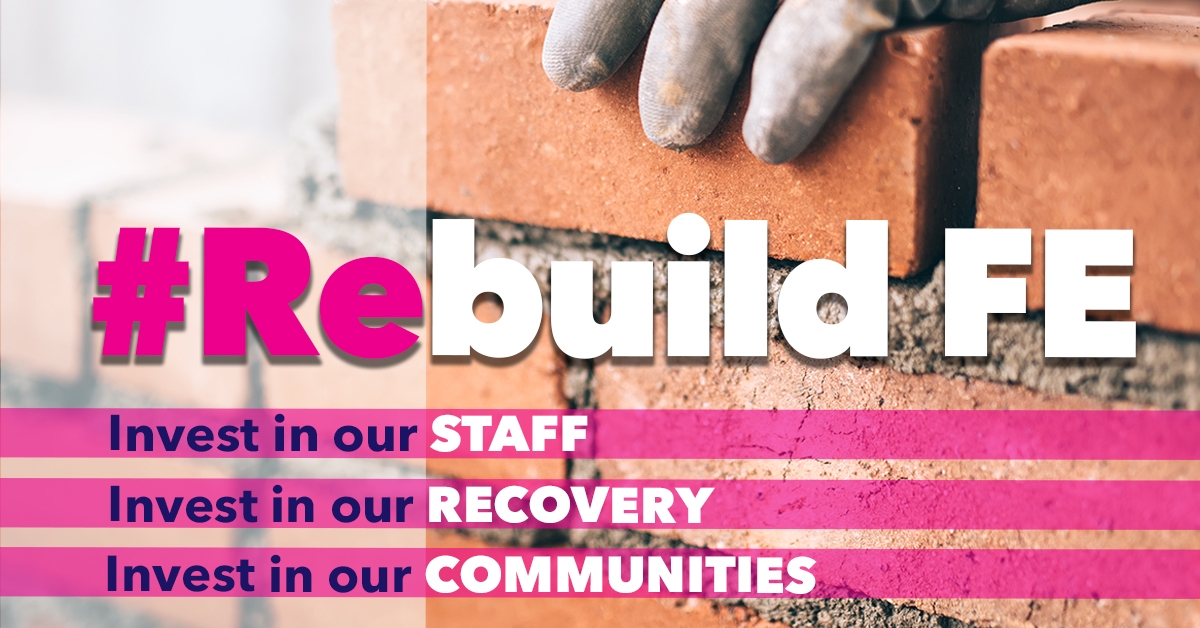 FE pay in England
In England the vast majority of colleges are members of the Association of Colleges (AoC), an employers' organisation which negotiates with UCU and other recognised trade unions (UNISON, NEU, UNITE and GMB) in the National Joint Forum (NJF) to produce recommendations on pay and conditions for individual colleges to adopt.
Pay headlines
Replacement ballot form available
21 June 2021
Members in branches being balloted over #RebuildFE strike action should by now have received their ballot papers. Please post your ballot back today!
Branches asked to call EGMs
16 June 2021
UCU branches have been asked to call emergency general meetings before 30 June after key decisions over the major issues facing the sector were taken at the recent further education sector conference. Member participation in this process is critical in order to inform the next further education committee meeting on 9 July, where they will decide how we proceed with our campaigns over pay, as well as workload and professional autonomy.
FE England ballots to open
10 June 2021
A number of FE branches in England will see strike ballots open from 14 June over pay and local part 2 claims. The employers are refusing to confirm they'll award a decent pay increase for 2020-21. Members receiving ballot papers are urged to vote yes to action in order to addess the decade of neglect and underfunding, with staff working in FE suffering a real pay cut of over 30%.
Consultative ballot opens
19 April 2021
Many FE members should today have received an email on behalf of UCU from our independent scrutineer Civica (formerly ERS) that allows you to vote online in the #RebuildFE consultative ballot. You are being asked if you would be prepared to vote in favour of taking strike action in a statutory ballot for industrial action in support of for a pay rise that helps close the gap on school teacher pay and a decade of pay cuts.

If you haven't already, please cast your vote right away.
If you have not received a voting link a replacement can be ordered by completing this form.
Voting YES shows your support for UCU's positive plan to #RebuildFE.
The missing millions - demanding transparency
19 March 2021
As part of UCU's Missing Millions campaign, UCU has written to college CEOs/principals asking them to provide branches with full disclosure of college finances.
When UCU and other unions joined with the Association of Colleges (AoC) to campaign, lobby and march on parliament to win more funding for further education it was always on the understanding that staff pay would be first in line when the extra money arrived.
An extra £400 million has arrived, £200 million of which colleges could have spent on staff pay. Despite colleges having extra money and the AOC promising to make a more significant pay recommendation for 2020/21 they once again recommended a derisory 1%.
For the sector to simply absorb the first increase in funding in over a decade and not prioritise the pay of the staff that marched and campaigned alongside college leaders to win it, is beyond the pale.
Put simply, college staff deserve an explanation. It is simply not good enough to apologise and say the extra money was absorbed into deficits or spent on Covid-19.
UCU now expects colleges to provide not just retrospective accounts but also management accounts and projections going forward along with an understanding of underlying assumptions and choices.
You can find out how much of the missing millions your college should have received here.
For the avoidance of doubt, UCU supports the joint trade unions' claim for a significant move towards the full restoration of pre-austerity pay and rejects the 1% recommendation as being derisory. Staff pay should be prioritised. The AoC recommendation for 2021 stated that colleges who can afford to pay more than 1% should do so.
Further education: pay gap with school teachers widens
5 February 2021
More teachers than ever are leaving the college sector within two years as data shows the gap with school teachers has risen to an average of £9,000 per year. UCU's head of further education Andrew Harden said it was 'no surprise to see undervalued teachers continuing to leave the profession. In real terms further education teachers have seen their pay cut by 30 per cent over the past decade. Last year the government increased the sector's funding by £400million, yet further education colleges refused to use it to pay staff more.'
Government FE white paper a missed opportunity to fund the sector properly and pay staff fairly
21 January 2021
UCU said the government's further education white paper was a 'sorely missed opportunity' to end further education's failed incorporation experiment, bring colleges back under public control, fund the sector properly and pay staff fairly.
Employers slammed over pay offer and demands transparency over spending of extra money
3 December 2020
The trade unions representing staff in English further education colleges have slammed the decision by the Association of Colleges (AoC) to offer a 1% pay increase and demanded to know what the additional funding from government has been spent on.
UCU expects the additional funding to be prioritised for staff pay
24 November 2020
UCU wrote to college CEO/principals requesting that they call on the AoC to recommend a pay increase this year in line with the joint trade unions' claim:

UCU letter to FE England CEOs, 24 Nov 20 [210kb]
Andrew Harden, UCU head of further education, told branches: 'We know that FE will be called upon to play an historic role in the nation's post-pandemic recovery effort. We also know that a decade of austerity has left the sector with a loss of more than 24,000 teaching jobs and a 30% pay cut for FE staff in real terms.
After years of the joint unions and the AoC campaigning together for increased funding, the government announced an extra £400 million for FE last year. The AoC said that the money would not arrive in colleges until 2020/21. That time is now.'
'UCU expects the additional funding to be prioritised for staff pay as it was intended - please do what you can to make this clear to your CEO/principal', he added.
Watch back: FE pay campaign webinar
12 October 2020
Restoring your pay: join the launch of the UCU 2020-21 pay campaign
5 October 2020
This week UCU wrote to the Association of Colleges to demand that they put staff first in line for the new funding which the government has announced for the sector. We've recently seen the first meaningful injection of money to a sector that has suffered massive cuts in the last ten years, and it's time for colleges to start restoring your pay to its pre-austerity levels.
Joint union claim 2020-21
1 October 2020
The joint unions have said colleges must deliver on their promise to increase staff pay and bring contracted staff back in-house now the government has provided further education an extra £400 million funding. The Association of Colleges, which represents English colleges, had previously said any staff pay increase was contingent on increased government funding.
The joint unions' claim for 2020/21 has been sent to the employers' body, the Association of Colleges. The claim, from UCU, GMB, NEU, Unison and Unite, calls for:
a significant move towards the full restoration of college pay levels to where they would be had college pay kept pace with inflation since 2009
the living wage, calculated by the Living Wage Foundation, to be the minimum wage in the sector, with all further education colleges in England becoming accredited living wage employers with the foundation
all contracted-out services to be brought back in-house with improvements in terms and conditions equal to those already directly employed by the college.
The claim also calls for all elements to be backdated to 1 August 2020 in line with the normal anniversary date.

You can read the full claim here. [194kb]
Further education and schools pay gap
24 July 2020
This week it was announced that school teachers are to receive a well-deserved pay rise of 3.1% but UCU has called for action to address the pay gap with further education (FE) lecturers which is set to rise to over £9000 a year. In this Tes article UCU's head of further education Andrew Harden said: 'Nobody would begrudge our brilliant school teachers a pay rise... but the pay gap highlights again that further education needs more than warm words if it is going to play its vital role in our economic and social recovery.'
Campaign to win on FE pay in 2020
6 March 2020
For the first time in a decade, 2020 is the year that more money arrives in the FE sector in England. However we know there is no guarantee new money will end up in staff pay packets if we don't fight for it. UCU has written to all college branches in England to advise of the next steps in the campaign to win on FE pay in 2020.