•
•
•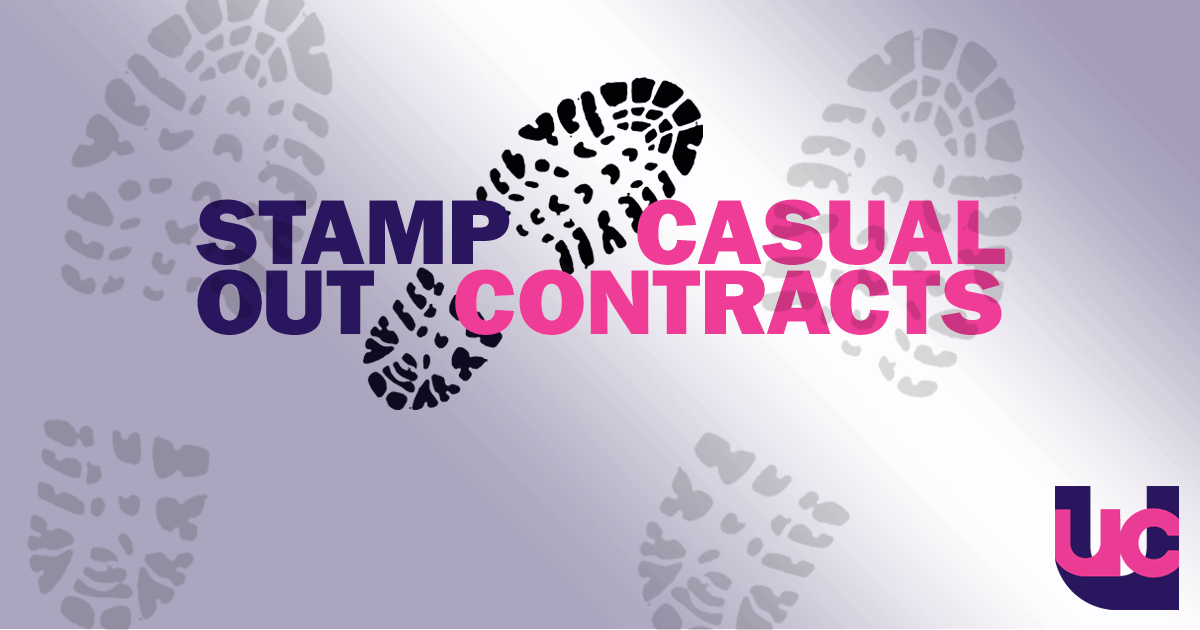 Progress on casualisation in FE - even in hard times
4 December 2018
It's undeniable that the FE sector has taken a battering in recent years, having been starved of funding and wracked by restructures. But UCU can't sit back and wait for better times.
That's why in addition to lobbying for more funding and balloting for better pay, the union has been exploiting the opportunities of college restructures to press for improvements on casualisation.
Back in June, At Capital College Group, which incorporates City and Islington College, CONEL and Westminster Kingsway, the branch put in a claim for all hourly paid lecturers who had been working for two years or more at more than 10 hours a week to be moved onto permanent fractional contracts. The final settlement will see all hourly paid lecturers who have been working for three years at 12 hours a week offered fractional contracts. In addition, the settlement removes 'affordability' or 'observation' based eligibility criteria which had been in place at CONEL. 47 hourly paid lecturers have already benefited from this agreement. At New City College, which includes Hackney, Redbridge and Tower Hamlets colleges, hourly paid staff at Hackney who were on a fixed hourly rate won assimilation to the main grade lecturer scale, meaning that they gained access to incremental pay progression and the £400 consolidated pay award open to other lecturers.
In September came a highly significant agreement, the consequence of a couple of years of negotiations at the NCG Group. NCG is a significant, national level provider of FE and vocational training, comprising Newcastle College, Kidderminster College, West Lancashire College and, most recently Lewisham and Southwark College, as well as the two major training providers: Intraining and Rathbone. Under the agreement, NCG committed to ensuring that casual contracts are no longer used for any teaching work that exceeds 8 weeks and to employing staff on open-ended fractional contracts wherever possible. The NCG agreement also commits to making fixed-term contracts permanent wherever possible. The intention of the agreement is that the main teaching force will increasingly be engaged on full or part-time fractional contracts, mostly permanent but some fixed term, with hourly paid teachers transferring according to their service.
In November, UCU won an agreement that improves job security for casualised lecturers at United College Group in London. United College Group is made up from the old City of Westminster and College of North West London (CONWL). At City of Westminster, hourly paid lecturers had a guarantee of hours but most were on fixed-term contracts and only had a right to permanency after four years service. Under the new agreement, any of these staff who have been employed for two or more will be moved onto a permanent contract and this will become the policy for all new hourly paid lecturers. At College of North West London, hourly paid lecturers had been retained on open ended zero hours contracts. Under the new agreement these will become guaranteed minimum hours contracts.
Four significant agreements at four college groups, covering casualised staff at what used to be 12 colleges. This strongly suggests that it is possible to make inroads against casualisation in FE college groups even in hard times. With determined and focused negotiation backed by collective strength UCU can exploit the restructuring of the FE sector to the benefit of our most vulnerable members. This progress also demonstrates that in spite of many protestations to the contrary and in the face of the failure of the FE sector as a whole to address the issue of precarious work, it is possible for colleges to move away from their rigid insistence on the need to employ teachers on exploitative contracts in the name of 'flexibility'. UCU has produced a new campaign pack to support its negotiating guidance and encourages all FE branches to discuss with their regional officials lodging a local claim in their college or group. There are real gains to be made on casualisation.