•
•
•
•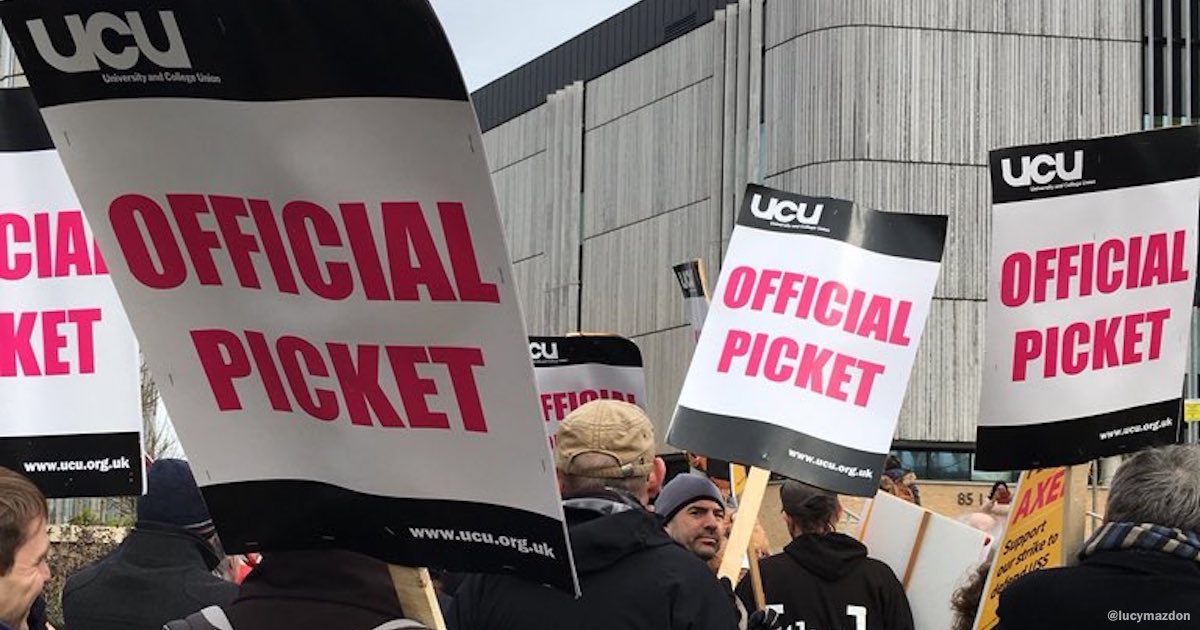 How we got to yesterday and what's next
14 March 2018
In her latest email to members, UCU general secretary Sally Hunt thanked members for continuing to support the strike action and goes on to say, 'As I reported yesterday, the higher education committee (HEC) rejected the proposals that arose from talks at ACAS between UCU and Universities UK (UUK). This followed a meeting of branch representatives which overwhelmingly felt that the offer needed to be substantially improved.
Some of you have asked me questions about the process, which I will try to answer below. It is worth making clear first that your negotiating team is drawn from across the union, and that they all played their part in pushing the employers to as far as they were prepared to go at this stage in the dispute.
UCU is a democratic union, led by its members. I have given numerous commitments that the result of any negotiations will be brought back to HEC and branches for discussion, and your negotiators were all agreed that we had reached this point. Indeed, branches have been consulted throughout every step of the dispute and this must continue. I think this democratic process is worth celebrating - it is what sets us apart from other organisations in the sector.'
She then went on to answer some key questions about the Acas talks and the document which was agreed.
What are your views about the position reached at Acas?

'All the negotiators are agreed that moving the employers from a purely defined contribution scheme back to a guaranteed pension is a real achievement and won on the back of your resolute strike action. However, the most we were able to get the employers to agree to at this stage was for this to cover the first £42,000 of salary at a reduced accrual rate and with reduced protection against inflation. There is no question this is a significant improvement on the employers' previous offer, at least in terms of its impact on final pension, but it falls well short of our current pension entitlement.
'In addition, while the employers did agree to a small increase in their pension contributions, they would not commit to anything like enough to provide benefits at their current level. Nor would they agree to a joint approach with us to revert to the so called "September" risk levels which themselves would unlock a much more affordable solution to the current dispute. While most have welcomed the commitment gained to an independent assessment of the USS valuation methodology, many branch reps also opposed any reference to rescheduling in the event of an agreement.
'At this stage, the position above is as far as the employers were prepared to go, so we felt it was right to bring it to members.'

Why did the union release the document from Acas without any contextual commentary?

'Negotiations at Acas operate on the basis of strict rules about communication and agreement between the two sides about what can and cannot be said - hence the rather dull daily updates from negotiations. UCU was clear that the employers were not prepared to go further at this stage and so we wanted the proposals to go to members in line with my earlier commitment. Our branches were scheduled to be in attendance on Tuesday, so we were very keen for the offer to be made public as soon as possible the previous evening. In doing so, I am glad that we allowed branch representatives to canvass opinion before they met me at UCU HQ.'

Why did the union not simply reject the proposals from Acas?

'The union could have done this, but we felt that we had reached a point where the employers had gone as far as they were prepared to go. We wanted members to see the progress and branches to make a decision.'
There has been a lot of great work by academic experts publicised on social media - has the union used this to press the employers about the valuation of the scheme?

'Yes, we read and learn from all the suggestions by members. The union's negotiating team also includes a range of experts including academics who specialise in economics and accountancy. All have played their part in forcibly pushing the union's agenda and our proposals.'

What happens next?

'The employers know that the offer is not acceptable. From the feedback yesterday, they will need to improve it if we are to settle this dispute. It is not yet clear whether they intend to revert to their previous position of a fully defined contribution scheme, although this is now the default position within the USS machinery. We remain open to further negotiations. The union is now finalising plans for strike action aimed at hitting the upcoming assessment period. We are likely to be announcing this next week once we have finished consulting with branches. The negotiators are very clear that only a substantially improved offer will be enough to resolve the dispute but we will continue to report back to HEC, branches and members on any progress we make.'

Sally ended her message with a request from University of Durham UCU who are petitioning to stop UCU member Dr Ernesto Schwartz Marin from being deported. Please add your signature to their petition here.