•
•
•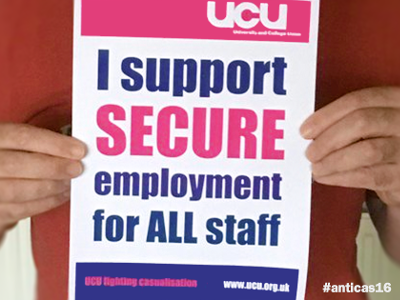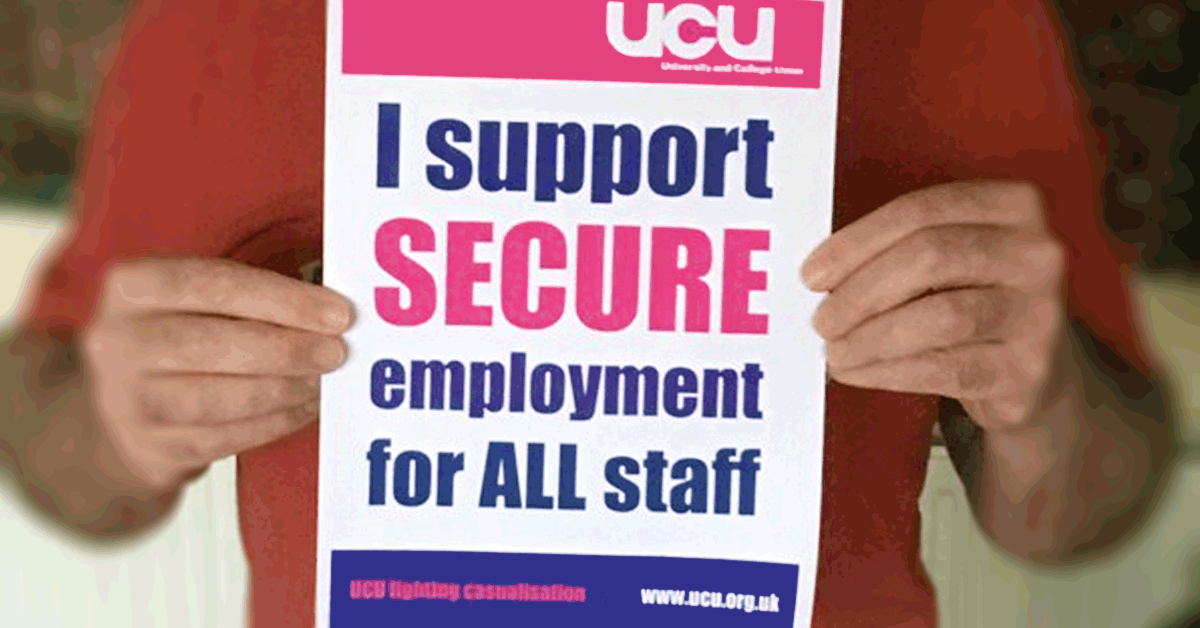 UCU day of action against precarious work - 24 November 2016
16 November 2016
| last updated: 24 March 2020
Thursday 24 November 2016 is UCU's anti-casualisation day of action in both higher and further education.
Already we have reports of many branches organising events. Events include recruitment stalls, advice surgeries, open meetings, campaign launches, or in some cases events that celebrate recent positive agreements.
A national priority campaign
Thanks to our union's work, there is growing press and political interest in this campaign and this provides us with vital leverage in pressuring our employers. The fight against precarious contracts is one of UCU's cross-sectoral priority campaigns. The campaign has real momentum and its impact is already being felt nationally and on the ground for our members.

In recent weeks alone, we have seen significant campaigning and negotiating successes at Sussex, Coventry and Essex universities.
In the coming weeks, UCU will be accelerating this campaigning work in both sectors and providing branches with new resources to take the fight to your employers.
The day of action on the 24th is a great opportunity to raise the profile of this issue among your members. Please play your part and think about how you can support the day.
What to do now
Tell us what you're doing! Email your events to anticasualisation@ucu.org.uk
On the day, we will use social media to raise the profile of all our events as well as highlight the issues. Make sure you email us a photo or report from your event so that we can publicise it on social media. Email your pictures to anticasualisation@ucu.org.uk or send them to us on Twitter at @ucu or UCU's Facebook site and use the hashtag #anticas16.
Useful resources
If your branch needs resources: you can find our stock of campaign materials here. Email us at anticasualisation@ucu.org.uk and we'll do our best to get them to you.
We will be publishing a NEW Edition of Security Matters - UCU's magazine supporting the fight against casualisation. Order copies by emailing anticasualisation@ucu.org.uk
Download or order copies of Anti-casualisation news: The latest newsletter from UCU's Anti-Casualisation Committee
More information from: anticasualisation@ucu.org.uk