•
•
•
Don't blame us for your own shortcomings, UCU tells ministers
9 June 2008
| last updated: 14 December 2015
Sally Hunt, general secretary of the UCU, will this afternoon launch a stinging attack on the private sector's involvement in public services and warn the government not to use trade union attacks on their policies as a reason for recent poor showings in the polls.
Speaking to union members at a rally in Methodist Central Hall at 1.10pm, Sally Hunt will say that real-term pay cuts over the past four years for UCU members in further education are the reason that London members are on strike today. She will remind the rally that college lecturers are currently the lowest paid teaching professionals in England and warn that strike action will be nation wide in September if management does not come up with a better deal.

UCU FE members in London are taking strike action today after the employers' association (the Association of Colleges, AoC) failed to make an acceptable offer to the six further education unions who are seeking a pay increase. Employers offered a deal worth only 2.5% in cash terms. Although couched as a 3% offer, it doesn't start until 1 October rather than 1 August, as is normal. All six unions roundly rejected the offer as inadequate.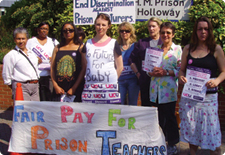 UCU general secretary, Sally Hunt, will tell the rally: 'College lecturers have hourly pay 15% lower than secondary school teachers; they are currently the lowest paid teaching professionals in England. For that reason, where London leads the rest of England will follow in September unless we get a national offer we can put to members.

'Whatever jobs our members do they are fed up with being the scapegoats for problems caused by others. Some ministers blame us for causing inflation - try telling that to UCU members who have seen real terms pay cuts every year since 2005. I have even heard the argument that making a fuss on behalf of our members will help the Tories get back in. The problem isn't the people affected by the decisions. It's the people making the decisions.

'There is a deepening concern about the future of our public services, of which pay is just one part. In our universities and colleges the private sector has grown 80% in ten years and now makes up one third of all provision. The latest hare-brained scheme is to sell student debt to the city of London. Do ministers really not understand why the polls look so bad? The real problem is that while money can always be found to bail out the banks, the piggy bank is always empty when it comes to teachers, nurses - and now even the police.'

The rally starts in Methodist Central Hall at 1pm and concludes with public sector employees lobbying MPs late into the afternoon. Speakers at the rally include general secretaries from the 26 TUC-affiliated unions with members in the public sector, as well employees from across the health service, local government, central government and the prison service.