•
•
•

The Friday email: 12 November 2021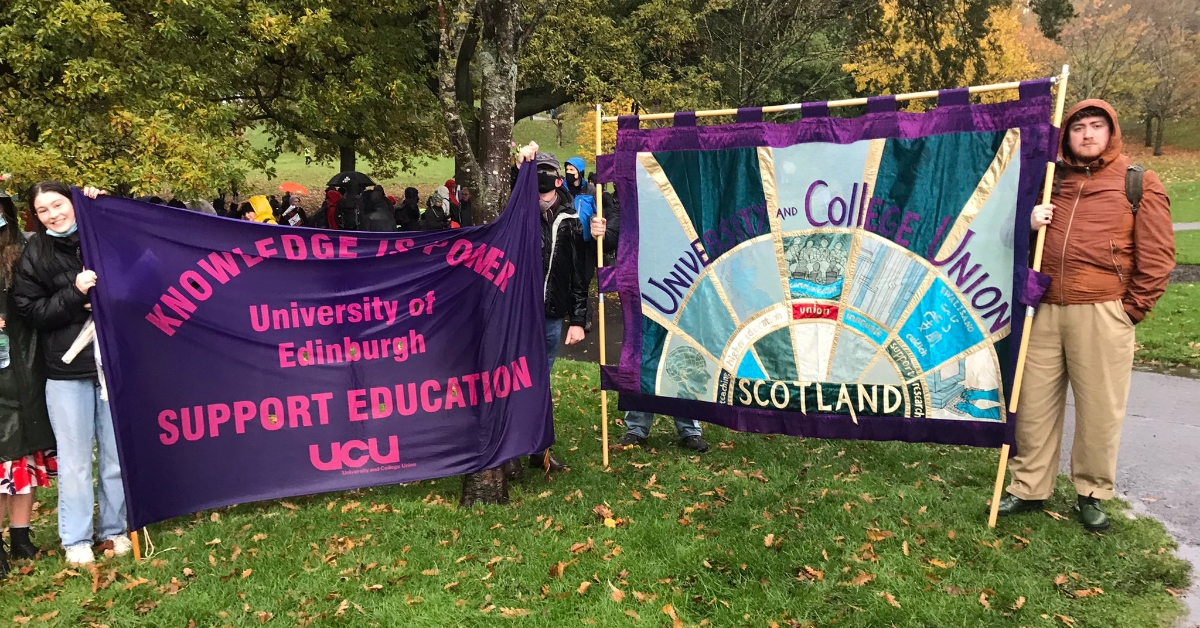 The Friday email: 12 November 2021
12 November 2021

Higher education disputes: Four Fights and USS disputes
UCU's higher education committee (HEC) is meeting in the afternoon of Friday 12 November, after the branch delegate meeting (BDM) in the morning. Decisions made by HEC with regard to the Four Fights and USS disputes will be circulated to all members early next week.
UCU wrote to university employer representatives, the University and Colleges Employers Association (UCEA) and Universities UK (UUK), outlining what university vice-chancellors have to do to avoid industrial action. You can read the full letters here. The National Union of Students (NUS) backed university staff, calling their working conditions 'untenable'.
This week university staff reacted with fury when at a UCEA and UUK press conference, Oxford Brookes University vice-chancellor Alistair Fitt, on behalf of employers, compared staff delivering remote learning throughout the pandemic with taking strike action. Fitt said: 'Over the last 18 months, we've been able to cope a lot with zero percent of staff being able to come onto campus, so I'm sure we can cope with this'.
The Office for Students (OfS) released a report today on senior staff pay in English universities. The average remuneration for vice-chancellor for the 2019-20 academic year stood at £269,000 per year. Please click here for UCU's response.
Higher education disputes: redundancies and industrial action at Goldsmiths
In their local dispute with university management over the threat of up to 52 redundancies in professional services, History, English and Creative Writing, Goldsmiths UCU members have voted to call for an initial three weeks of strike action, starting on Tuesday 23 November. The branch is building a strike fund to allow members to take action. Please find a short summary of the dispute and details of the strike fund here, and a motion for branches to support Goldsmiths UCU. UCU pressure has also led Goldsmiths management to agree to extend the consultation process to Friday 3 December.
Further education disputes: #JusticeForCollegeTeachers
Negotiations are still taking place with the colleges involved in the #JusticeForCollegeTeachers campaign, and we will update you with further details as soon as we receive them. Please keep following our roundup of disputes and wins in all sectors.
Your feedback is vital: UCU workload survey 2021
UCU is conducting this survey to investigate the changing size and intensity of workloads in universities, colleges, prison education, and adult education. We know that many workers in these sectors experience excessive workloads that cause stress and poor mental health, and that the Covid-19 pandemic has further added to workloads. The survey will provide evidence to support local and national campaigns and negotiation to reduce excessive workloads.
The survey will take around 25 minutes to complete, and respondents will be able to enter a prize draw upon completion. You can skip questions that you would prefer not to answer. Please click here to start the survey, and encourage your colleagues to complete it too (whether they are UCU members or not).
COP26: unions warn that neglect of workers will lead to failure
UCU is proud to be part of the UK trade union delegation to COP26; we call on the COP president Alok Sharma MP to build on the commitments made in the Paris Agreement (2015). The world needs an agreement in Glasgow that delivers a just transition to net zero with workers at its heart. Click here to read the statement on the TUC website.
UCU annual equality groups conference
There is still time to register for UCU's annual equality groups conference, which will take place online from Thursday 2 - Saturday 4 December. The event includes five separate half-day conferences for black, disabled, LGBT+, migrant and women members, each open to members who self-identify as part of that group, and a joint plenary session for all equality strands. The conferences are a great chance to hear more about the union's ongoing work on equality, discuss current issues facing members in each group and network with colleagues. The deadline for registration is Wednesday 17 November. The full timetable and registration details are available here.
Disability and equality updates
The government's long awaited National Disability Strategy sets out its plans on improving the lives of disabled people. Unfortunately, the strategy is hugely disappointing and has been roundly criticised by various disability rights organisations. You can read the statement from UCU's disabled members' standing committee here.
UCU's disabled members' standing committee, in conjunction with the CPD team, are hosting an online discussion around 'The Politics of Disability' on Wednesday 24 November 6pm-7pm. Ellen Clifford, award-winning author of The War on Disabled People, will join the conversation around understanding the political and social landscape of disability, UCU's approach, and the role of all UCU members and allies in the fight for disability equality. BSL interpretation and closed captioning will be available, and please email Rob Hancock if you have any additional requirements. You can register for the event and submit a question for the panel here.
UCU's annual day of action for disability equality will also be held on Wednesday 24 November and the theme this year is discriminatory language. UCU branches will be asked to review the language used in policies and procedures that can be ableist and discriminatory in their application, as well as exploring how branches can challenge ableist attitudes that excludes disabled people. Visit our day of action webpage for more information on how to get involved and access to resources.
UCU LGBT+ trans awareness week webinar
The aim of this webinar is to raise awareness about transphobia, the legal position for non-binary people, and how to support trans learners. Speakers include Gina Gwenffrewi, Flora Renz, and Jodie Smith. The webinar will take place on Thursday 18 November at 5pm on Zoom and you will be sent an access code and further information after registration. Click here to register.
Regulation for the conduct of members
As per national rule 13, a decision under this procedure is available to union members via this link.
Please update your contact details
Please check and update your contact and employment details through MyUCU; this will again be crucial in the coming weeks and months for our ongoing disputes and campaigns.
With best wishes
Ed Bailey
UCU acting head of campaigns
Last updated: 12 November 2021