•
•
•

Adult, youth and community education staff
Adult, youth and community education staff
Information for UCU members working in adult and community education.
UCU actively supports members working in adult and community education (ACE) outside FE colleges and have a number of established branches. With the this network is especially important.
We hold an annual meeting for branch delegates from UCU branches working in adult and community education and employed in local authorities or the voluntary sector. You can find information on adult and community education pay here: Adult, youth & community worker pay
---
What's important to you?
We want to know your main concerns at work and to let you know how you can be more involved in your union. To try and gauge what are the most important issues to our members working in ACE we have set up a very short survey which you can take here.
Please take a minute or two to do the survey - it means that we can focus our work on your priorities. The information will not be shared with any external bodies and all information will be kept anonymous. We would be grateful if you could complete the survey by the end of November 2019.
Secondly, we want to build for a well-attended annual meeting for ACE members on Saturday 21 March 2020 in London. Formal notices of the meeting will go out in the new year, but please put the date in your diary now and make every effort to attend.
We'll use the survey to focus the conference but if you have any ideas about what you would like to see at your annual meeting please do get in touch.
We'd also like to encourage members to get more involved in UCU and consider becoming a rep or a contact in your workplace. There is lots of information available but if you are interested and want to know more please contact your regional/national office or contact us and we will put you in touch.
---
Help recruit your colleagues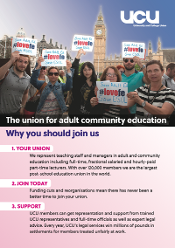 Print out the poster, leaflet or letter below to put on your workplace staff notice boards:
For printed copies please email campaigns@ucu.org.uk and state quantity and full postal address.
Last updated: 18 October 2019