•
•
•
•

Sally Hunt becomes TUC President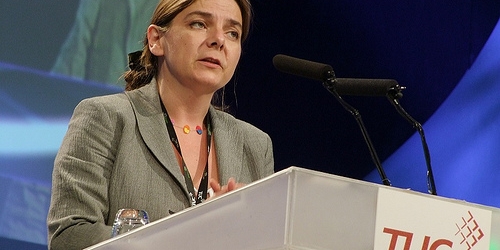 Sally Hunt becomes TUC President
13 September 2017

Sally Hunt has been elected as the new President of the TUC.
Sally, who is general secretary of UCU, will serve in the role for a year and preside over the TUC's 150th Anniversary Congress in Manchester in September 2018. In addition, she will also chair the TUC's general and executive committees.
Sally has two decades' experience as a senior trade union official. Since June 2007 she has been general secretary of UCU, following the merger of the Association of University Teachers (AUT) and the National Association of Teachers in Further and Higher Education (NATFHE).
Sally holds a number of positions outside the union and represents UCU on the TUC's general council. Her duties include being the TUC's spokesperson on international issues and she sits on the governing body of ACAS.
Sally was born in Germany, where her father was teaching in a British forces school, and went to school in Chippenham, Wiltshire.
She studied international relations at the University of Sussex from 1983 until 1987, where she served as vice-president of the students' union.
Sally's first job in the trade union movement was as a senior research officer with the financial trade union now known as Accord. Following that Sally was an assistant general secretary of the Nationwide Group Staff Union (NGSU). In 1995 she joined AUT as an assistant general secretary. She was elected general secretary of the AUT in 2002.
Commenting on her appointment Sally Hunt said: 'It is a huge honour to become the president of TUC, especially as it prepares to celebrate its 150th anniversary. Trade unions are a force for good and exist to support their members.
'My background is education, which I believe offers the best route for people to control their life and fulfil their potential. As we attempt to deal with the Brexit fall-out, making sure people have a chance to learn new skills has never been more important, and I see unions leading the way in opening up those opportunities.'
TUC general secretary Frances O'Grady said: 'We are delighted to have Sally at the helm as we approach the TUC's 150th anniversary. She's done a great job steering UCU through what have been very challenging times for further and higher education. And in helping it become the modern, nimble union it is today.
'On a personal level, I'm very pleased to have a fellow Gooner at my side.'

Read Sally's full speech to the TUC in the opening debate on Brexit here.
Last updated: 19 September 2017