•
•
•
Graduates face mid-life tax crisis because of student debt
19 July 2017
Some graduates will be hit with a "mid-life tax crisis" because of massive student loan debts, warns a report from London Economics. Graduates that avoid the higher overall tax rate will be hit by a longer repayment plan that takes away a higher proportion of their wages over their working lives.
UCU, who commissioned the report, said its findings highlighted that there were no winners under the current system, just different ways to lose. Universities minister Jo Johnson is expected to call for greater value for money for students in a speech on Thursday. UCU said he must also pledge to tackle the looming tax crisis for graduates.
The report found that many graduates will spend their 30s and 40s dealing with effective tax rates of above 50%. A male engineering graduate, for example, will face a marginal tax rate of 51% from the age of 33 through until he is 47. That means on earnings greater than £45,000, he will see 51p per pound deducted from his salary in tax, NI contributions and loan repayments.
Other jobs where male graduates will face the 51% rate include social worker, IT professional, lawyer and doctor. Male doctors and IT professionals will also spend their entire 30s paying the 51% rate. A graduate who did not take out loans would face a marginal tax rate that is nine percentage points lower than a graduate with loans would pay. A person without a degree would pay a marginal rate of 32%.
The report is the first analysis of the impact of student loan repayments over the entire working life at occupational level and by gender. This means that it is possible to understand how much men and women in different occupations will make in loan repayments, but also when, and how much of their loan will remain unpaid after 30 years.
Findings include:
men in more moderately paying professions end up paying back a higher total absolute amount, and a higher proportion of total earnings, than many of their better-paid contemporaries
in cash terms, a male school teacher will pay a total of £121,000 over his working life and a male nurse £133,000 - more than an IT professional (£106,000), lawyer (£85,000) or finance professional (£86,000)
in social work, nursing and teaching men lose 3.2%, 3.6% and 3.6% of average salary to loan repayments over their working life, compared with 2.1%, 2.0% and 2.5% for legal, financial and medical professionals
female high earners do particularly badly in terms of length of time on the high tax rates. A female medical professional will spend 22 years (from 29 to 50) on the 51% rate, compared to a male colleague on it for just 17 years
in cash terms, she will pay back a total £192,000 in loan debt over the course of her career, compared to the £142,000 paid back by a male colleague
a female finance professional will pay back £127,000 in cash terms over her career, compared to a male colleague's £86,000
she will also spend an extra three years paying the 51% marginal tax rate
women who go into legal occupations can expect to pay back a total £114,000 in cash terms, compared to a man's £85,000, and spend 19 years being hit with the 51% marginal tax rate - seven years longer than a man
although female social workers, teachers, nurses and engineers will only face a marginal rate of 41%, they will hit that rate aged 23 and stay on it for the entire repayment period.
UCU said the findings showed why promises to scrap tuition fees were popular with both current students and those already saddled with debt under the previous fee schemes.
The union said that however student loans were dressed up, they represented a considerable chunk of graduates' salaries being deducted each month that could not be put towards saving for a mortgage or a pension. Yet the extent of the loan repayment burden imposed on graduates was not well understood either by students, policy makers or politicians.
UCU general secretary Sally Hunt said: 'This report exposes how there are no winners under the current student loan system, just different ways to lose. As some better-paid graduates reach their 30s and 40s they will be hit with marginal tax rates of 51%. Meanwhile men on lower salaries working in our public services like teachers, nurses and social workers will never pay their debt off fully and will end up paying more money back in total.
'That money should be going into saving for retirement, towards a mortgage or even starting a family. This generation of graduates sees debt wrack up from their first day of university and some will never pay it off.
'No wonder they are so angry with the politicians who created such a deeply unfair system at the same time as reducing corporation tax for the most profitable businesses - who themselves benefit most from the supply of graduates.'
Report author Dr Gavan Conlon from London Economics said: 'Despite the claims that the student loan system is progressive, the detailed analysis demonstrates that there are many relatively less well-off graduates in key worker roles that contribute a higher proportion of their earnings to student loan repayment than many more highly paid graduates.
'At a time when there is a crisis in teacher and nurse recruitment, these workers, upon whom almost everyone relies, should be offered incentives to enter these professions rather than the current approach that appears to penalise workers for the entire duration of their working lives.'
Report author Maike Halterbeck from London Economics said: 'This analysis provides robust evidence of the impact of the current fees and funding - and supports what many people have been saying since the introduction of £9,000 fees in 2012/13.
'Both the very high rates of taxation affecting many professions - as well as their extended duration - will have an ongoing impact on graduates' disposable income over their entire working lives. To address these impacts, an in-depth review of the current system should be undertaken as soon as possible.'
---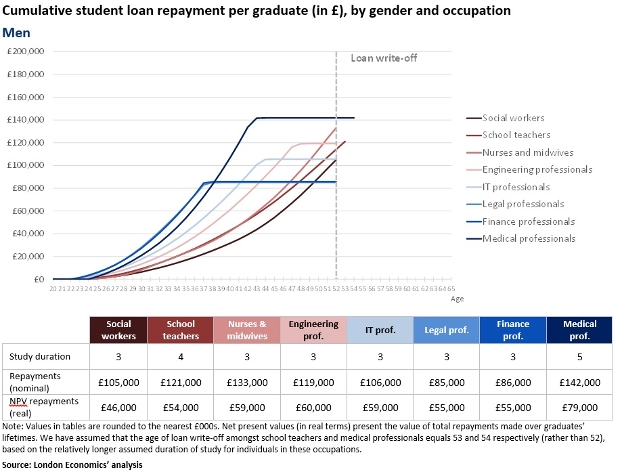 ---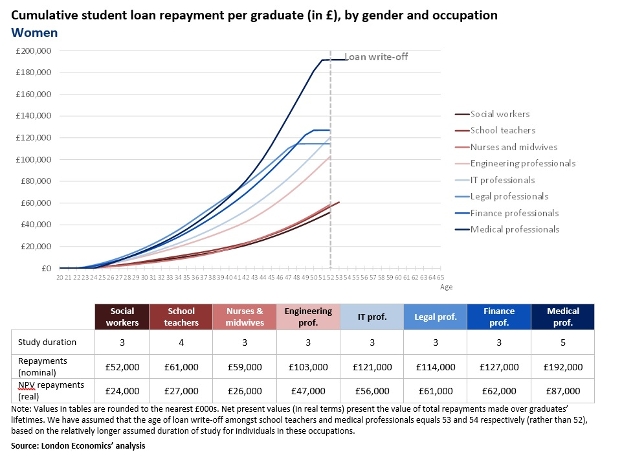 ---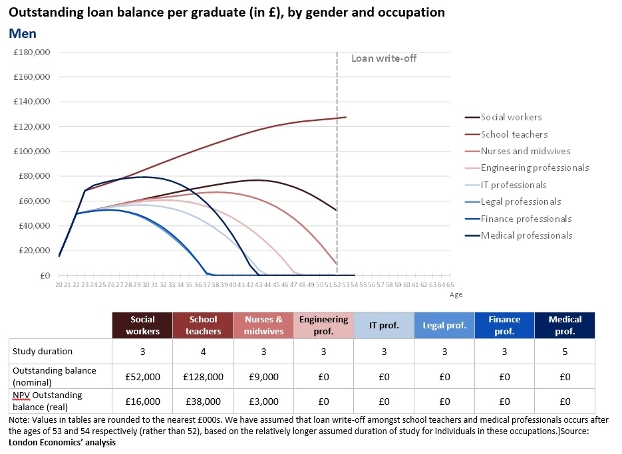 ---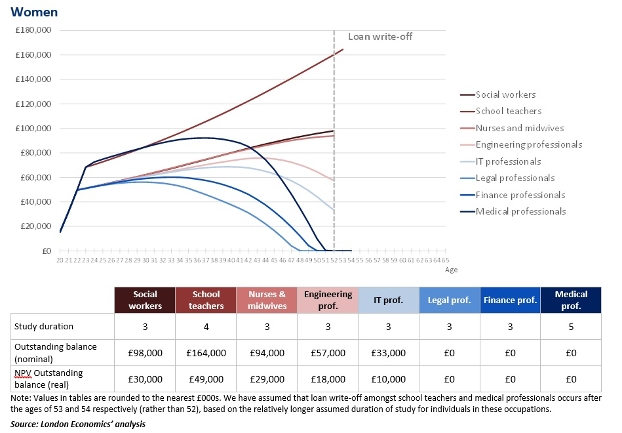 ---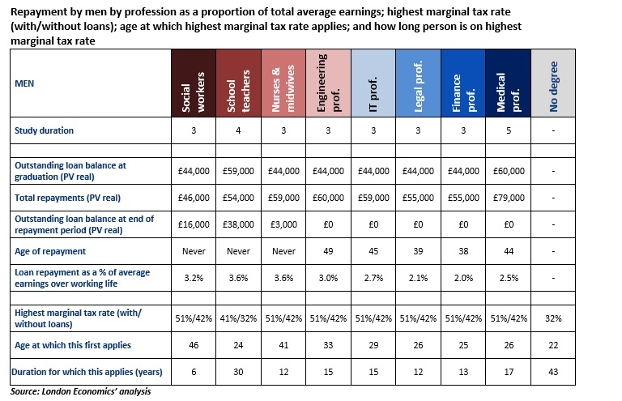 ---