•
•
•

The Friday email: 5 November 2021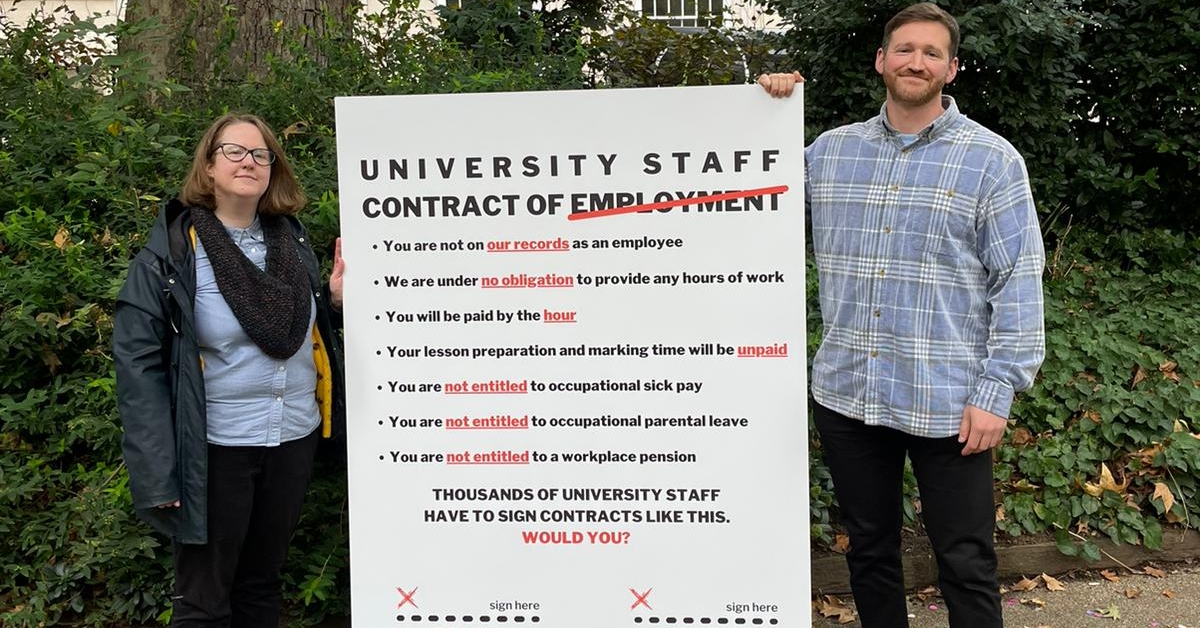 The Friday email: 5 November 2021
5 November 2021

Higher education disputes: results for Four Fights and USS ballots
On Thursday 4 November, UCU received from Civica Election Services the results for the USS pensions dispute ballot. Overall, 76% of UCU members who voted backed strike action and 88% voted in favour of action short of strike. The ballot on pension cuts covered 68 universities. The overall turnout was 53%, higher than the legally required threshold of 50%. The ballot, in accordance to the decisions made by the democratic mechanisms of the union (namely, the higher education sector conference and the higher education committee), was run in a disaggregated fashion. That means the total number of UCU branches that are currently in a position to take action is 37 out of the 68. You can see the full set of USS ballot results here.
Today (Friday 5 November), UCU received from Civica Election Services the results for the Four Fights dispute ballot. Overall, the Yes vote for strike action was 70% and the Yes vote for action short of a strike (ASOS) was 85%. The aggregated turnout across branches was 51%. The ballot, in accordance to the decisions made by the democratic mechanisms of the union, was run in a disaggregated fashion. That means the total number of UCU branches that are currently in a position to take action is 54 out of the total 146. You can see the full set of USS ballot results here. You can also view a video recording in which general secretary Jo Grady announces the Four Fights ballot results.
The UCU higher education committee (HEC) will meet in the afternoon of Friday 12 November to decide on the next steps. UCU branches will be asked to feed into that HEC meeting by consulting their members as widely as possible over industrial action and other matters (between Monday 8 and Thursday 11 November), and sending a delegate to a branch delegates' meeting which will take place immediately prior to HEC, in the morning of Friday 12 November. For more details on this process please follow this link.
Further education disputes: #JusticeForCollegeTeachers and United Colleges Group win
Staff at five London colleges--Croydon, South Thames, Merton, Kingston, and Carshalton--have won improved pay offers from employers after taking strike action as part of the #JusticeForCollegeTeachers campaign. The latest offers mean ten of the fifteen colleges that voted for strike action have now received improved pay offers. The dispute with Capital City College Group remains unresolved; the employer is facing a further ballot as members of the National Education Union at the college vote on whether to join UCU members in taking industrial action.
A long-running dispute at United Colleges Group (UCG) has ended after the employer agreed a deal on a new contract. The deal comes after UCU members balloted for industrial action to reverse changes to their contracts that would have resulted in increased workloads.
Please keep following our roundup of disputes and wins in all sectors.
Update from Goldsmiths, University of London and Royal College of Art
In their local dispute with university management over the threat of up to 52 redundancies in professional services, English and Creative Writing, and History, Goldsmiths UCU last night recorded a huge 86% vote in favour of strike action, on a 70.2% turnout. They are now likely to require a sustained strike to have a hope of defeating these redundancies, and are seeking to raise a strike fund to allow members to take action. Please find a short summary of the dispute here and a motion for branches to support Goldsmiths UCU.
Talks being held at Acas with a view to ending the dispute at the Royal College of Art over plans by the university to worsen contracts hit a stumbling block this week when the RCA 'confirmed that some academics employed by the college would not be granted dedicated research time because of their part-time status', a stance which our UCU regional officials say is clearly discriminatory. You can support RCA UCU by following them and sending messages of solidarity through various channels.
Your feedback is vital: UCU workload survey 2021
UCU is conducting the workload survey 2021 to investigate the changing size and intensity of workloads in universities, colleges, prison education, and adult education. We know that many workers in these sectors experience excessive workloads that cause stress and poor mental health, and that the Covid019 pandemic has further added to workloads. The survey will provide evidence to support local and national campaigns and negotiation to reduce excessive workloads.
The survey will take around 25 minutes to complete, and respondents will be able to enter a prize draw upon completion. You can skip questions that you would prefer not to answer. Please click here to start the survey, and encourage your colleagues to complete it too (whether they are UCU members or not).
UCU statement in response to Al Jazeera podcast series on sexual harassment and abuse in UK universities
Elements of the 'Degrees of abuse' podcast series published in recent days by the Al Jazeera Investigative Unit illustrates in the heart-breaking detail both the worrying prevalence of sexual harassment and abuse in UK universities, and the inadequacy of current institutional responses to complaints of this nature. You can read UCU's full statement here.
If you have concerns about, or are experiencing sexual harassment, you can call UCU's dedicated support service on 0800 138 8724. Calls are confidential, free of charge and 24/7, and will allow you to talk about your experience, discuss options including counselling and access details of further sources of support, if necessary. Click here for full details. You can also find a range of support services across the UK here.
COP26 roundup
Today (Friday 5 November) is Youth and Public Empowerment Day at COP. UCU is part of the ITUC delegation and will be reporting on progress over the next few days you can read more about our demands here.
Global day of action: join a demo. On Saturday 6 November, we are joining the COP26 coalition for the global day of action for climate justice. We are bringing together movements from across the world to build power for system change--from indigenous movements to trade unions, from racial justice groups to youth strikers. Find your local action here.
Join UCU at the COP26 climate justice demonstration in Glasgow on Saturday 6 November 2021. The UCU Scotland banner and activists will assemble in the trade union block of the march from 11.30am, near the Stewart Memorial Fountain in Kelvingrove Park, before marching to Glasgow Green. We anticipate that the section that UCU are in will leave Kelvingrove Park around 12.30pm for Glasgow Green, where there will be a rally between 3.00pm and 4.00pm.
'From solidarity grows power' t-shirts are now on sale. Get ready for COP26 with this union-designed, union-made t-shirt collaboration between the AUE and TUC Yorkshire and the Humber. Every sale will support struggling artists through the AUE solidarity fund. This t-shirt is a unique opportunity to buy union. The artwork was commissioned under an AUE model union contract, with a unionised artist. The t-shirt itself, from garment workers to printer, is made by union members. Order yours here.
Day of action for disability equality
UCU's annual day of action for disability equality will be held on Wednesday 24 November and the theme this year is discriminatory language. The social model of disability challenges us to address society's inequalities, barriers and stereotypes that creates discrimination and oppresses disabled people. Using preferred language is an act of solidarity--for example, in the UK, the preferred term is disabled people, not people with disabilities. Branches will be asked to review the language used in policies and procedures that can be ableist and discriminatory in their application, as well as exploring how branches can challenge ableist attitudes that excludes disabled people. Visit our day of action webpage for more information on how to get involved and access to resources.
UCU's disabled members' standing committee, in conjunction with the CPD team, are hosting an online discussion around the politics of disability on the Wednesday 24 November 6pm-7pm. Ellen Clifford, award-winning author of The War on Disabled People, will join the conversation around understanding the political and social landscape of disability, UCU's approach to disability equality, and the role of all UCU members and allies in the fight for disability equality. Registration will open next week, but for now please save the date.
I'll see you on the other side...
It has been a phenomenal week for all our members in UCU, particularly university workers, and for all UCU staff at the local, regional, and national levels. Please take care of yourselves, your loved ones, your friends and colleagues, and we will go again next week.
With best wishes
UCU campaigns team
Last updated: 12 November 2021