•
•
•

The Friday email: 29 October 2021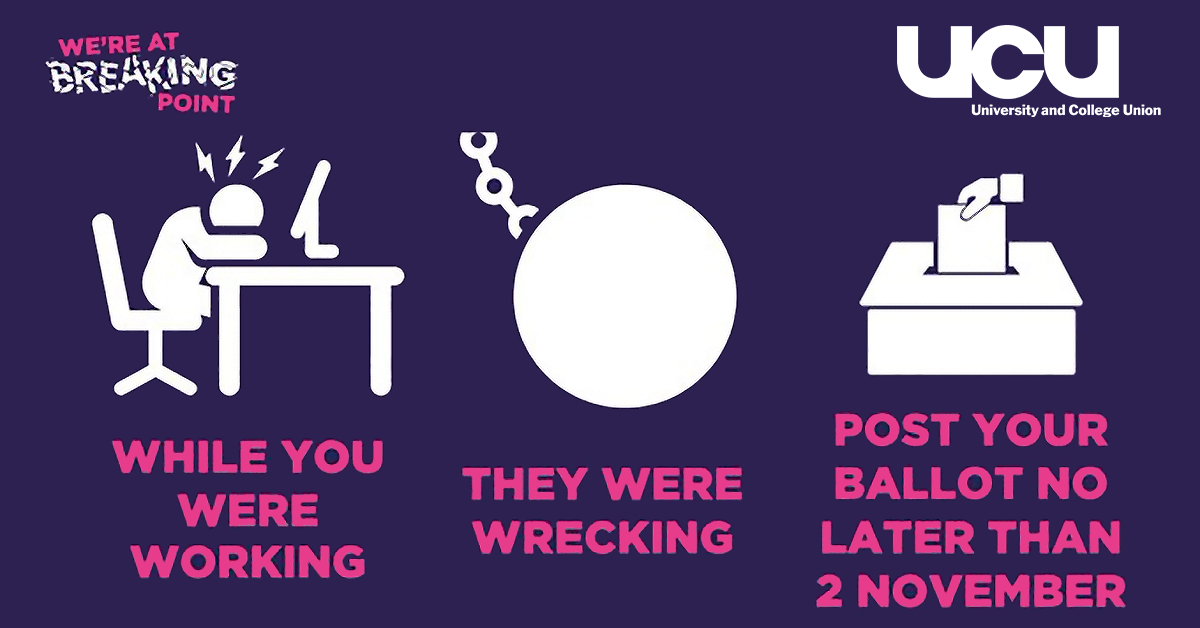 The Friday email: 29 October 2021
29 October 2021

Higher education disputes: Four Fights and USS ballots--into the final days
The Four Fights and USS pension ballots will close on Thursday 4 November (12 noon). To make absolutely sure that they arrive on time with Civica Election Services (the scrutineer), please post your ballots on or before Tuesday 2 November.
If your ballot pack has not yet arrived, and you have filled out the replacement ballot form, please be reassured that replacement ballot requests have been processed throughout the week, and your ballots should be with you shortly. Remember that if you have two ballot papers, because your institution is involved in both the Four Fights and USS pension disputes, please use both ballots.
UCU is urging that you vote yes to strike action, and yes to action short of strike, in both the Four Fights and USS pension disputes.
Please help to get the vote out by contacting five of your friends and colleagues, and reminding them to vote if they have not done so. If you have any questions, please contact your branch officers in the first instance, or email the UCU campaigns team.
Half of UK university staff showing signs of depression; new figures show university staff pay has been cut by 20%
A new report by Education Support, entitled 'Supporting staff wellbeing in higher education', reveals a widespread workload and mental health crisis in universities; staff have been pushed to breaking point with unsafe workloads resulting in one in five academic staff working an extra 16 hours per week. Out of 2,046 academic and academic-related staff surveyed, over half (53%) showed probable signs of depression. You can read the report and UCU's response by clicking here. On Wednesday, at a meeting of the Education Select Committee, a Conservative MP accused higher education staff of not 'pulling together' during the pandemic; you can watch the general secretary Jo Grady's response.
The scale of pay cuts faced by university staff has been laid bare as new data showed 12 years of below inflation pay offiers have left staff thousands of pounds worse off (or 20% pay cut in real terms since 2009). Click here for more details and to use UCU's HE salary modeller.
Prison education and further education disputes: Novus update and #JusticeForCollegeTeachers
The long running dispute between prison educators at 49 prisons in England and employer Novus has ended after the employer agreed to UCU's demands to address health and safety concerns. Around 600 prison educators took four days of strike action between April and June 2021; the deal means UCU members will now be much safer at work.
We are still waiting for further news from the colleges that have been part of the #JusticeForCollegeTeachers campaign; we will update you as soon as possible in our roundup of disputes and wins. Meanwhile, please read UCU's response to the UK government's autumn budget, specifically the commitments made to further education--and the lack of new money to actually meet those commitments.
COP26 is next week
Please pay attention to the following activities:
Day of action for disability equality
UCU's annual day of action for disability equality will be held on Wednesday 24 November and the theme this year is discriminatory language. The social model of disability challenges us to address society's inequalities, barriers and stereotypes that creates discrimination and oppresses disabled people. Using preferred language is an act of solidarity--for example, in the UK, the preferred term is disabled people, not people with disabilities. Branches will be asked to review the language used in policies and procedures that can be ableist and discriminatory in their application, as well as exploring how branches can challenge ableist attitudes that excludes disabled people. Visit our day of action webpage for more information on how to get involved and access to resources.
Events coming up: English, Maths and ESOL conference; LGBT+ research conference
On Thursday 11 November 10am-1pm, we are co-hosting the 'English, Maths and ESOL: a higher ambition for adult basic skills' conference, where we will be joined by policymakers, learners, practitioners, and researchers to explore policy innovations and effective practice in adult basic skills. You can book your free place here.
The 2021 UCU LGBT+ research conference, entitled 'LGBT+ liberation: LGBT+ lives and issues in the context of normativities', will be held online from Tuesday 2 November to Thursday 4 November. Registration to attend the LGBT+ conference is still open.
You go and save the best for last
UCU reps from over 80 HE branches have, by now, sent over 60,000 text messages to connect with members. We want to thank once again the hard work of all vounteers, as well as UCU local, regional, and national staff who have been championing all the sectors that the union represents.
Last updated: 1 November 2021