•
•
•

The Friday email: 22 October 2021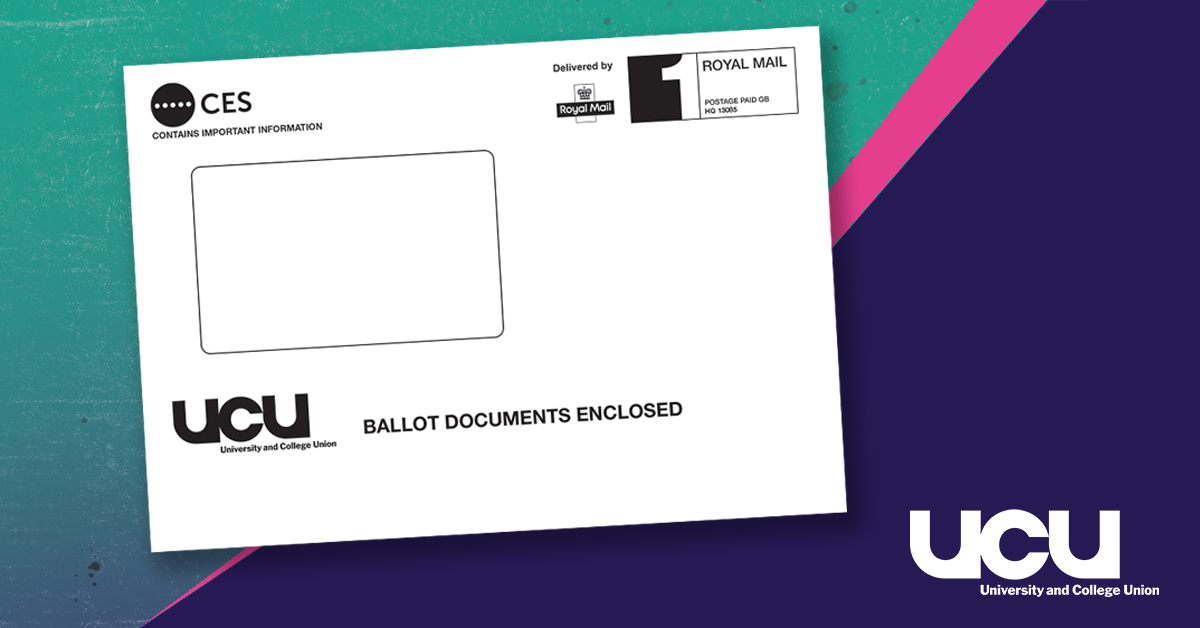 The Friday email: 22 October 2021
22 October 2021

Higher education disputes: Four Fights and USS ballots; update from UCEA
The Four Fights and USS pension ballots opened on Monday 18 October. If you have still not received your ballot pack, please use the replacement ballot form right away. The form will be open until Thursday 28 October at 5pm.
The ballots will close on Thursday 4 November (12 noon); please post them on or before Tuesday 2 November.
Your ballot pack will contain either one ballot paper (for Four Fights) or two ballot papers (for Four Fights and USS pension) depending on your institution. Click here to find out which dispute(s) your institution is involved in.
If you have two ballot papers, please use both. UCU is urging that you vote yes to strike action, and yes to action short of a strike.
If you need a refresher on the Four Fights and USS pension disputes, please visit this page for resources and materials. In particular, we wish to draw your attention to our FAQs: the Four Fights dispute FAQ; the USS pension dispute FAQ; and a FAQ for more practical questions surrounding the ballots.
If you have any questions, please contact your branch officers in the first instance, or email the UCU campaigns team.
Earlier this week, Universities and Colleges Employers' Association (UCEA), the group representing university vice-chancellors, wrote to UCU over our union's decision to ballot for industrial action over casualisation, equality failings, unsafe workloads, and pay cuts. Sadly, the letter contained no good news. Employers are doubling down and repeating their 'offer' of a below-inflation pay rise, describing it as 'fair'. The letter goes on to pay lip service to gender, race and disability pay gaps, with no plan for addressing workload. Extraordinarily, the letter did not contain a single mention of casualisation, insecure contracts, or zero hours. It is clear that UCEA, and the vice-chancellors who mandate it, are not interested in negotiating in good faith, or addressing the issues raised repeatedly by staff. UCU responded forcefully on social media.
Higher education disputes: threat of redundancies at Goldsmiths
Members at Goldsmiths UCU are also balloting for industrial action on a local dispute over proposed redundancies. Goldsmiths management are proposing a restructure which will see at least 52 jobs lost across the whole institution. A deal struck behind closed doors leaves the university at the mercy of the banks or facing repossession, but university management refuse to open the books or engage in meaningful consultation with UCU. A full statement from Goldsmiths UCU is available here; please read it and see how you can support Goldsmiths UCU.
Further education disputes: some updates from #JusticeForCollegeTeachers
There have been further developments in the #JusticeForCollegeTeachers campaign which has seen a number of branches taking action.
Croydon College suspended three days of strike action last week after negotiating a wide-ranging pay and conditions deal with their employer. South Thames Colleges Group has also been negotiating with UCU who are now consulting members over continuing the action.
At Lambeth College there has been no movement from the employer, who ignored requests from UCU to meet last week during the full week of strike action. At Capital City College Group (CCCG), where members also took ten days of strike action, further action is planned after an inadequate offer from the employer was rejected by members.
You can catch up on all the disputes and wins on this page.
Health and safety: Covid-19 in Scotland
UCU Scotland has issued a new Covid-19 update for members in HE on individual and collective rights on health and safety rights. A template letter for members concerned about returning to the workplace is available here (log in is required).
COP26 is just a fortnight away: sign the Educators' Commitment to Climate Action
The COP26 Educators' Commitment to Climate Action pledge is aimed at all levels of formal education, from primary through to secondary, college, university, and adult learning. It is calling for teachers, educators, and educator/teacher trainers, as well as education managers/leaders to pledge their commitment to embed climate learning in their education provisions. Please share across your networks and encourage all to sign ahead of COP26.
Don't make £141bn student debt nightmare worse
University staff have urged the new secretary of state for education, Nadhim Zahawi MP, to be a 'voice for students' and to press the chancellor of the Exchequer to halt plans to hit more students with loan repayments as the student loan debt pile reaches £141bn. The call comes ahead of the Treasury's spending review. You can read UCU's letter here; UCU has warned that any move to lower the salary threshold at which students repay their loans would be regressive and would risk putting off less privileged students from entering higher education.
Events coming up: Black History Month event in Northern region; English, Maths and ESOL conference; LGBT+ research conference; equality groups conference
To celebrate Black History Month, regional equality officers (Northern region) are hosting an online workshop on decolonisation for UCU members in the region that will take place on Wednesday 27 October, 1.30-3.30pm. Speakers, including Professor Rowena Arshad, Dr Marcella Daye, Zena Agha and Aderonke Apata, will explore the theme 'How do we decolonise? through an allyship lens'. Full details of the event can be found by following this registration link. If you have any questions about the event please email Zoulika Lamamra.
On Thursday 11 November 10am-1pm, we are co-hosting the 'English, Maths and ESOL: A Higher Ambition for Adult Basic Skills' conference, where we will be joined by policymakers, learners, practitioners, and researchers to explore policy innovations and effective practice in adult basic skills. You can book your free place here.
The 2021 UCU LGBT+ research conference, entitled 'LGBT+ liberation: LGBT+ lives and issues in the context of normativities', will be held online from Tuesday 2 November to Thursday 4 November. Registration to attend the LGBT+ conference is still open.
A reminder too that the annual equality groups conference, an opportunity for UCU members to discuss and agree strategies to progress equality issues at work, will be held virtually across Thursday 2 December to Saturday 4 December.
So I say thank you for the music...
... the texts you are sending. Reps from over 80 UCU branches have been using ThruText to get the vote out for the higher education ballots; they have sent over 15,000 messages in the last 24 hours. We want to thank the hard work of all the volunteers, as well as UCU local, regional and national staff for making this happen. If you receive a text message from us, please say hello.
With best wishes
UCU campaigns team
Last updated: 22 October 2021