•
•
•

The Friday email: 8 October 2021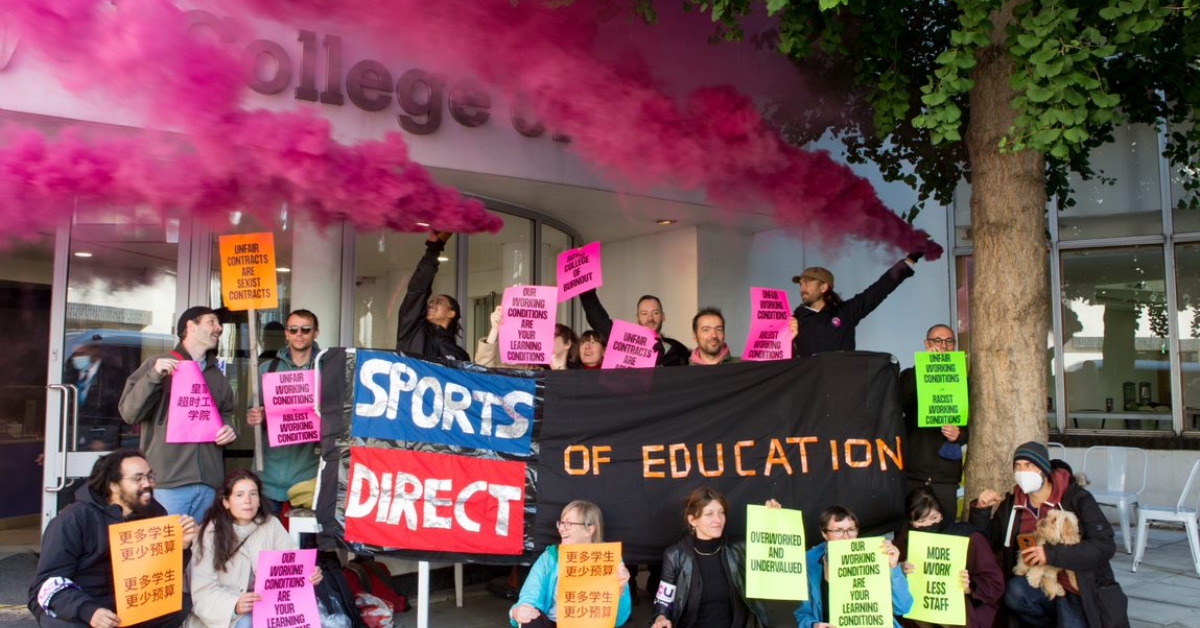 The Friday email: 8 October 2021
Higher education disputes: strike at Royal College of Art; 'Four Fights' and USS ballot timetable; members' voices video project
UCU members at the Royal College of Art were on strike on Monday 4 and Tuesday 5 October over unfair and precarious employment practices, as well as unsafe workloads. The branch received a powerful mandate, with 82.8% in favour of striking on a 63% turnout. According to research conducted by UCU, the RCA had 90% casualised staff. You can read the RCA UCU branch's public statement and follow the latest developments on their Twitter and Instagram accounts.
Intense preparations for the higher education industrial action ballots ('Four Fights' and USS pension) are under way. Here are some key dates for all HE members:
Monday 18 October: ballot packs will be dispatched by Civica Election Services to UCU HE members via 1st class post, with 1st class prepaid envelope enclosed
Friday 22 October-Thursday 28 October (5pm): online replacement ballot request form opens
Thursday 4 November (12 noon): ballot closes.
Further details on ballot timetable and activities have been sent out to all branch officers; please contact your branch and volunteer to 'get the vote out' (GTVO). We will be in touch again very soon with updates, resources, FAQs, and campaign events.
We are also planning to produce a series of videos which capture the lives of members in higher education, and how they are affected by degraded pay, casualisation, equality failings and more. Please get in touch with the UCU press team if you would like to be involved!
Further education disputes: #JusticeForCollegeTeachers continues; Swindon New College and City of Bristol College settle
Staff at six English colleges walked out again this week in their ongoing fight for fair pay. The strike is the second week of industrial action over pay. The dispute has come about after a paltry pay offer from employers of just 1%. You can post your messages of solidarity on social media using the hashtags #JusticeForCollegeTeachers and #FEstrike, or email the UCU campaigns team.
Members at Swindon New College voted overwhelmingly (90% in favour) to settle their dispute after their threat to take strike action led to a deal which includes:
full and immediate harmonisation of pay scales, giving many members at the old Swindon college substantial pay increases backdated to August (this was previously resisted by college management as not affordable)
end to early-August return to duties and the right to take off five consecutive weeks of leave in the Summer (a demand that members with school-age children particularly welcome)
agreement establishing the right to work from home once timetabled duties are completed (this follows a return to presentism now that 'face-to-face' is the norm at the college)
reduction in class contact hours.
Likewise, members at City of Bristol College secured a deal on pay and other matters after a tremendous ballot result and the threat of strike action. Members voted overwhelmingly (80%) to accept a deal to settle. The deal includes:
backdated 2.2% pay increase, when the college's previous position was that such an increase was unaffordable
additional holiday (closure) days
hybrid working policy to be agreed with UCU this term that increases opportunities for teaching staff to work from home (current contracts require 37 hours per week on site)
additional remission from teaching hours for duties
reduction in the maximum annual teaching contact hours.
Congratulations to UCU members at Swindon New College and City of Bristol College, and to UCU's regional officials.
Please read our roundup of disputes and wins for members in all our sectors.
Health and safety: breakfast briefing on workload and Covid; 'Mind Matters'
Do join us for the next health and safety focused breakfast briefing on Wednesday 13 October 9am. The title of this requested briefing is 'Workload, stress, Covid: building branch capacity and time off for safety reps'. You can register by following this link.
As we approach World Mental Health Day 2021 (observed annually on 10 October), we are launching our new blog, 'Mind Matter'. This serves as a space for UCU members to share their experiences and reflections on mental health and wellbeing, as well as being a catalyst for branches to use as conversation starters and for removing the stigma associated with mental health. We are keen for the blog to have an intersectional dimension and welcome contributions from all communities represented by the membership. Due to the issues that we anticipate being discussed, the 'Mind Matters' blog will only be open to UCU members and you will be required to login with your membership number and surname. You can find further information on how to contribute and where to seek support should you feel anxious or overwhelmed.
COP26 inches closer: get organised and build the movement
COP26 is only four weeks away: get organised and build the movement for climate justice. You can find out more on UCU's dedicated COP26 page. A few items and events to pay attention to:
Also coming up: Black History Month event; LGBT+ research conference; equalities group conference; Police, Crime, Sentencing and Courts bill
This year, to mark Black History Month, UCU will be hosting a national online discussion event on Wednesday 20 October from 6.30-8pm. With speakers including Clive Fraser of University of Leicester, Savannah Hanson from Sheffield Students' Union, and Nira Chamberlain from Loughborough University, the event will consider how historical events link to contemporary challenges facing black staff and students, including black students' attainment, the race pay gap and systemic racism. You can register here.
The 2021 UCU LGBT+ research conference, entitled 'LGBT+ liberation: LGBT+ lives and issues in the context of normativities', will be held online over three 2.5-hour sessions, from Tuesday 2 November to Thursday 4 November. Registration to attend the LGBT+ conference is now open.
The annual equality groups conference is an opportunity for UCU members to discuss and agree strategies to progress equality issues at work. There will be five separate conferences for black, disabled, LGBT+, migrant and women members; they will be held virtually across Thursday 2 December to Saturday 4 December. You can find more information here.
Finally, as evidence mounts over systemic levels of abuse by police, the last thing the force needs is more power. That is why UCU is calling on the government to suspend immediately and then scrap the Police, Crime, Sentencing and Courts Bill. Add your voice by signing the petition.
What I have gotta do to make you...
... update your contact details? Please kindly check your details through MyUCU; this will be crucial in the coming weeks for our ongoing disputes and campaigns. Remember, if you do not have your membership number to hand, send a blank email to mynumber@mercury.ucu.org.uk.
Last updated: 8 October 2021