•
•
•
•

Welcome from Vicky Blake, UCU president
Welcome from Vicky Blake, UCU president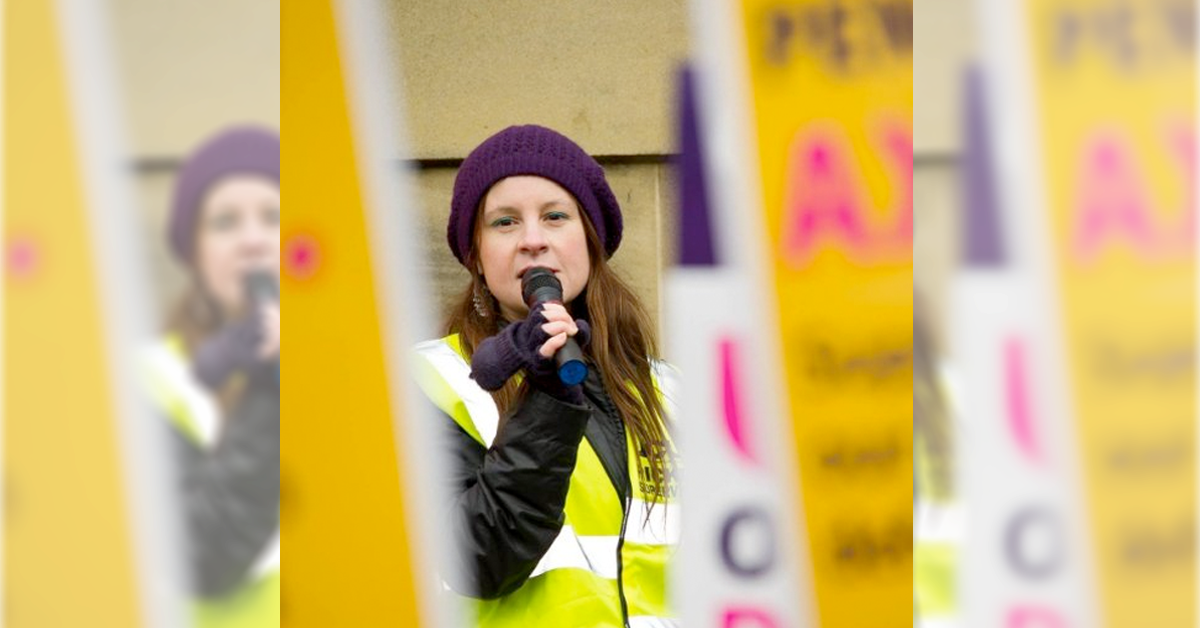 Welcome from Vicky Blake, UCU president
It feels a little strange to be giving another presidential address to Congress, only a few months after our Interim Congress, but that we are here online again is one of many reasons I feel so proud and privileged to have been elected into this position to represent and serve UCU members - because we are here, together in cyberspace, upholding our democracy in the face of technological hitches and lots of learning as we go.
Branches and regions have continued to meet and organise and campaign. UCU activists across all sectors have stepped up organising and campaigning, supporting each other from the grassroots up through online networks, UCU Solidarity meetings, dispute rallies, and even online election hustings. The National Executive and its subcommittees have continued to meet throughout the pandemic. UCU conferences and campaign meetings have moved online.
It has not been perfect, of course, and we owe deep thanks to the UCU staff who have been beyond amazing in stepping up to help us to move online: we really quite literally would not be here without them. We owe thanks too, to the generosity of members who have shared with us how the covid context has highlighted inequalities and shortcomings in our own organisational culture. It really is important that we recognise that and stay vigilant and open, to keep fostering new ways to engage with each other.
Through members' willingness and motivation to keep getting involved we have developed exciting new ideas and organising methods to take beyond this pandemic. It is our collective responsibility to build our union and movement bigger and with a culture that is accessible, welcoming and warm, shot through with steel and kindness.
Based on the attendance, viewings, and engagement with online webinars and workshops during this incredibly stressful and frightening time, and in the turnouts in our ballots, there is cause for optimism.
If you haven't yet done so, I heartily recommend looking out for our regular online events and perhaps challenging yourself to go along to an event about something you are less familiar with, whether that's an equality or anti-casualisation event, a campaign meeting, one of our upcoming events connected to academic related and professional services staff, or signing up for some online training...
I'd also like to ask you to reflect that, while yes you are spending much of your bank holiday on yet another Zoom, you, right now, embody the spirit of democracy and organising in the face of incredible global difficulty.
I hope fervently that next year we will be together in person to debate and connect, and to gather around modest buffets. But, in our sadness over this physical separation, let's make sure we take time to be proud of how we continue to come together online in so many different ways to support each other, and to uphold our member-led democracy. We should all be hugely proud that, when it came to UCU rank and file, no one had any doubts that this would be the case.
It is in that spirit that we ask every delegate to bring their most generous and curious selves to Congress, to treat each other with respect and to reflect on areas of disagreement.
Because indeed, we do not all always agree. It might be a little frightening if we did. There are always frustrations and backstories within unions. But our congress agenda tells the story of a union where members understand the power, the value, and the necessity of grassroots, member-led democracy, of respectful debate, and of our commitment to act together, united, to defend workers, to defend education.
We know the real value of education cannot be summarised in a rigged league table. Nor can the transformative power of a student finding the confidence to follow their calling be reflected through graduate earnings in an economy which consistently devalues the work of many recently recognised as 'critical', but who are asked to accept claps instead of fair pay rises and working conditions.
Across further education, adult and community education, prison education and higher education, we delegates here today represent an incredible diversity of careers and roles. Important to our fight and the heft we can put behind it, is the need to nurture our understanding of what unites us.
Vigilant we must be for the divide and rule trap into which many of our employers, the current UK government, and many of their supporters would like us all to tumble. Let us not delight those who would like to see us fall out. We are strongest when we hold ourselves and each other to account, and support and lift each other up.
I am now going to take a moment to just insert a little bit into my speech on behalf of members at Burnley College, who contacted UCU with a statement which I will summarise here. I am very proud to do so.
On Saturday we remembered Burnley College UCU member Donna Coleman, our union sister who lost her life to covid-19 in January 2021. Sadly, branch officers report that the situation at Burnley continues to deteriorate, in ways that appear emblematic of efforts across the education sector to vilify unions rather than work with us, to ignore us rather than recognise our expertise and the rights of our members to be heard. We have deep concerns over the approach to industrial relations of an already hostile management which continues to fall far short of the bar for meaningful consultation with the branch over how to keep members safe at work on the college site. Management tactics reported by the branch indicate a management team who appear to prefer to ignore their locally recognised trade union rather than to work constructively with us, respecting the rights of all our members.
Where senior leaders refuse to respect our members, where management teams seek to undermine and circumvent proper industrial processes and workers rights, we will not be cowed. We will fight for recognition and fight to defend recognition at every branch.
I'm going to read aloud the final chorus of one of my favourite songs, by Joe Solo - an incredible musician activist well known across the movement, and who headlined our first Online Solidarity gig to raise money for the UCU Fighting Fund.
You take on one of us, you take on all of us
They pick on you, they pick on me
You take on one of us, you take on all of us
And that's the way it's gonna be
These are words to live by in our movement. Our unity really is our strength, and our union has proven that when we really pull together, we are a force to be reckoned with. That force and strength, our 'militancy' is often misrepresented by those who wish we would shut up about workers' rights, working conditions, health and safety, equality, job security, pay and pensions.
We will not shut up.
We will continue to speak truth to power, and to hold our employers and governments to account.
Our mission as a union is to do all we can to make things better, for our members, for our students, and for society. Education matters, and our contribution and participation in the wider trade union movement matters.
These are not platitudes. These are truths.
We understand that funding cuts, culture wars, intensifying marketisation, and anti-democratic legislation drive the institutionalisation of inequality and undermine society.
That is why recently our union has spoken out vociferously against the dangerous implications of the Police, Crime, Sentencing and Courts Bill.
The Bill has already drawn huge protests because it proposes draconian powers that dangerously threaten future rights to protest and dissent in the UK, and because it will criminalise the customs of Gypsy, Roma, and Traveller communities. Yet another piece of racist legislation.
Our opposition to the Bill is also on the grounds of the mechanism it will provide to increase and normalise the incarceration of children - and I use that word deliberately - through the merging of Young Offenders Institutes, Secure Training Centres and Secure Children's Homes, into 'Secure Schools' which will be run by charities and multi-academy trusts and will be accountable to and governed by the Ministry of Justice, not the Department for Education. This is a frightening move away from education in rehabilitation, from the community and school-based transformative justice and harm-reduction interventions that we know work.
As educators, we understand that this model will serve to increase the pipeline of children who go on to offend as adults, will further institutionalise racism and ableism in incarceration, and that this is fundamentally wrong.
We understand that it will have the opposite effect to the rhetoric deployed to justify it. However, the government and right wing media will present this as 'sensible' and needed. It isn't. It is the antithesis to widening participation in education understood in a transformative way. We must not make the mistake of believing that those who designed this lumbering mess of a Bill do not understand the implications of what they propose. They do. And they will present it as 'common sense'.
We see similar poisoned rhetoric dripping all over the education sector. As a union we talk a great deal about the evils of marketisation and the instrumentalisation of education under the guise of providing students with what they 'want', all the while shoring up a system that further privileges and benefits the so-called elite.
We need to expose the deceit and betrayal, the poverty of compassion and false promises deliberately built into right-wing politics. We need to do this in language and ways that everyone can connect with.
We must make no mistake that where we see the targeting of critical thinking and analysis built into assaults on jobs via redundancies, that this is part and parcel of a wider programme to annihilate our ability to speak truth to power, and to wear us down in the process. There is a process of deliberate sabotage which underpins savage attacks on education and the standing of critical educators from government, and which is mediated by employers that pursue unnecessary job cuts predicated on bogus criteria.
Solidarity to Liverpool UCU members who are in the middle of a three week strike action.
Solidarity to Leicester UCU members who have invoked an international boycott of their own employer and are undertaking action short of strike.
Solidarity to Novus members who recently struck over covid health and safety concerns.
Solidarity with every branch in dispute and nearing dispute.
The growing number of live and brewing disputes across tertiary education are serious. These are the 'early skirmishes' ahead of what are likely to be even more difficult times to come.
We know there are challenges, including those connected to uncertainty around the impact of covid, Brexit, and the current government's approach to funding and clearly apparent desire to stoke further 'culture wars' with, and within the education sector. We can no longer afford for our employers to pretend that marketisation works or is healthy.
How our employers respond to the threats and uncertainties will decide the level of impact on our tertiary education sector - on all of us and all of our students. If the worst decisions are made by our employers, we could be looking at many thousands of jobs at risk and a further intensification of the workload crisis we already have, where staff are working all hours to support students, to teach them, to keep our educational institutions running and and facilities working, to progress globally and locally important research.
So, we fight. We must fight all job cuts - whether via redundancy or via the non-renewal of casualised, precarious contracts.
We have to push, constantly, for more constructive solutions. We need to get to the bottom of the finances of the institutions whose management claims to need to make job cuts.
Employers are often not so keen on our determination to stand up for each other, for education, and for what is right. Increasingly, we see tactics designed to undermine our solidarity with one another, and attempts to frighten our members into accepting unfair job cuts, dangerous working conditions, and the continued worsening of casualisation, creaking workloads, and pay 'offers' so stagnant they make ditchwater appear appetising.
We have already proven that where we organise well, and early, we win. We know that when it comes to fighting for jobs, for safety, and for working conditions, when we in UCU pull together we are a force to be reckoned with.
It matters that we remember that what most diminishes the power we hold as workers is when we forget we possess it.
When generations of us are sold the myth of meritocracy and asked to swallow lies dressed as development opportunities, we must resist. And we do.
When casualised workers are pitted against one another, and against permanently employed colleagues, we must refuse to feel gratitude for any degree of exploitation, and expose the lie that casualisation is unavoidable.
We must refuse the argument that it is too difficult to make reasonable adjustments for people who deserve so much better from their employers.
We must refuse the argument that restructures bringing redundancies 'make sense' to make way for those 'coming up' who will often discover the 'opportunities' on offer are precarious, with less scope for progression, but involve ever increasing expectations to undertake unpaid work.
What a pitiful waste of our motivation, insight, and drive to support students the employers who refuse to engage meaningfully with unions seek to make.
When bogus metrics are deployed to bully, discredit, and gaslight dedicated staff who pour their heart and soul, and often many unpaid hours into their work, we must be clear: it is a lie, and we will not have it.
We, UCU, will not have it.
We might be tired but we keep each other going. Across Scotland, Northern Ireland, Wales, and England, we are a fighting union, whose members give each other the strength to go on. There is power in our union.
Last updated: 11 June 2021