•
•
•
•
•

Thousands of precariously employed staff are losing their jobs: here are 10 steps you can take to support them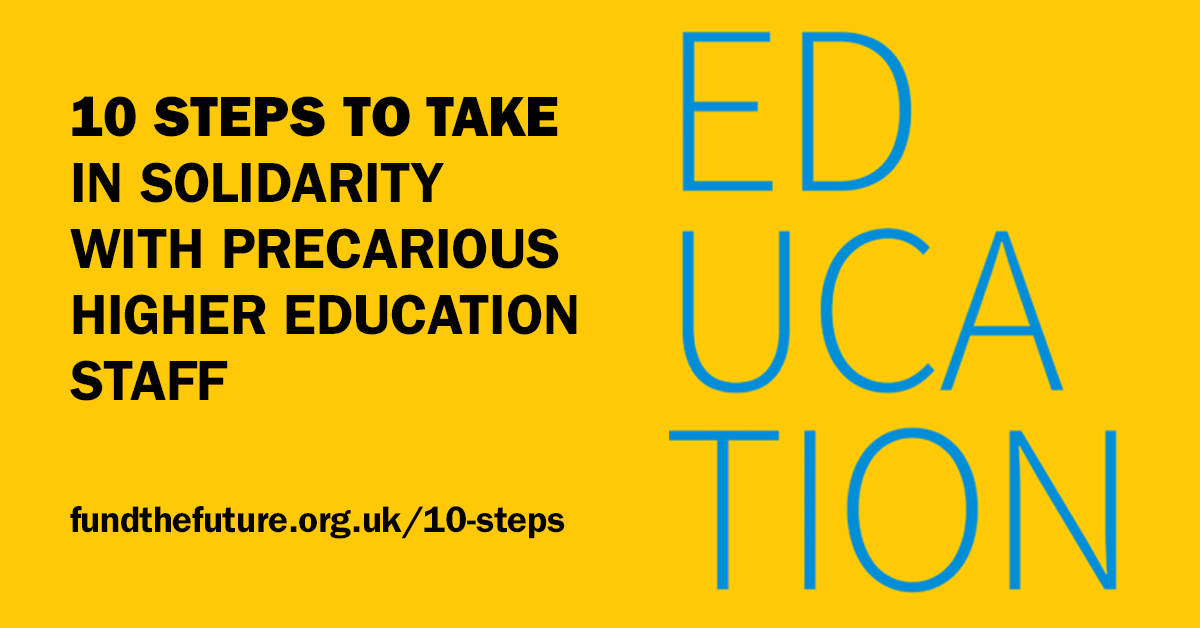 Thousands of precariously employed staff are losing their jobs: here are 10 steps you can take to support them
Since the start of the pandemic employers have used the uncertainty about universities' income as a pretext for making opportunistic and unnecessary cuts to the most precarious and vulnerable staff in our institutions.
Universities like to pretend that they are benevolent employers, but when it comes to insecure work they are not all that different from their counterparts in the wider 'gig economy'. This year's Four Fights campaign (in which your higher education committee is advising you to reject the employers' offer) saw unprecedented numbers of UCU members, both more and less securely employed, vote for industrial action in pursuit of better job security in the sector.
We need that solidarity now more than ever - and that is why we are calling on our members to take these 10 steps in solidarity with precariously employed staff. Some of the steps take a few seconds to complete; others a few minutes; and some involve getting more active and organised with your colleagues, but are well worth it if you can spare the time.
It's unacceptable that only four institutions have announced firm plans for how they are treating staff on fixed-term contracts next year - and none of those plans make for good news.
In those four institutions alone there are 2300 jobs at stake. If the rest of the sector follows this pattern, almost 30,000 fixed-term contracts will be at risk. Those who remain will have to shoulder a massive extra workload burden.
Employers think they can get our precariously employed colleagues off the books by stealth: by cutting budgets and never renewing contracts, without announcing their intentions in advance.
This kind of precarity is sadly embedded in our institutions. We know anecdotally that this is happening everywhere, with colleagues being told department by department that they won't be on the books next year - even if employers refuse to come clean about the full scale of what they are up to. Those of us in more secure employment have a responsibility to do something about it, and we will all benefit from fairer, more stable workplaces if we do.

Start today by pledging to take as many of our 10 steps as you can.
Jo Grady
UCU general secretary
Last updated: 27 July 2020