•
•
•

The Friday email: 14 February 2020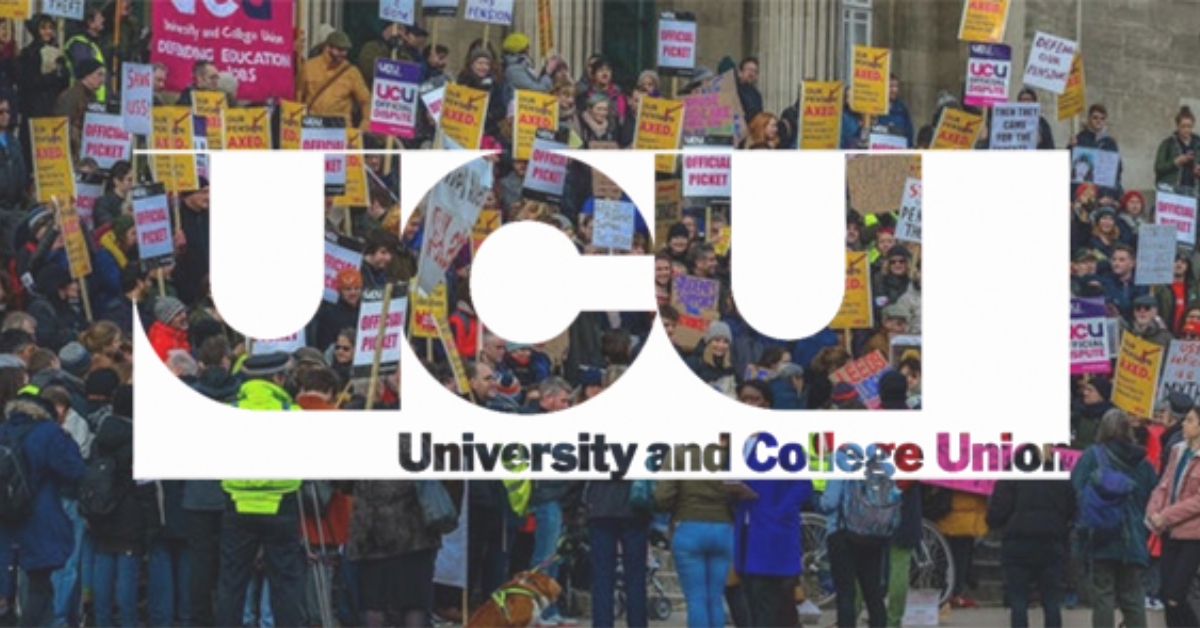 The Friday email: 14 February 2020
UCU strikes back: support the HE action
Thanks to every one preparing for the next round of strikes over USS pensions and pay, equality and working conditions. 74 universities will be hit by 14 days of strike action kicking off next Thursday 20 February and you can find the full calendar of strike days including local variations here. Here's a quick round up of key information and resources:
UCU coronavirus advice
UCU members have raised questions about the coronavirus and we have produced general advice here in line with the government, NHS and Public Health's guidance.
Climate and sustainability: latest news and action
It's been a busy month for UCU's climate emergency work as you will see from our latest environment update here.
Last weekend saw another packed Cradle to Grave conference and this year the theme was 'climate change, power and society'. The hugely popular event featured speakers from the Just Transition and Environmental Justice Commissions and our general secretary Jo Grady who gave a commitment to keep the climate emergency as a priority for the union.
It's also our Climate Learning Week and UCU campaigners have joined up with the National Education (NEU), Students Organising for Sustainability, Tes and Capital City Colleges Group to hold environment education events across the country. The week was launched at City and Islington College where shadow chancellor John McDonnell urged students and staff to mobilise and pressure politicians to take action on climate change.
In the news
A round up of this week's news coverage: read all about it here.
Northern Ireland further education dispute
UCU has reluctantly declared a dispute over the pay and conditions of staff working in Northern Ireland's further education sector. With wages falling well behind cost of living increases and spiralling workloads, the union has been pressing employers to work with us to improve conditions for our members but unfortunately negotiations have thus far failed. We will therefore prepare to ballot our members for industrial action but continue to urge employers to meet with us to negotiate a better deal for staff, students and the colleges that communities in Northern Ireland depend on.
Have your say on how UCU is run: NEC elections
Please use your vote and have your say on who is elected to these important roles within the union. All ballots close at 12 noon on Wednesday 4 March and you can request replacement voting papers here. Here's our general secretary Jo Grady with more information and on why it's important that you vote.
Overworked and underpaid: Welsh FE staff prepare for action
Spiralling workload is a huge issue for all education staff and in Wales the union is balloting lecturers and tutors for strike action as intransigent employers have consistently refused to take action to address the problem. The ballot opens on 20 February and closes at 12 noon on 13 March and you can find out all about our campaign to address workload issues in Welsh colleges here.
Film screening tour: 'THE PLAN that came from the bottom up'
A film about the Lucas Aerospace workers who were nominated for Nobel Peace Prize in 1979 for their pioneering plan to convert weapons manufacture into hybrid engine and wind turbine production. Film director Ken Loach said: 'This film captures a unique moment in our history - highly skilled workers showing how to turn swords into ploughshares. If we want to transform society, this is a good place to start.' You can watch the trailer here. The film is being shown on the 1 March at Birmingham Midlands Arts Centre, Cambridge, Arts Picturehouse, Liverpool, Picturehouse at FACT, London, Bertha Dockhouse, Norwich, Cinema City, and Sheffield, Showroom.
Anti-racism events
UCU equality research conference, 15 May
There is a one-day conference for academics, researchers and activists conducting research on equality in Manchester on Friday 15 May. The call for papers has a deadline of 17 February.
Last updated: 14 February 2020