•
•
•

The Friday email: 22 November 2019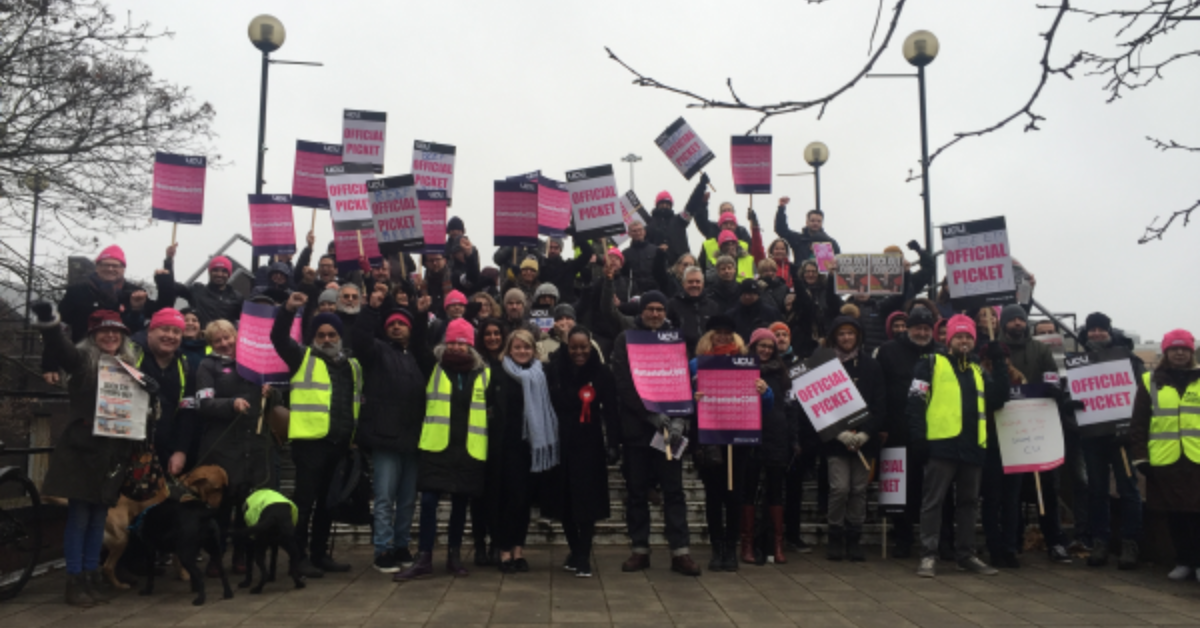 The Friday email: 22 November 2019
Support our strike: join the pickets
UCU members in the 60 higher education (HE) branches starting eight days of strike action next week are encouraged to show support for your colleagues - join the picket lines and demonstrations taking place on campuses around the UK from next Monday 25 November.

You can find all the information on the rallies, marches and other events being organised during the strike period here.
The union has also prepared a suggested text to add to your out of office during strike action, and to add to your email signature or footer during action short of a strike. The text is available here in both Welsh and English.
UCU general secretary Jo Grady hosted a live Q&A session today (Friday 22 November) answering questions about the upcoming action. If you missed it, a link to the video is available on the UCU website here.
You can find all the other essential information in the HE action centre here on the UCU website, including:
If you have a query not answered by the FAQ, please contact Matt Waddup directly here.
Student voter registration: video and speaker notes
The 26 November deadline to register for the forthcoming general election is looming. You can show students or share this very short video which comes with some speaker notes here. Please continue to lobby universities and colleges to pledge to help persuade students to register to vote. Contact your vice-chancellor or college principal to ask them to make this pledge.
UCU fighting fund - please consider donating
UCU branches are taking action in 60 institutions from Monday, but if they win the disputes they are involved in, staff outside those institutions will benefit too. That is why if your branch is not one of those on strike, we urge you to donate to the fighting fund.
To make a donation, click here.
To find out which branches are taking action, click here.
Think of the eight days' pay your colleagues stand to lose, and show your solidarity by donating as much as you can. The larger the fund is, the stronger the message we send to our employers that we will not capitulate.
In the news
All the latest UCU coverage in this week's news. Read all about it here.
Philippines: Anti-union repression against teacher union
UCU has written to President Duterte condemning the increased police crackdown on the Alliance of Concerned Teachers (ACT-Philippines) and other civil society and trade union organisations in the Philippines.
Please sign this online petition in support of our colleagues.
UCU recognised at Writtle University College
UCU and Writtle University College signed a formal recognition agreement on 20 November 2019. WUC has agreed voluntary recognition of UCU for the purposes of collective bargaining, communication and consultation for staff involved in teaching and learning.
UCU regional support official Alex Eastwood said: 'I'm delighted that we have been able to reach an agreement with WUC to recognise UCU for academic staff. Members have campaigned long and hard for recognition and I would like to thank everyone who has supported this campaign. I hope that this agreement and the positive nature of our discussions with management will be the foundations of a strong working relationship with WUC.'
Last updated: 22 November 2019