•
•
•

Love Our Colleges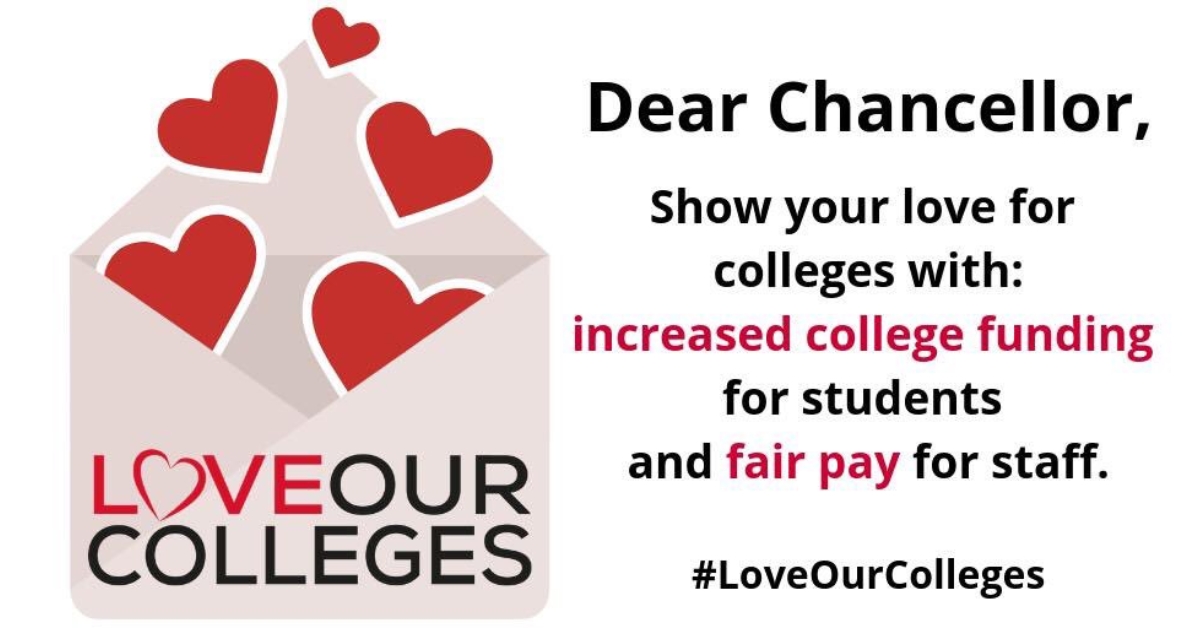 Love Our Colleges

The Love Our Colleges campaign is making the case for extra government funding to support fair pay and funding in further education.
The campaign is supported by UCU, Unison, Unite, GMB, NEU, NUS, TUC, ASCL and the Association of Colleges.
How can I support the campaign?
The campaign is holding a week of activity from 14 - 18 October 2019. You can support the Love Our Colleges campaign by:
Write to your local MP: (you can use this draft text: MP funding letter October 2019 [461kb]) and ask them to keep the pressure on the government in relation to further education pay and funding
Sign a pledge card: visit the Love Our Colleges website for resources including new printable pledge cards - get staff and students to sign them and then use them to engage with the local MP
Get social: follow the #LoveOurColleges hashtag on Twitter and tweet about why you think the government should invest more in colleges and their staff and students
Background to the campaign
Further education colleges are an essential part of England's education system. Whether it's through top-class technical education, basic skills or lifelong learning, colleges help people of all ages and backgrounds to make the most of their talents and ambitions. Rooted in local communities, they are crucial in driving social mobility and providing the skills to boost local and regional economies.
Between 2009 and 2019, college funding has been cut by around 30%. This drop in funding has led to:
fewer hours of teaching and support for young people
a drastic reduction in the number of learning opportunities for adults
the value of staff pay falling by over 25% since 2009
college teachers earning £7,000 less on average than school teachers.
This situation is not sustainable and ultimately impacts on college students and staff, businesses, communities and the wider economy.
The campaign held its first week of action from 15-19 October, including a national lobby of parliament on 17 October 2018, and over the last year we have engaged closely with MPs to raise these issues in parliament.
In September 2019, the Chancellor announced that the govenrment would be investing an additional £400m in further education. UCU welcomed this investment but warned it fell short of the funding needed to restore funding to 2010 levels, and called on the Chancellor to 'dig deeper' and make closing the pay gap a top priority.
More information
If you have any questions about the Love Our Colleges campaign please contact UCU press office.
Last updated: 11 October 2019