•
•
•
Oxford and Cherwell Valley UCU tell college: 'Implement national pay agreement'
4 July 2007
| last updated: 14 December 2015
UCU members at Oxford and Cherwell Valley College recently staged a high profile lunchtime protest outside college entrances to draw attention to the failure of the college to implement the national FE pay agreement.
The lively protest was co-ordinated across three sites, with over 40 UCU members turning out in Oxford and 15 in Banbury. The branch sent a press release to local media and produced a leaflet for the public.
They explained that pay for lecturing staff at further education colleges has fallen well behind their school teacher colleagues.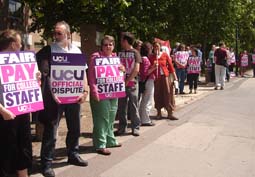 A branch spokesperson said, 'Three years ago, when the college wanted all its teaching staff to agree to new conditions of service, they used the national pay scale as a carrot to persuade lecturers to sign up. Since then, however, they've refused to honour national pay deals in full, and we've seen our pay fall behind that of lecturers in other parts of the country.'
The branch promised further protests.