•
•
•

The Friday email: 09 July 2021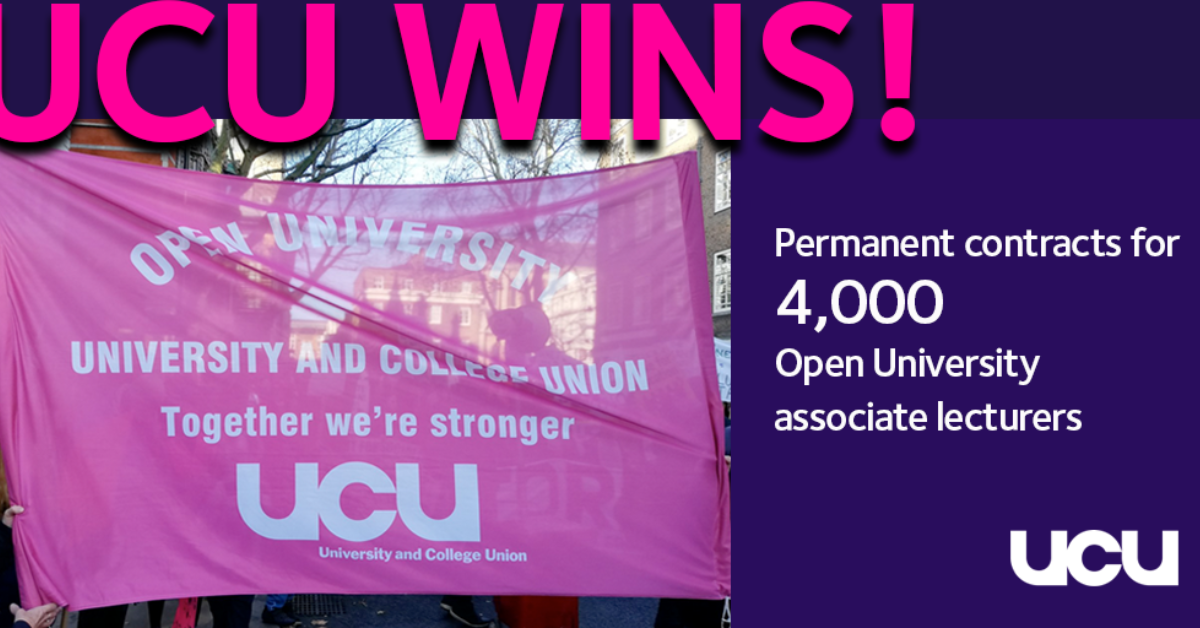 The Friday email: 09 July 2021
UCU wins landmark agreement on pay and security at Open University
Fantastic news for 4,000 associate lecturers at the Open University (OU) who will be moved on to new contracts with improved pay and job security including:
a 10-15% uplift in pay including additional annual leave and staff development allowance
an annualised salary that includes all elements of work, not just module teaching. Previously most associate lecturers were unpaid over the summer
no redundancies or loss of duties before being moved onto the new permanent contract in August 2022.
OU UCU rep Caitlin Adams said: 'UCU has been campaigning and negotiating for years to improve the conditions of associate lecturers. This agreement provides guaranteed job security and a pay rise, which is absolutely life-changing for our members.'
Congratulations are due to the UCU staff and members involved in this important win for the union and for workers at the OU.
University of Liverpool boycott: stand in solidarity to defend health jobs
From today the union has declared the ultimate sanction of an international academic boycott over the University of Liverpool's refusal to halt the sacking of 21 health staff. All members, supporters and the international academic community are asked to boycott the university until management come to the negotiating table. Join us in solidarity and hold University of Liverpool management to account:
Covid safety in colleges and universities
UCU has said the UK government was wrong to scrap Covid-19 safety measures in colleges and universities in England and needs to get the vast majority of students vaccinated. Jo Grady said: 'Yet again the government is shifting responsibility for managing a national health crisis onto employers, an approach that proved catastrophic last time. We need robust Covid health and safety measures and have a majority of the student population vaccinated.'
You can read all our guidance and information on Covid-19 here.
#RebuildFE: invest in our colleges and staff
As UCU members at 11 colleges enter the final week of an important industrial action ballot our campaign for investment and decent pay in further education was covered in FE Week with an interview with general secretary Jo Grady. You can find download posters and flyers to promote the campaign at your college.
Novus UCU prison education dispute
Prison education staff members remain in dispute with the employer Novus over health and safety concerns. The union has been trying to get Novus to engage in the mediation process at ACAS and has been working with both MPs and prison governors to address education staffs' safety at work. This week prison education members voted overwhelmingly for further strike days. Please continue to send messages of support or tweet to @ucuprisoned. To donate to the local strike fund (sort code: 60-83-01, account number: 20240811, reference: NOVUS) or via the national UCU fighting fund.
UCU members fighting back
UCU branches across the UK are fighting to defend jobs and conditions and you can read our roundup of local disputes including successful campaigns at New City College and Newcastle College Group here.
Defend the arts: universities must invest in staff
This week's figures from UCAS show a record number of people are applying to study at university. Jo Grady said 'It is particularly encouraging to see increases in the numbers of people applying to study humanities, social sciences and the creative arts across England, despite the Conservative government's continued attacks on these subjects.'
The government is proposing big cuts to creative and performing arts courses at English universities and you can sign a petition on the issue here.
Review threatens initial teacher training (ITT) places
The government are currently consulting on changes to the initial teaching training system. Proposals could put thousands of training places at risk and affect teacher supply in the long term. UCU will be responding formally to the consultation but please write to your MP here.
Decarbonise & Decolonise 2030: online launch, Tuesday 13 July
Join UCU general secretary Jo Grady and Larissa Kennedy, NUS president next week, for an online event marking the launch of Decarbonise & Decolonise 2030, at 4pm on Tuesday 13 July by registering here.
Last updated: 9 July 2021