•
•
•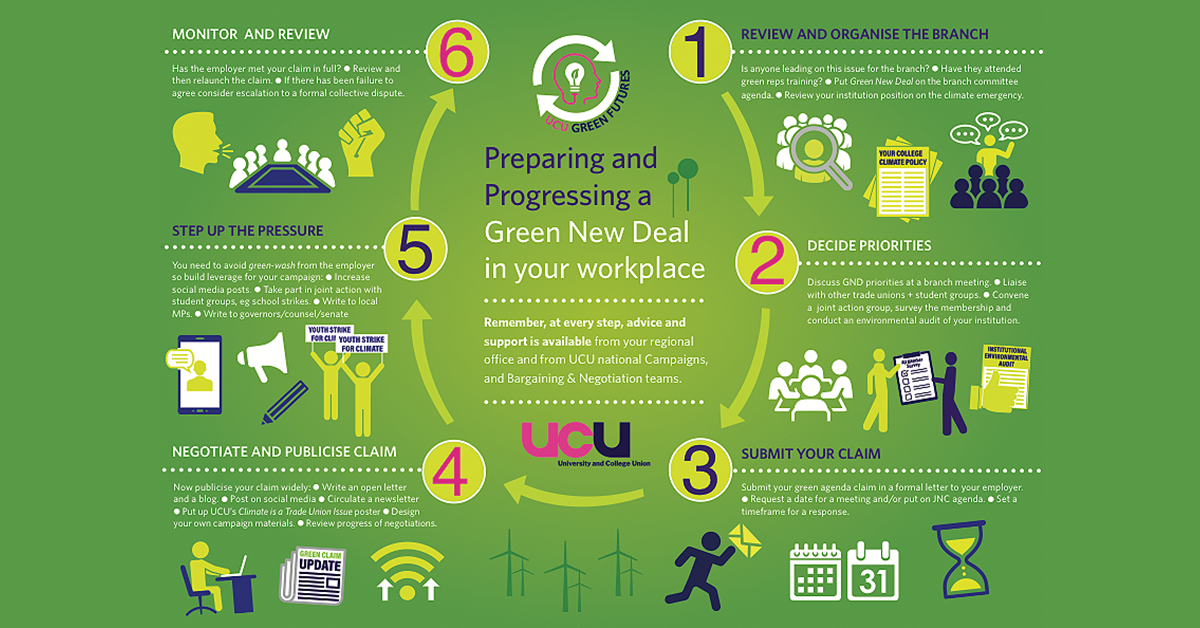 UCU climate & sustainability update, May 2021
28 May 2021
| last updated: 22 June 2021
There has been a great deal of work carried out in the past few months in relation to our work towards tackling the climate emergency. We are looking forward to the debates around climate and sustainability motions at this year's congress which starts this weekend and then planning how to take forward any new policy which is set.
COP-26 preparations and campaigns
The UK will be hosting the 26th United Nations Climate Change Conference of the Parties (COP26) in Glasgow on 1-12 November. The summit will bring together parties from UN member states to agree on action towards the goals of the Paris Agreement and the UN Framework Convention on Climate Convention. In its role as COP26 President 5 priority areas have been agreed for the UK, they include: adaption & resilience; nature; energy transition; clean road transport; and finance. The role of education in delivering on these priority areas and to address the climate emergency in a just and fair way is absolutely critical. We as UCU are calling on members to join together and take action to ensure the agreements that come out of this year's COP fundamentally include education as a key enabler.
UCU's COP-26 campaign aims:
develop specific COP26 campaigns and claims around embedding climate justice and learning. See below COP26 climate themed learning month and decarbonise & decolonise 2030 model claim.
international collaborations - we are working with ITUC, ETUCE and Educational International on a coordinated approach to COP26. UCU contributed to EI's manifesto for quality climate change for All which can be seen here Education International's Manifesto: Education, a tool to fight the threat of the climate crisis (ei-ie.org)
UCU Congress policy for 2020 re COP26 UCU - Congress motions 2020 calls on UCU to encourage branches to progress claims with local employers. Local branches can start their green new deal claims here: UCU - Green new deal
collaborations with other unions via TUSDAC which is the TUC coordinating body for climate and sustainability where we have been discussing trade union delegations for COP26
encourage branches to affiliate to COP26 coalition trade union co-ordinating group: https://cop26coalition.org/
Climate themed learning month: November 2021
Climate themed learning month will run throughout November 2021 in parallel to COP-26, it is supported by UCU, NEU, NUS and SOS-UK.
The aim is for schools, colleges and other education institutions to integrate into that month's learning a key theme of the climate and ecological crisis, with colleges and schools focusing on a week of learning and activities related to understanding the climate and ecological crisis.
It aims to respond to the demand for a curriculum which matches the urgency of the climate crisis. The focus of the month will be to allow teachers to work with young people in order to give a glimpse of a curriculum in which young people are informed and empowered to address the urgency of the crisis.
A CPD session will be running to support members in successfully holding climate themed events and sessions at their institutions. These are looking to be piloted in early July. Keep an eye out for confirmed dates and registration.
A resources website which covers different subject areas to provide ideas for lessons and lectures and beyond including integrating learning ideas across different campus services such as IT and catering can be found here
Decarbonise & decolonise: 2030 model claim & campaign
'It's impossible to write a history of the climate crisis without understanding how empires built fossil fuel companies and stole natural resources from the Global South'
Grace Corn, Teach the Future, SOS-UK Project Manager.
UCU together with SOS-UK, NUS and Teach the Future are looking to set a 2030 target date for decarbonising institutions and we also want to include decolonising demands too, which reflects UCU's commitment to climate justice.
This approach reflects the UN's education for sustainable development goals:
By 2030 ensure all learners acquire knowledge and skills needed to promote sustainable development, including among others through education for sustainable development and sustainable lifestyles, human rights, gender equality, promotion of a culture of peace and non-violence, global citizenship, and appreciation of cultural diversity and of culture's contribution to sustainable development.
Decarbonise & decolonise 2030 CPD online workshop
Building on existing CPD workshops 'Introduction to climate education' and 'embedding climate and sustainability in learning', SOS-UK have developed a 'decarbonise and decolonise' workshops to introduce members to the interconnectivity of these two agendas and identify opportunities to take action.
The new decarbonise & decolonise workshop aims to:
provide an introductory understanding of climate justice and its connection with decolonising and decarbonising
support participants to identify opportunities to apply decolonising and decarbonising for climate justice to the education sector
encourage participants to develop their own practice to consider climate justice and intersectionality
explore the role of UCU branches and members in mobilising action for decolonising and decarbonising.
These CPD workshops are being piloted in June, with dates for wider roll out TBC.
Slack: communication forum for green reps
Following our discussion at our climate and sustainability conference 2021, we have launched a new Slack workspace. This is an online discussion forum for green reps and interested members to share updates, news and events, to learn from one another and to have focused discussions on priority areas. This should create a more dynamic discussion space than the current green reps mailing list.
Marianne and Meg will be overseeing Slack to support members. Channels have been setup covering each area of the UCU Green New Deal as well as specific channels for 'Ask a question', 'Congress 2021', 'COP26', 'General', Opportunities', and 'Random'. If you feel we need to create a new channel for something specific please do get in touch.
To join UCU green reps slack workspace use this joining link here.
For a brief guide on how to join follow the steps in this quick online guide here.
Any problems with this, email Meg: sos-uk@ucu.org.uk.
Training and CPD opportunities
Final call for GND training: The next UCU Green New Deal training course will be taking place on the 9th, 16th and 23rd June.
'Introduction to climate education' and 'embedding climate education in the curriculum' workshops, developed and delivered by SOS-UK, can be run online at branch level on request. Contact the CPD team for further information.
With banners held high green bans fringe
Watch a recording of the fringe held on 19 May here: TUC Yorkshire & the Humber - Green ban, red union: winning our climate demands | Facebook
How can workers use our industrial power to win our climate demands? Listen to the discussion of the past and future of the greens bans.

From 1971-75, the BLF in Australia placed green bans (orders not to work) on sites of ecological, climate or conservation interest, to stop big developers riding roughshod over local communities.

Today, the CFMEU union is reviving green bans to defend communities and climate. Hear how the CFMEU have overcome harsh anti-union laws to centre worker issues in the fight for climate justice, and hear from UCU how they are bringing the fight to employers over climate injustice.

Speakers:
Darren Greenfield, state secretary, CFMEU New South Wales
Chloe Koffman works for Momentum and has written about the green bans of 1971-75
Marianne Quick, UCU national bargaining official for sustainability & climate
Other resources and opportunities
Check out the Greener Jobs Alliance May Newsletterfor latest updates from partner organisations and networks also working in this area.
SOS-UK have launched a new programme to complement their Responsible Futures accreditation mark and supported change framework: Education for Sustainable Development (ESD) Changemakers. This new programme aims to promote a co-creation approach between students and staff for participatory and engaged learning and development as a means of democratising, decarbonising and decolonising education institutions. Find out more here.