•
•
•
•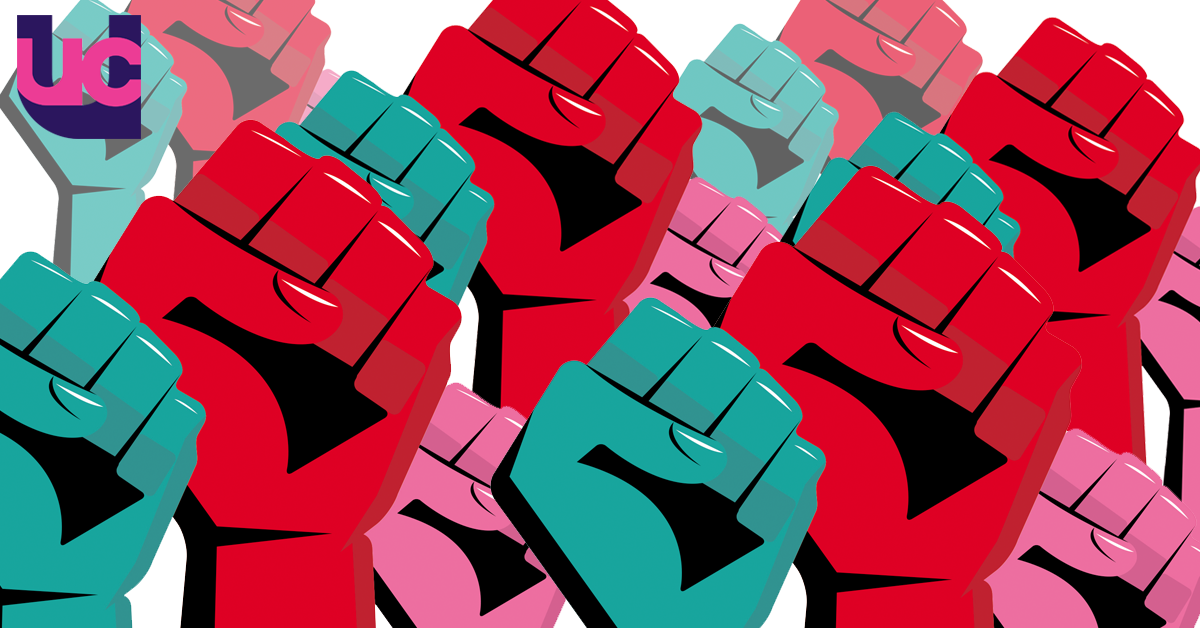 Update on progress in the HE disputes
23 December 2019
| last updated: 5 March 2020
As we move into the New Year, I have some important updates about our nationwide industrial action in higher education.
Our eight-day strike saw record numbers of members withdraw their labour and join picket lines in sixty institutions. We are continuing to take action short of a strike (ASOS) and employers are well aware that our mandate for industrial action lasts until the end of April. They know that we are willing to call more strikes next term and as a result they have become more open to making a good offer as negotiations have progressed.
Three-way talks with employers and USS announced today
For those of us in USS institutions, today represents a significant milestone in negotiations. Universities UK and USS have both agreed to three-way talks which will begin in the new year. These talks are the best opportunity we have had to reform the governance of USS and establish a new approach to the USS valuation, based on the recommendations of the second report of the Joint Expert Panel (JEP).
Crucially, the process will not be led by employers or by USS. Instead, it will be facilitated by the independent chair of the Joint Expert Panel, Joanne Segars. This, combined with our industrial action mandate, leaves us in a better position to get the right outcome than we have ever been. The panel's recommendations could allow us to achieve our goal of no detrimental changes for members in the longer term, and I will be attending the talks along with other UCU representatives with the aim of making sure that happens.
To read today's UCU press release with further details, click here. I have also written to elected officers in your branch with more information about the panel's second report, so they can lobby your senior managers locally to help achieve a resolution to the dispute. What I have stressed is that this time, a verbal agreement with employers over the next valuation will not be enough for us to trust them: they also need to cover the detrimental contribution increases that have already been forced on us before we can move forward.
Gradual progress in the pay & equality dispute
Progress in our dispute over equality, workload, job security and pay has not been straightforward, but it is happening.
Before you gave us a mandate for industrial action, employers claimed that they were unable to negotiate on equality, workload, or job security. Since our strike started, however, they have started to offer us concessions in those three areas. They now say that they are willing to agree on sector-wide 'expectations' for all employers to be measured against. This is a welcome development but it is still not enough. We need to go one better than 'expectations': we need firm commitments and action plans which employers will be obliged to deliver on, or be in breach of their agreements with us.
When I toured branches and asked you to vote in our industrial ballot, I made clear that although we tend to call it a 'pay' dispute, this dispute was really about much more than that. It was about the systemic problems of inequality, overwork, and precarious employment that make it harder to live our lives and to do, or enjoy, our jobs.
In your feedback you have made it very clear how much these three issues matter to you. Employers now seem to be recognising this, but on the 'fourth' issue, headline pay, they have not moved at all. They have not indicated any willingness to improve their offer of a 1.8% increase, which as it stands is below the lower, CPI rate of inflation and amounts to a real-terms pay cut.
We have made clear to employers that this dispute will not be resolved until we see a better offer on pay as well as on the other three issues. We will meet them again in the New Year and I will let you know if there has been any significant movement.
Planning for the New Year
I know that members are willing to go on strike again if necessary, but the best way to keep up the pressure on employers for now is to keep taking action short of a strike (ASOS). UCU has collected your queries about ASOS and is producing an enhanced version of our ASOS guidance with even more information about the specific kinds of work we want you to refuse to do.
If your branch does not yet have a mandate for industrial action, you may be in one of the 37 branches that are being reballoted in one or both of our higher education disputes. Please vote as soon as you receive your papers, and remind your friends and colleagues in your branch that we need to clear the 50% turnout threshold required by law before anyone in your branch can exercise their right to take action. The more branches beat that threshold, the more leverage we have over our employers.
Finally, do not forget to support members who are having their pay deducted by donating to UCU's fighting fund, especially if your branch has not yet been able to join the action. Every donation brings us closer to winning agreements that will improve the conditions of all the staff we represent.
I will be in touch in January. Until then, best wishes for a relaxing vacation and a happy New Year.
Jo Grady
UCU general secretary