•
•
•

Academic-related professional staff annual meeting
Academic-related professional staff annual meeting
The next annual meeting will take place on Thursday 18 March 2021.
Venue and timings
The conference will be held on-line using Zoom from 11:00-15:30.
Registration - deadline for registration is Thursday 11 March
Each HE branch may send two voting representative to the annual meeting. Branch representatives must have been approved either by a quorate branch meeting, quorate branch committee meeting or by a properly constituted meeting of members that work in an academic-related role.
The deadline for registration is Thursday 11 March 2021.
Nominations - deadline for submission of nominations is Thursday 4 March
Each HE branch/local association can nominate up to three people to the committee. Nominees to this committee must be in good membership standing and have been employed in an academic-related role in the last 12 months. The academic-related, professional staff committee will advise and make recommendations to the National Executive Committee on any issues arising specifically from or related to the employment of members on academic-related contracts.
The committee will meet three times a year and committee members will have their expenses paid. If elections are necessary these will be held soon after the annual meeting.
Motions - deadline for submission of motions is Thursday 25 February
HE branches/local associations can submit up to 3 motions for consideration to the annual meeting, limited to matters of direct concern to staff in academic-related roles.
General
Access requirements
If members have any specific access requirements, please provide us with full details on the relevant section of the registration form to ensure that we can make suitable arrangements to accommodate members' requirements. Alternatively please contact Sue Bajwa.
Conference papers
All relevant papers will be emailed to delegates approximately one week prior to the conference along with the conference link.
---
The 2020 annual meeting on the 12 March focused on the responses to two surveys the union had conducted, one for ARPS staff and one for branches about ARPS staff issues.

ARPS Presentation 2020 [701kb]
Workshops discussed the outline for a model claim for branches on ARPS staff issues, and discussed how branches would construct a campaign on these issues.
---
Previously: 14 February 2019
The 2019 annual meeting was quorate for the first time in two years, so the main focus for the day was on electing an Academic-related, professional services staff committee, and looking to formulate a work plan for the committee for the year ahead.

Motions adopted at the ARPS annual meeting 2019 [45kb]
A presentation of the

results of the last survey undertaken of ARPS staff in 2017 [446kb] was made to the meeting.
Lively workshop discussions produced some good feedback from the groups.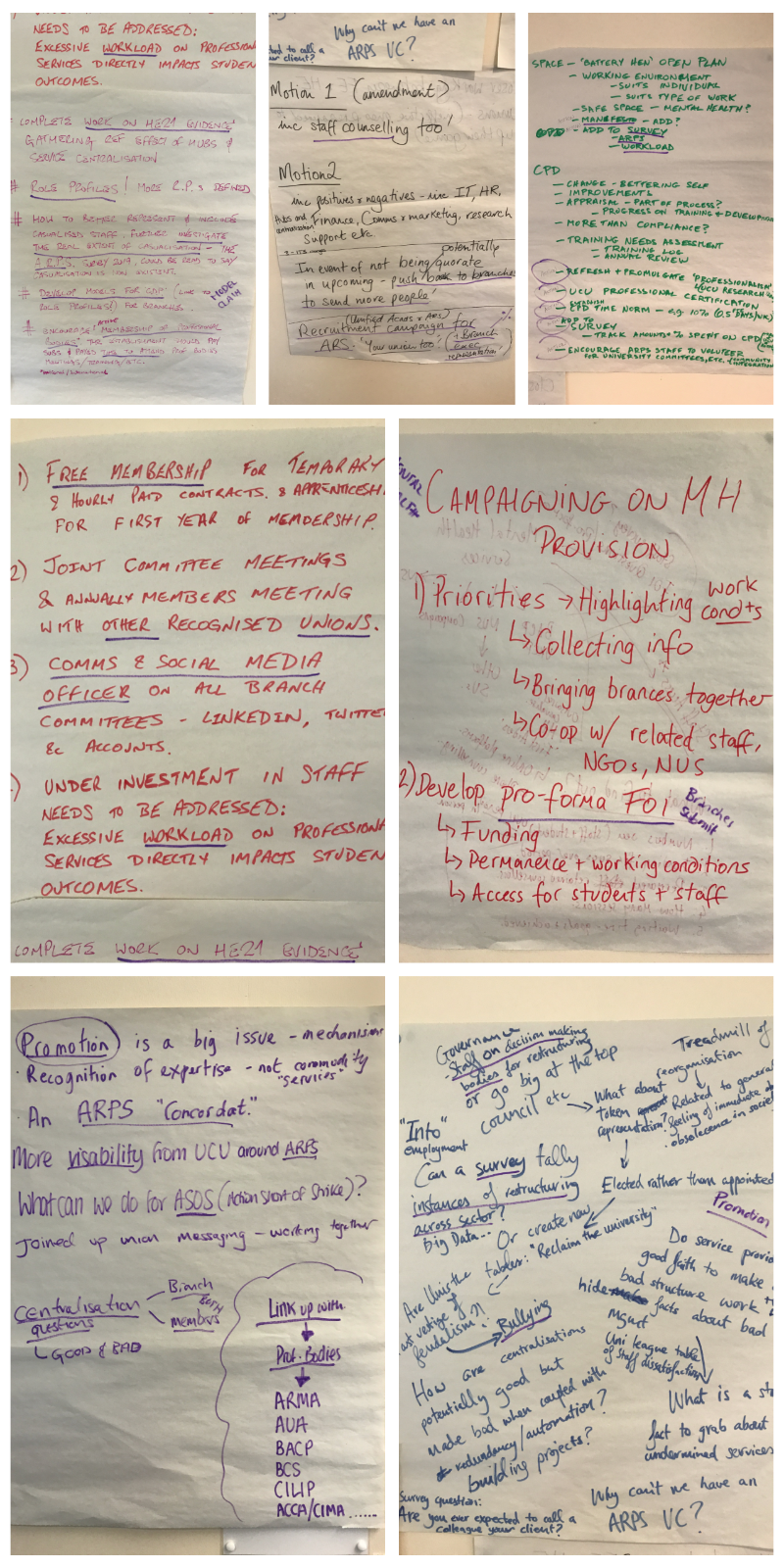 ---
Contact
Delegates and general conference arrangements: Sue Bajwa
Last updated: 1 February 2021