•
•
•

Academic-related professional staff annual meeting
Academic-related professional staff annual meeting
The term 'academic-related staff' covers a wide range of roles in higher education; information services, computing, support and administration in grades represented by UCU.
The annual meeting is a vital part of our democracy: it elects an academic-related, professional staff committee to advise the the national executive committee. It also sends motions to the union's annual congress meeting to inform its work for the year, and it's an opportunity to discuss how to step up the fight in all our branches.
Next meeting: Thursday 12 March 2020
Venue: UCU head office, Carlow Street, London, NW1 7LH, 11:00 - 15:30 (registration & refreshments from 10:30)
Registration - deadline for registration is Thursday 27 February
Each HE branch may send two voting representative to the annual meeting. Branch representatives must have been approved either by a quorate branch meeting, quorate branch committee meeting or by a properly constituted meeting of members that work in an academic-related role.
Nominations - deadline for submission of nominations is Thursday 27 February
Each HE branch/local association can nominate up to three people to the committee. Nominees to this committee must be in good membership standing and have been employed in an academic-related role in the last 12 months. The academic-related, professional staff committee will advise and make recommendations to the National Executive Committee on any issues arising specifically from or related to the employment of members on academic-related contracts.
The committee will meet three times a year and committee members will have their expenses paid. If elections are necessary these will be held at the annual meeting.

Click here for the nomination form [157kb]
Motions - deadline for submission of motions is Thursday 20 February
HE branches/local associations can submit up to 3 motions for consideration to the annual meeting, limited to matters of direct concern to staff in academic-related roles.

Click here for the motion form [129kb]
General
Dietary requirements
Please give clear details on the registration form if there are any particular dietary requirements (vegan/halal/gluten free/allergies etc.) so that we can make suitable arrangements.
Access requirements
If members have any specific access requirements ( documentation in Braille, audio loop, wheelchair access etc.) please provide us with full details on the relevant section of the registration form to ensure that we can make suitable arrangements to accommodate members' requirements. Alternatively please contact the pensions office directly.
Expenses
UCU members are entitled to claim expenses (including caring expenses) for attending the conference. Expense claim forms will be available on the day of each conference. UCU expect members not to incur any more expense than necessary.
Reasonable travel and subsistence expenses will be paid to cover costs necessarily incurred in attending the conference.
---
Last meeting: 14 February 2019
The 2019 annual meeting was quorate for the first time in two years, so the main focus for the day was on electing an Academic-related, professional staff committee, and looking to formulate a work plan for the committee for the year ahead.

Motions adopted at the ARPS annual meeting 2019 [45kb]
A presentation of the

results of the last survey undertaken of ARPS staff in 2017 [446kb] was made to the meeting.
Lively workshop discussions produced some good feedback from the groups.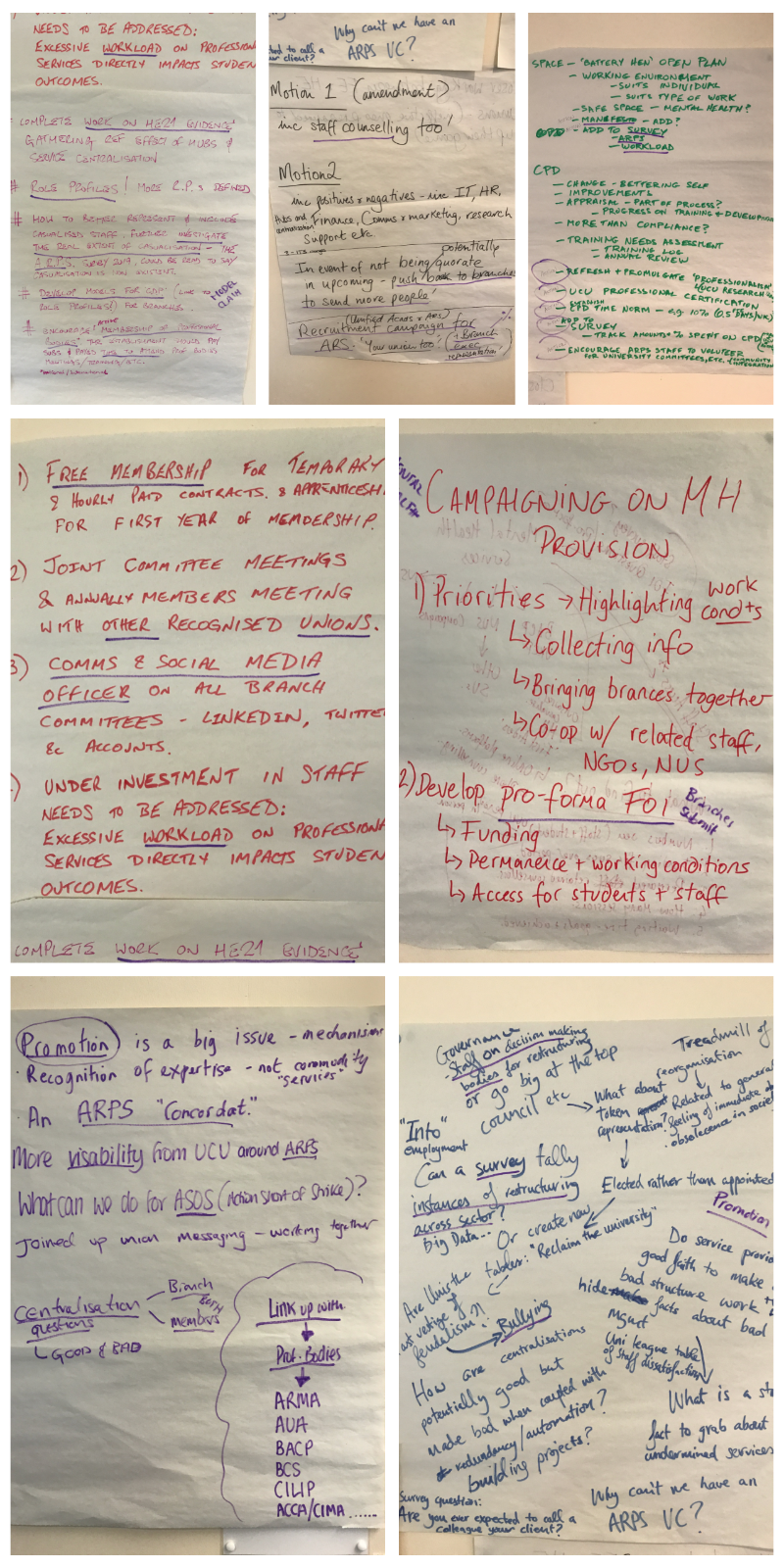 ---
Contact
Delegates and general conference arrangements: Sue Bajwa
Last updated: 10 January 2020