•
•
•

Why we're taking action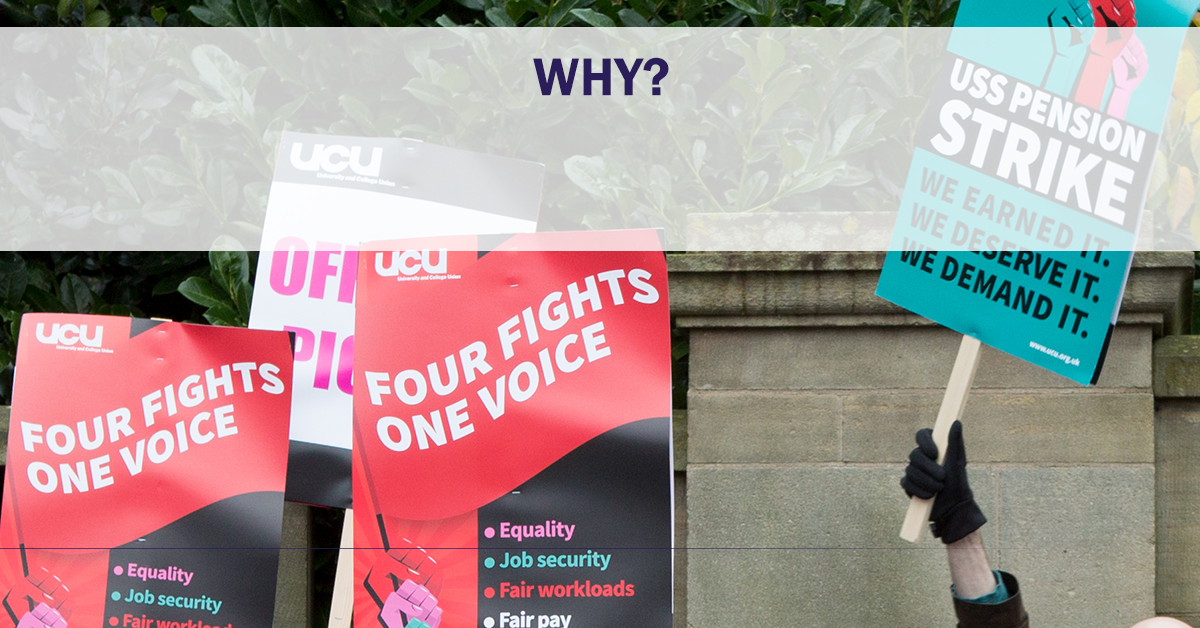 Why we're taking action
UCU members are taking strike action over falling pay, the gender and ethnic pay gap, precarious employment practices, and unsafe workloads. University employers consistently fail to address these issues.

ALL TALK, NO ACTION

Since 2009, pay has been effectively cut by nearly 20% in real terms, while staff are being asked to work harder and longer than ever before. The employers' own analysis highlights that women and black and minority ethnic staff experience significant pay discrimination. Casual contracts remain entrenched. Yet the university employers are refusing to commit themselves to meaningful action on any of these appalling conditions. See the briefing from UCU's national negotiators [167kb] for further background.

UCU members are taking strike action over changes to our pension, the Universities Superannuation Scheme (USS). University employers are ignoring pension experts and want us to pay more based on a flawed way of assessing the scheme.

EMPLOYERS ARE IGNORING THE EXPERTS

In 2018, employers shelved their plans to radically redesign USS after UCU took strike action. Both sides agreed to take advice from the JEP - an independent panel of pension experts. At last, after a wasted year, the employers are now beginning to engage with the findings of the JEP's two reports but there is a long way to go if we are to achieve our aims of reforming the fund's valuation methodology and rolling back the unnecessary increases in the cost of your pension. The typical USS member will be around £240,000 worse off in retirement compared to 2011 thanks to the changes made to staff's benefits since then. UCU believes that staff have given enough and we want the employers to step up to the plate and agree a fair way of valuing the fund and to reduce members' costs.
TAKING ACTION IS ALWAYS THE LAST RESORT
UCU members want to be at work, not taking action, but the future of higher education is under threat. Growing inequality affects both students and staff - poor working conditions mean poor learning conditions.
The USS dispute threatens the long term ability of universities to recruit and retain high quality staff. Students and staff alike will be short changed if the worst pensions in education continue to drive away staff who can gain financial security elsewhere.
UCU members continue to ask our employers and university leaders to work with us, end the disputes, and avoid widespread disruption for students, staff, their families, and the community.
THE ACTION CAN BE RESOLVED
The National Union of Students (NUS), MPs, and others are calling on the employers to reconsider their hard-line stance on pay and equality. In November and December 2019, thousands of members took eight days of strike action in furtherance of this dispute. This led to the employers making an improved offer but it fell far short of settling the dispute. It is not too late for the employers to improve their offer in order to seek a resolution to this dispute. The national negotiators have produced a

new briefing [167kb] on how the dispute has unfolded.
They are also all calling on the employers to reconsider their stance on USS. There is still time to negotiate and end the action.
UCU members are determined to continue our action until long-term and lasting solutions can be found.
PLEASE SUPPORT OUR STRIKE
We ask you to stand with us and defend higher education.
Last updated: 12 February 2020