•
•
•

Support the Liverpool boycott
Support the Liverpool boycott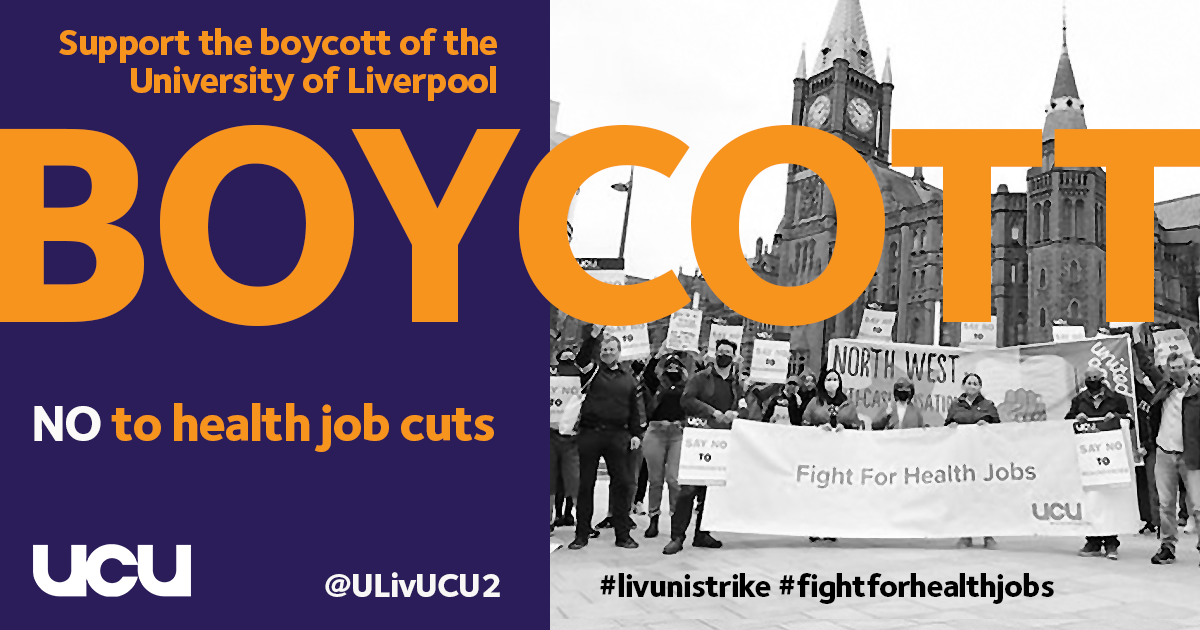 Support the Liverpool boycott
How you can support UCU's global boycott of the University of Liverpool.
UCU has imposed the ultimate sanction of an international academic boycott University of Liverpool over its refusal to halt the sacking of 21 health staff.
The global boycott is the most recent escalation by the union in the long running dispute. It means UCU is asking its members, other trade unions, labour movement organisations and the international academic community to support its members at Liverpool in any way possible, including by:
not applying for any advertised jobs at Liverpool
not agreeing to speak at or organise academic or other conferences at Liverpool which are outside of contract
not accepting new invitations to give lectures at Liverpool
not accepting new positions as visiting professors or researchers at Liverpool
not accepting invitations outside of contract to write for any academic journal which is edited at or produced by Liverpool
not accepting new contracts as external examiners for taught courses at Liverpool
refusing to collaborate on new outside of contract research projects with Liverpool
Originally, at the height of the second wave of the Covid-19 pandemic, the university tried to sack 47 staff in the faculty of health and life sciences. This has now fallen to 21 after a campaign of industrial action by staff.
Students have slammed the university's management over the ongoing chaos caused by the compulsory redundancies, after an ongoing marking boycott led to around 1,500 students not receiving their degrees. The university is withholding 100% of pay from staff taking part in the lawful boycott, in a lockout intended to force staff to bring their campaign to an end.
Around 1,300 UCU members at the university went on strike for three consecutive weeks from Monday 24 May to Friday 11 June.
External examiners, 62 staff in the faculty of health and life sciences, international experts on the use of responsible research metrics and the Liverpool Guild of Students, which speaks for the student body, have all written to the university to warn that the university's actions are likely to imperil academic standards and have called on management to end the dispute.
The university has refused to meet with UCU, or to allow Acas to mediate between UCU and management.
There are two positive actions you can take today:
If you have any personal or professional link with the university, please respect the global academic boycott of the institution.

Please tweet your support, tagging @ULivUCU2 and using the hashtags #BoycottLiverpoolUni and #fightforhealthjobs.

Share this page on Facebook.

If you know anyone who works at the University of Liverpool or who is otherwise associated with it (e.g. a member of council or court), then please get in touch with them.

Make sure they know what is happening, make sure they know how serious the situation is!

Ask what they are doing to support at-risk colleagues and defend the university.

Ask if they are observing actions short of a strike. It's especially important that senior members of the university - professors and heads of department/school are held to account: heads of school sit on university senate, which is responsible for the institution's academic integrity.
Last updated: 9 July 2021