•
•
•

Institutions affected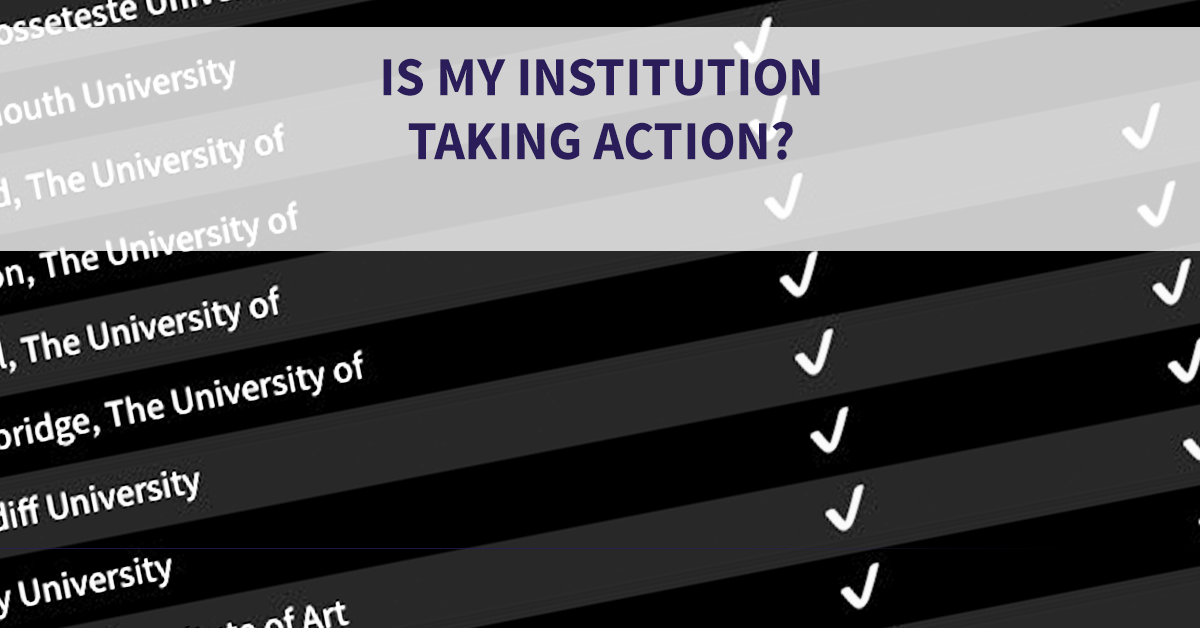 Institutions affected
Institutions affected by UCU's second waves of USS and pay & equality action beginning on Thursday 20 February.
UCU members in 52 institutions have voted to take strike action and action short of a strike (ASOS) about USS. Members in 70 institutions will be taking strike action and action short of strike about pay and working conditions. In total, 74 institutions are affected.
The core strike dates are:
week one - Thursday 20 & Friday 21 February
week two - Monday 24, Tuesday 25 & Wednesday 26 February
week three - Monday 2, Tuesday 3, Wednesday 4 & Thursday 5 March
week four - Monday 9, Tuesday 10, Wednesday 11, Thursday 12 & Friday 13 March.
Some institutions are taking action on different dates; you can see the full details below or

download the complete file [40kb].
* denotes alternate dates
<!- NOTE table 100%; style 'table simple'; top row set as header: https://www.datatables.net/manual/installation-->
Branch strike dates

Disputes

Dates

Aberdeen, The University of

Pay & equality + Pensions

week one: 20 & 21 February (Thurs-Fri) | week two: 24, 25 & 26 February (Mon-Wed) | week three: 2, 3, 4 & 5 March (Mon-Thurs) | week four: 9, 10, 11, 12 & 13 March (Mon-Fri)week one: 20 & 21 February (Thurs-Fri) | week two: 24, 25 & 26 February (Mon-Wed) | week three: 2, 3, 4 & 5 March (Mon-Thurs) | week four: 9, 10, 11, 12 & 13 March (Mon-Fri)
Mo
Tu
We
Th
Fr
Sa
Su
Feb
17
18
19

20

21

22
23

24

25

26

27
28
29
1
Mar

2

3

4

5

6
7
8

9

10

11

12

13

14
15
16
17
18
19
20
21
22

Aston University *

Pay & equality + Pensions

week one: 20 February (Thurs) week two: 24, 25, 26 & 28 February (Mon-Wed & Fri) week three: 3, 4, 5 & 6 March (Mon-Thurs) week four: 9, 10, 11, 12 & 13 March (Mon-Fri)
Mo
Tu
We
Th
Fr
Sa
Su
Feb
17
18
19

20

21

22
23

24

25

26

27

28

29
1
Mar

2

3

4

5

6

7
8

9

10

11

12

13

14
15
16
17
18
19
20
21
22

Bangor University

Pay & equality + Pensions

week one: 20 & 21 February (Thurs-Fri) | week two: 24, 25 & 26 February (Mon-Wed) | week three: 2, 3, 4 & 5 March (Mon-Thurs) | week four: 9, 10, 11, 12 & 13 March (Mon-Fri)
Mo
Tu
We
Th
Fr
Sa
Su
Feb
17
18
19

20

21

22
23

24

25

26

27
28
29
1
Mar

2

3

4

5

6
7
8

9

10

11

12

13

14
15
16
17
18
19
20
21
22

Bath Spa University

Pay & equality

week one: 20 & 21 February (Thurs-Fri) | week two: 24, 25 & 26 February (Mon-Wed) | week three: 2, 3, 4 & 5 March (Mon-Thurs) | week four: 9, 10, 11, 12 & 13 March (Mon-Fri)
Mo
Tu
We
Th
Fr
Sa
Su
Feb
17
18
19

20

21

22
23

24

25

26

27
28
29
1
Mar

2

3

4

5

6
7
8

9

10

11

12

13

14
15
16
17
18
19
20
21
22

Bath, The University of

Pay & equality + Pensions

week one: 20 & 21 February (Thurs-Fri) | week two: 24, 25 & 26 February (Mon-Wed) | week three: 2, 3, 4 & 5 March (Mon-Thurs) | week four: 9, 10, 11, 12 & 13 March (Mon-Fri)
Mo
Tu
We
Th
Fr
Sa
Su
Feb
17
18
19

20

21

22
23

24

25

26

27
28
29
1
Mar

2

3

4

5

6
7
8

9

10

11

12

13

14
15
16
17
18
19
20
21
22

Birkbeck College, University of London *

Pay & equality + Pensions

week two: 24, 25 & 26 February (Mon-Wed) week three: 2, 3, 4 & 5 March (Mon-Thurs) week four: 9, 10, 11, 12 & 13 March (Mon-Fri) week five: 19 & 20 March (Thurs-Fri)
Mo
Tu
We
Th
Fr
Sa
Su
Feb
17
18
19

20

21

22
23

24

25

26

27
28
29
1
Mar

2

3

4

5

6
7
8

9

10

11

12

13

14
15
16
17
18

19

20

21
22

Birmingham, The University of

Pay & equality + Pensions

week one: 20 & 21 February (Thurs-Fri) | week two: 24, 25 & 26 February (Mon-Wed) | week three: 2, 3, 4 & 5 March (Mon-Thurs) | week four: 9, 10, 11, 12 & 13 March (Mon-Fri)
Mo
Tu
We
Th
Fr
Sa
Su
Feb
17
18
19

20

21

22
23

24

25

26

27
28
29
1
Mar

2

3

4

5

6
7
8

9

10

11

12

13

14
15
16
17
18
19
20
21
22

Bishop Grosseteste University

Pay & equality

week one: 20 & 21 February (Thurs-Fri) | week two: 24, 25 & 26 February (Mon-Wed) | week three: 2, 3, 4 & 5 March (Mon-Thurs) | week four: 9, 10, 11, 12 & 13 March (Mon-Fri)
Mo
Tu
We
Th
Fr
Sa
Su
Feb
17
18
19

20

21

22
23

24

25

26

27
28
29
1
Mar

2

3

4

5

6
7
8

9

10

11

12

13

14
15
16
17
18
19
20
21
22

Bournemouth University

Pay & equality

week one: 20 & 21 February (Thurs-Fri) | week two: 24, 25 & 26 February (Mon-Wed) | week three: 2, 3, 4 & 5 March (Mon-Thurs) | week four: 9, 10, 11, 12 & 13 March (Mon-Fri)
Mo
Tu
We
Th
Fr
Sa
Su
Feb
17
18
19

20

21

22
23

24

25

26

27
28
29
1
Mar

2

3

4

5

6
7
8

9

10

11

12

13

14
15
16
17
18
19
20
21
22

Bradford, The University of

Pay & equality + Pensions

week one: 20 & 21 February (Thurs-Fri) | week two: 24, 25 & 26 February (Mon-Wed) | week three: 2, 3, 4 & 5 March (Mon-Thurs) | week four: 9, 10, 11, 12 & 13 March (Mon-Fri)
Mo
Tu
We
Th
Fr
Sa
Su
Feb
17
18
19

20

21

22
23

24

25

26

27
28
29
1
Mar

2

3

4

5

6
7
8

9

10

11

12

13

14
15
16
17
18
19
20
21
22

Brighton, The University of

Pay & equality

week one: 20 & 21 February (Thurs-Fri) | week two: 24, 25 & 26 February (Mon-Wed) | week three: 2, 3, 4 & 5 March (Mon-Thurs) | week four: 9, 10, 11, 12 & 13 March (Mon-Fri)
Mo
Tu
We
Th
Fr
Sa
Su
Feb
17
18
19

20

21

22
23

24

25

26

27
28
29
1
Mar

2

3

4

5

6
7
8

9

10

11

12

13

14
15
16
17
18
19
20
21
22

Bristol, The University of

Pay & equality + Pensions

week one: 20 & 21 February (Thurs-Fri) | week two: 24, 25 & 26 February (Mon-Wed) | week three: 2, 3, 4 & 5 March (Mon-Thurs) | week four: 9, 10, 11, 12 & 13 March (Mon-Fri)
Mo
Tu
We
Th
Fr
Sa
Su
Feb
17
18
19

20

21

22
23

24

25

26

27
28
29
1
Mar

2

3

4

5

6
7
8

9

10

11

12

13

14
15
16
17
18
19
20
21
22

Cambridge, The University of

Pay & equality + Pensions

week one: 20 & 21 February (Thurs-Fri) | week two: 24, 25 & 26 February (Mon-Wed) | week three: 2, 3, 4 & 5 March (Mon-Thurs) | week four: 9, 10, 11, 12 & 13 March (Mon-Fri)
Mo
Tu
We
Th
Fr
Sa
Su
Feb
17
18
19

20

21

22
23

24

25

26

27
28
29
1
Mar

2

3

4

5

6
7
8

9

10

11

12

13

14
15
16
17
18
19
20
21
22

Cardiff University

Pay & equality + Pensions

week one: 20 & 21 February (Thurs-Fri) | week two: 24, 25 & 26 February (Mon-Wed) | week three: 2, 3, 4 & 5 March (Mon-Thurs) | week four: 9, 10, 11, 12 & 13 March (Mon-Fri)
Mo
Tu
We
Th
Fr
Sa
Su
Feb
17
18
19

20

21

22
23

24

25

26

27
28
29
1
Mar

2

3

4

5

6
7
8

9

10

11

12

13

14
15
16
17
18
19
20
21
22

City University

Pay & equality + Pensions

week one: 20 & 21 February (Thurs-Fri) | week two: 24, 25 & 26 February (Mon-Wed) | week three: 2, 3, 4 & 5 March (Mon-Thurs) | week four: 9, 10, 11, 12 & 13 March (Mon-Fri)
Mo
Tu
We
Th
Fr
Sa
Su
Feb
17
18
19

20

21

22
23

24

25

26

27
28
29
1
Mar

2

3

4

5

6
7
8

9

10

11

12

13

14
15
16
17
18
19
20
21
22

Courtauld Institute of Art

Pay & equality + Pensions

week one: 20 & 21 February (Thurs-Fri) | week two: 24, 25 & 26 February (Mon-Wed) | week three: 2, 3, 4 & 5 March (Mon-Thurs) | week four: 9, 10, 11, 12 & 13 March (Mon-Fri)
Mo
Tu
We
Th
Fr
Sa
Su
Feb
17
18
19

20

21

22
23

24

25

26

27
28
29
1
Mar

2

3

4

5

6
7
8

9

10

11

12

13

14
15
16
17
18
19
20
21
22

De Montfort University (DMU) *

Pay & equality

wek one: 20 & 21 February (Thurs-Fri)
week three: 2, 3, 4 & 5 March (Mon-Thurs) week four: 9, 10, 11, 12 & 13 March (Mon-Fri) week five: 16 & 17 March (Mon-Tu)
Mo
Tu
We
Th
Fr
Sa
Su
Feb
17
18
19

20

21

22
23

24

25

26

27
28
29
1
Mar

2

3

4

5

6

7
8

9

10

11

12

13

14
15

16

17

18
19
20
21
22

Dundee, The University of *

Pay & equality + Pensions

week one: 20 & 21 February (Thurs-Fri) week two: 24, 25, 26, 27, 28 February (Mon-Fri) week three: 2, 3, 4 & 5 March (Mon-Thurs) week four: 9, 10 & 11 March (Mon-Wed)
Mo
Tu
We
Th
Fr
Sa
Su
Feb
17
18
19

20

21

22
23

24

25

26

27

28

29
1
Mar

2

3

4

5

6
7
8

9

10

11

12

13

14
15
16
17
18
19
20
21
22

Durham, University of

Pay & equality + Pensions

week one: 20 & 21 February (Thurs-Fri) | week two: 24, 25 & 26 February (Mon-Wed) | week three: 2, 3, 4 & 5 March (Mon-Thurs) | week four: 9, 10, 11, 12 & 13 March (Mon-Fri)
Mo
Tu
We
Th
Fr
Sa
Su
Feb
17
18
19

20

21

22
23

24

25

26

27
28
29
1
Mar

2

3

4

5

6
7
8

9

10

11

12

13

14
15
16
17
18
19
20
21
22

East Anglia, The University of (UEA)

Pay & equality + Pensions

week one: 20 & 21 February (Thurs-Fri) | week two: 24, 25 & 26 February (Mon-Wed) | week three: 2, 3, 4 & 5 March (Mon-Thurs) | week four: 9, 10, 11, 12 & 13 March (Mon-Fri)
Mo
Tu
We
Th
Fr
Sa
Su
Feb
17
18
19

20

21

22
23

24

25

26

27
28
29
1
Mar

2

3

4

5

6
7
8

9

10

11

12

13

14
15
16
17
18
19
20
21
22

East London, University of (UEL) *

Pay & equality

week two: 24, 25 & 26 February (Mon-Wed) week three: 2, 3, 4 & 5 March (Mon-Thurs) week four: 9, 10, 11, 12 & 13 March (Mon-Fri) week five: 16 & 17 March (Mon-Tues)
Mo
Tu
We
Th
Fr
Sa
Su
Feb
17
18
19

20

21

22
23

24

25

26

27
28
29
1
Mar

2

3

4

5

6
7
8

9

10

11

12

13

14
15

16

17

18
19
20
21
22

Edge Hill University *

Pay & equality

week two: 24, 25, 26, 27, 28 February (Mon-Fri) week three: 2, 3, 4 & 5 March (Mon-Thurs) week four: 9, 10, 11, 12 & 13 March (Mon-Fri)
Mo
Tu
We
Th
Fr
Sa
Su
Feb
17
18
19

20

21

22
23

24

25

26

27

28

29
1
Mar

2

3

4

5

6
7
8

9

10

11

12

13

14
15
16
17
18
19
20
21
22

Edinburgh, The University of *

Pay & equality + Pensions

week two: 24, 25, 26 & 27 February (Mon-Thurs) week three: 2, 3, 4, 5 & 6 March (Mon-Fri) week four: 9, 10, 11, 12 & 13 March (Mon-Fri)
Mo
Tu
We
Th
Fr
Sa
Su
Feb
17
18
19

20

21

22
23

24

25

26

27

28
29
1
Mar

2

3

4

5

6

7
8

9

10

11

12

13

14
15
16
17
18
19
20
21
22

Essex, The University of

Pay & equality + Pensions

week one: 20 & 21 February (Thurs-Fri) | week two: 24, 25 & 26 February (Mon-Wed) | week three: 2, 3, 4 & 5 March (Mon-Thurs) | week four: 9, 10, 11, 12 & 13 March (Mon-Fri)
Mo
Tu
We
Th
Fr
Sa
Su
Feb
17
18
19

20

21

22
23

24

25

26

27
28
29
1
Mar

2

3

4

5

6
7
8

9

10

11

12

13

14
15
16
17
18
19
20
21
22

Exeter, The University of

Pay & equality + Pensions

week one: 20 & 21 February (Thurs-Fri) | week two: 24, 25 & 26 February (Mon-Wed) | week three: 2, 3, 4 & 5 March (Mon-Thurs) | week four: 9, 10, 11, 12 & 13 March (Mon-Fri)
Mo
Tu
We
Th
Fr
Sa
Su
Feb
17
18
19

20

21

22
23

24

25

26

27
28
29
1
Mar

2

3

4

5

6
7
8

9

10

11

12

13

14
15
16
17
18
19
20
21
22

Glasgow Caledonian University (GCU)

Pay & equality

week one: 20 & 21 February (Thurs-Fri) | week two: 24, 25 & 26 February (Mon-Wed) | week three: 2, 3, 4 & 5 March (Mon-Thurs) | week four: 9, 10, 11, 12 & 13 March (Mon-Fri)
Mo
Tu
We
Th
Fr
Sa
Su
Feb
17
18
19

20

21

22
23

24

25

26

27
28
29
1
Mar

2

3

4

5

6
7
8

9

10

11

12

13

14
15
16
17
18
19
20
21
22

Glasgow School of Art

Pay & equality

week one: 20 & 21 February (Thurs-Fri) | week two: 24, 25 & 26 February (Mon-Wed) | week three: 2, 3, 4 & 5 March (Mon-Thurs) | week four: 9, 10, 11, 12 & 13 March (Mon-Fri)
Mo
Tu
We
Th
Fr
Sa
Su
Feb
17
18
19

20

21

22
23

24

25

26

27
28
29
1
Mar

2

3

4

5

6
7
8

9

10

11

12

13

14
15
16
17
18
19
20
21
22

Glasgow, The University of

Pay & equality + Pensions

week one: 20 & 21 February (Thurs-Fri) | week two: 24, 25 & 26 February (Mon-Wed) | week three: 2, 3, 4 & 5 March (Mon-Thurs) | week four: 9, 10, 11, 12 & 13 March (Mon-Fri)
Mo
Tu
We
Th
Fr
Sa
Su
Feb
17
18
19

20

21

22
23

24

25

26

27
28
29
1
Mar

2

3

4

5

6
7
8

9

10

11

12

13

14
15
16
17
18
19
20
21
22

Goldsmiths College

Pay & equality + Pensions

week one: 20 & 21 February (Thurs-Fri) | week two: 24, 25 & 26 February (Mon-Wed) | week three: 2, 3, 4 & 5 March (Mon-Thurs) | week four: 9, 10, 11, 12 & 13 March (Mon-Fri)
Mo
Tu
We
Th
Fr
Sa
Su
Feb
17
18
19

20

21

22
23

24

25

26

27
28
29
1
Mar

2

3

4

5

6
7
8

9

10

11

12

13

14
15
16
17
18
19
20
21
22

Greenwich, University of *

Pay & equality

week two: 25 February (Tues) week three: 2, 3, 4 & 5 March (Mon-Thurs) week four: 9, 10, 11, 12 & 13 March (Mon-Fri) week five: 17, 18, 19, 20 March (Tu-Fri)
Mo
Tu
We
Th
Fr
Sa
Su
Feb
17
18
19

20

21

22
23

24

25

26

27
28
29
1
Mar

2

3

4

5

6
7
8

9

10

11

12

13

14
15
16

17

18

19

20

21
22

Heriot-Watt University

Pay & equality + Pensions

week one: 20 & 21 February (Thurs-Fri) | week two: 24, 25 & 26 February (Mon-Wed) | week three: 2, 3, 4 & 5 March (Mon-Thurs) | week four: 9, 10, 11, 12 & 13 March (Mon-Fri)
Mo
Tu
We
Th
Fr
Sa
Su
Feb
17
18
19

20

21

22
23

24

25

26

27
28
29
1
Mar

2

3

4

5

6
7
8

9

10

11

12

13

14
15
16
17
18
19
20
21
22

Huddersfield, University of

Pay & equality

week one: 20 & 21 February (Thurs-Fri) | week two: 24, 25 & 26 February (Mon-Wed) | week three: 2, 3, 4 & 5 March (Mon-Thurs) | week four: 9, 10, 11, 12 & 13 March (Mon-Fri)
Mo
Tu
We
Th
Fr
Sa
Su
Feb
17
18
19

20

21

22
23

24

25

26

27
28
29
1
Mar

2

3

4

5

6
7
8

9

10

11

12

13

14
15
16
17
18
19
20
21
22

Imperial College London

Pensions

week one: 20 & 21 February (Thurs-Fri) | week two: 24, 25 & 26 February (Mon-Wed) | week three: 2, 3, 4 & 5 March (Mon-Thurs) | week four: 9, 10, 11, 12 & 13 March (Mon-Fri)
Mo
Tu
We
Th
Fr
Sa
Su
Feb
17
18
19

20

21

22
23

24

25

26

27
28
29
1
Mar

2

3

4

5

6
7
8

9

10

11

12

13

14
15
16
17
18
19
20
21
22

Institute of Development Studies (IDS)

Pensions

week one: 20 & 21 February (Thurs-Fri) | week two: 24, 25 & 26 February (Mon-Wed) | week three: 2, 3, 4 & 5 March (Mon-Thurs) | week four: 9, 10, 11, 12 & 13 March (Mon-Fri)
Mo
Tu
We
Th
Fr
Sa
Su
Feb
17
18
19

20

21

22
23

24

25

26

27
28
29
1
Mar

2

3

4

5

6
7
8

9

10

11

12

13

14
15
16
17
18
19
20
21
22

Keele University

Pensions

week one: 20 & 21 February (Thurs-Fri) | week two: 24, 25 & 26 February (Mon-Wed) | week three: 2, 3, 4 & 5 March (Mon-Thurs) | week four: 9, 10, 11, 12 & 13 March (Mon-Fri)
Mo
Tu
We
Th
Fr
Sa
Su
Feb
17
18
19

20

21

22
23

24

25

26

27
28
29
1
Mar

2

3

4

5

6
7
8

9

10

11

12

13

14
15
16
17
18
19
20
21
22

Kent, The University of *

Pay & equality

week two: 24, 25 & 26 February (Mon-Wed) week three: 2, 3, 4 & 5 March (Mon-Thurs) week four: 9, 10, 11, 12 & 13 March (Mon-Fri) week five: 16 & 17 March (Mon-Tues)
Mo
Tu
We
Th
Fr
Sa
Su
Feb
17
18
19

20

21

22
23

24

25

26

27
28
29
1
Mar

2

3

4

5

6
7
8

9

10

11

12

13

14
15

16

17

18
19
20
21
22

King's College London (KCL) *

Pensions

week two: 24, 25 & 26 February (Mon-Wed) week three: 2, 3, 4 & 5 March (Mon-Thurs) week four: 9, 10, 11, 12 & 13 March (Mon-Fri) week five: 19 & 20 March (Thurs-Fri)
Mo
Tu
We
Th
Fr
Sa
Su
Feb
17
18
19

20

21

22
23

24

25

26

27
28
29
1
Mar

2

3

4

5

6
7
8

9

10

11

12

13

14
15
16
17
18

19

20

21
22

Lancaster, The University of

Pay & equality + Pensions

week one: 20 & 21 February (Thurs-Fri) | week two: 24, 25 & 26 February (Mon-Wed) | week three: 2, 3, 4 & 5 March (Mon-Thurs) | week four: 9, 10, 11, 12 & 13 March (Mon-Fri)
Mo
Tu
We
Th
Fr
Sa
Su
Feb
17
18
19

20

21

22
23

24

25

26

27
28
29
1
Mar

2

3

4

5

6
7
8

9

10

11

12

13

14
15
16
17
18
19
20
21
22

Leeds, The University of

Pay & equality + Pensions

week one: 20 & 21 February (Thurs-Fri) | week two: 24, 25 & 26 February (Mon-Wed) | week three: 2, 3, 4 & 5 March (Mon-Thurs) | week four: 9, 10, 11, 12 & 13 March (Mon-Fri)
Mo
Tu
We
Th
Fr
Sa
Su
Feb
17
18
19

20

21

22
23

24

25

26

27
28
29
1
Mar

2

3

4

5

6
7
8

9

10

11

12

13

14
15
16
17
18
19
20
21
22

Leeds Trinity University

Pay & equality

week one: 20 & 21 February (Thurs-Fri) | week two: 24, 25 & 26 February (Mon-Wed) | week three: 2, 3, 4 & 5 March (Mon-Thurs) | week four: 9, 10, 11, 12 & 13 March (Mon-Fri)
Mo
Tu
We
Th
Fr
Sa
Su
Feb
17
18
19

20

21

22
23

24

25

26

27
28
29
1
Mar

2

3

4

5

6
7
8

9

10

11

12

13

14
15
16
17
18
19
20
21
22

Leicester, The University of

Pay & equality + Pensions

week one: 20 & 21 February (Thurs-Fri) | week two: 24, 25 & 26 February (Mon-Wed) | week three: 2, 3, 4 & 5 March (Mon-Thurs) | week four: 9, 10, 11, 12 & 13 March (Mon-Fri)
Mo
Tu
We
Th
Fr
Sa
Su
Feb
17
18
19

20

21

22
23

24

25

26

27
28
29
1
Mar

2

3

4

5

6
7
8

9

10

11

12

13

14
15
16
17
18
19
20
21
22

Liverpool Hope University

Pay & equality

week one: 20 & 21 February (Thurs-Fri) | week two: 24, 25 & 26 February (Mon-Wed) | week three: 2, 3, 4 & 5 March (Mon-Thurs) | week four: 9, 10, 11, 12 & 13 March (Mon-Fri)
Mo
Tu
We
Th
Fr
Sa
Su
Feb
17
18
19

20

21

22
23

24

25

26

27
28
29
1
Mar

2

3

4

5

6
7
8

9

10

11

12

13

14
15
16
17
18
19
20
21
22

Liverpool Institute of Performing Arts (LIPA) *

Pay & equality

week two: 24, 25 & 26 February (Mon-Wed) week three: 2, 3, 4 & 5 March (Mon-Thurs) week four: 9, 10, 11, 12 & 13 March (Mon-Fri) week five: 16 & 17 March (Mon-Tues)
Mo
Tu
We
Th
Fr
Sa
Su
Feb
17
18
19

20

21

22
23

24

25

26

27
28
29
1
Mar

2

3

4

5

6
7
8

9

10

11

12

13

14
15

16

17

18
19
20
21
22

Liverpool, The University of

Pay & equality + Pensions

week one: 20 & 21 February (Thurs-Fri) | week two: 24, 25 & 26 February (Mon-Wed) | week three: 2, 3, 4 & 5 March (Mon-Thurs) | week four: 9, 10, 11, 12 & 13 March (Mon-Fri)
Mo
Tu
We
Th
Fr
Sa
Su
Feb
17
18
19

20

21

22
23

24

25

26

27
28
29
1
Mar

2

3

4

5

6
7
8

9

10

11

12

13

14
15
16
17
18
19
20
21
22

Loughborough University *

Pay & equality + Pensions

week one: 20 & 21 February (Thurs-Fri) week two: 24, 25 & 28 February (Mon-Tues & Fri) week three: 2, 3, 4 & 5 March (Mon-Thurs) week four: 9, 10, 11, 12 & 13 March (Mon-Fri)
Mo
Tu
We
Th
Fr
Sa
Su
Feb
17
18
19

20

21

22
23

24

25

26

27

28

29
1
Mar

2

3

4

5

6
7
8

9

10

11

12

13

14
15
16
17
18
19
20
21
22

Manchester, The University of

Pay & equality + Pensions

week one: 20 & 21 February (Thurs-Fri) | week two: 24, 25 & 26 February (Mon-Wed) | week three: 2, 3, 4 & 5 March (Mon-Thurs) | week four: 9, 10, 11, 12 & 13 March (Mon-Fri)
Mo
Tu
We
Th
Fr
Sa
Su
Feb
17
18
19

20

21

22
23

24

25

26

27
28
29
1
Mar

2

3

4

5

6
7
8

9

10

11

12

13

14
15
16
17
18
19
20
21
22

Newcastle University

Pay & equality + Pensions

week one: 20 & 21 February (Thurs-Fri) | week two: 24, 25 & 26 February (Mon-Wed) | week three: 2, 3, 4 & 5 March (Mon-Thurs) | week four: 9, 10, 11, 12 & 13 March (Mon-Fri)
Mo
Tu
We
Th
Fr
Sa
Su
Feb
17
18
19

20

21

22
23

24

25

26

27
28
29
1
Mar

2

3

4

5

6
7
8

9

10

11

12

13

14
15
16
17
18
19
20
21
22

Nottingham, University of

Pay & equality + Pensions

week one: 20 & 21 February (Thurs-Fri) | week two: 24, 25 & 26 February (Mon-Wed) | week three: 2, 3, 4 & 5 March (Mon-Thurs) | week four: 9, 10, 11, 12 & 13 March (Mon-Fri)
Mo
Tu
We
Th
Fr
Sa
Su
Feb
17
18
19

20

21

22
23

24

25

26

27
28
29
1
Mar

2

3

4

5

6
7
8

9

10

11

12

13

14
15
16
17
18
19
20
21
22

Open University (OU) *

Pay & equality + Pensions

week one: 20 & 21 February (Thurs-Fri) week two: 24, 25, 26, 27, 28 & 29 February (Mon-Sat) week three: 2, 3, 4 & 5 March (Mon-Thurs) week four: 9 & 10 March (Mon-Tues)
Mo
Tu
We
Th
Fr
Sa
Su
Feb
17
18
19

20

21

22
23

24

25

26

27

28

29

1
Mar

2

3

4

5

6
7
8

9

10

11

12

13

14
15
16
17
18
19
20
21
22

Oxford, The University of

Pay & equality + Pensions

week one: 20 & 21 February (Thurs-Fri) | week two: 24, 25 & 26 February (Mon-Wed) | week three: 2, 3, 4 & 5 March (Mon-Thurs) | week four: 9, 10, 11, 12 & 13 March (Mon-Fri)
Mo
Tu
We
Th
Fr
Sa
Su
Feb
17
18
19

20

21

22
23

24

25

26

27
28
29
1
Mar

2

3

4

5

6
7
8

9

10

11

12

13

14
15
16
17
18
19
20
21
22

Queen Margaret University, Edinburgh

Pay & equality

week one: 20 & 21 February (Thurs-Fri) | week two: 24, 25 & 26 February (Mon-Wed) | week three: 2, 3, 4 & 5 March (Mon-Thurs) | week four: 9, 10, 11, 12 & 13 March (Mon-Fri)
Mo
Tu
We
Th
Fr
Sa
Su
Feb
17
18
19

20

21

22
23

24

25

26

27
28
29
1
Mar

2

3

4

5

6
7
8

9

10

11

12

13

14
15
16
17
18
19
20
21
22

Queen Mary University of London *

Pay & equality + Pensions

week one: 20 & 21 February (Thurs-Fri) | week two: 24, 25 & 26 February (Mon-Wed) | week four: 9, 10, 11, 12 & 13 March (Mon-Fri) | week five: 16, 17, 18, 19 March (Mon-Thurs)
Mo
Tu
We
Th
Fr
Sa
Su
Feb
17
18
19

20

21

22
23

24

25

26

27
28
29
1
Mar

2

3

4

5

6
7
8

9

10

11

12

13

14
15

16

17

18

19

20
21
22

Queen's University Belfast (QUB)

Pay & equality + Pensions

week one: 20 & 21 February (Thurs-Fri) | week two: 24, 25 & 26 February (Mon-Wed) | week three: 2, 3, 4 & 5 March (Mon-Thurs) | week four: 9, 10, 11, 12 & 13 March (Mon-Fri)
Mo
Tu
We
Th
Fr
Sa
Su
Feb
17
18
19

20

21

22
23

24

25

26

27
28
29
1
Mar

2

3

4

5

6
7
8

9

10

11

12

13

14
15
16
17
18
19
20
21
22

Reading, The University of

Pay & equality + Pensions

week one: 20 & 21 February (Thurs-Fri) | week two: 24, 25 & 26 February (Mon-Wed) | week three: 2, 3, 4 & 5 March (Mon-Thurs) | week four: 9, 10, 11, 12 & 13 March (Mon-Fri)
Mo
Tu
We
Th
Fr
Sa
Su
Feb
17
18
19

20

21

22
23

24

25

26

27
28
29
1
Mar

2

3

4

5

6
7
8

9

10

11

12

13

14
15
16
17
18
19
20
21
22

Roehampton University *

Pay & equality

week one: 20 & 21 February (Thurs-Fri) week two: 24, 25 & 26 February (Mon-Wed) week four: 9, 10, 11, 12 & 13 March (Mon-Fri) week five: 16, 17, 18 & 19 March (Mon-Thurs)
Mo
Tu
We
Th
Fr
Sa
Su
Feb
17
18
19

20

21

22
23

24

25

26

27
28
29
1
Mar

2

3

4

5

6
7
8

9

10

11

12

13

14
15

16

17

18

19

20
21
22

Royal College of Art (RCA)

Pay & equality

week one: 20 & 21 February (Thurs-Fri) | week two: 24, 25 & 26 February (Mon-Wed) | week three: 2, 3, 4 & 5 March (Mon-Thurs) | week four: 9, 10, 11, 12 & 13 March (Mon-Fri)
Mo
Tu
We
Th
Fr
Sa
Su
Feb
17
18
19

20

21

22
23

24

25

26

27
28
29
1
Mar

2

3

4

5

6
7
8

9

10

11

12

13

14
15
16
17
18
19
20
21
22

Royal Holloway (RHUL) *

Pay & equality + Pensions

week two: 24, 25 & 26 February (Mon-Wed) week three: 2, 3, 4 & 5 March (Mon-Thurs) week four: 9, 10, 11, 12 & 13 March (Mon-Fri) week five: 19 & 20 March (Thurs-Fri)
Mo
Tu
We
Th
Fr
Sa
Su
Feb
17
18
19

20

21

22
23

24

25

26

27
28
29
1
Mar

2

3

4

5

6
7
8

9

10

11

12

13

14
15
16
17
18

19

20

21
22

Scottish Association for Marine Science *

Pensions

week three: 2, 3, 4 & 5 March (Mon-Thurs) | week four: 9, 10, 11, 12 & 13 March (Mon-Fri) |
week five: 16 & 17 March (Mon-Tues) | week six: 25, 26 & 27 ~March (Wed-Fri)
Mo
Tu
We
Th
Fr
Sa
Su
Feb
17
18
19

20

21

22
23

24

25

26

27
28
29
1
Mar

2

3

4

5

6
7
8

9

10

11

12

13

14
15

16

17

18
19
20
21
22
23
24

25

26

27

28
29

Sheffield Hallam University

Pay & equality

week one: 20 & 21 February (Thurs-Fri) | week two: 24, 25 & 26 February (Mon-Wed) | week three: 2, 3, 4 & 5 March (Mon-Thurs) | week four: 9, 10, 11, 12 & 13 March (Mon-Fri)
Mo
Tu
We
Th
Fr
Sa
Su
Feb
17
18
19

20

21

22
23

24

25

26

27
28
29
1
Mar

2

3

4

5

6
7
8

9

10

11

12

13

14
15
16
17
18
19
20
21
22

Sheffield, The University of

Pay & equality + Pensions

week one: 20 & 21 February (Thurs-Fri) | week two: 24, 25 & 26 February (Mon-Wed) | week three: 2, 3, 4 & 5 March (Mon-Thurs) | week four: 9, 10, 11, 12 & 13 March (Mon-Fri)
Mo
Tu
We
Th
Fr
Sa
Su
Feb
17
18
19

20

21

22
23

24

25

26

27
28
29
1
Mar

2

3

4

5

6
7
8

9

10

11

12

13

14
15
16
17
18
19
20
21
22

SOAS, University of London

Pay & equality + Pensions

week one: 20 & 21 February (Thurs-Fri) | week two: 24, 25 & 26 February (Mon-Wed) | week three: 2, 3, 4 & 5 March (Mon-Thurs) | week four: 9, 10, 11, 12 & 13 March (Mon-Fri)
Mo
Tu
We
Th
Fr
Sa
Su
Feb
17
18
19

20

21

22
23

24

25

26

27
28
29
1
Mar

2

3

4

5

6
7
8

9

10

11

12

13

14
15
16
17
18
19
20
21
22

Southampton, The University of

Pay & equality + Pensions

week one: 20 & 21 February (Thurs-Fri) | week two: 24, 25 & 26 February (Mon-Wed) | week three: 2, 3, 4 & 5 March (Mon-Thurs) | week four: 9, 10, 11, 12 & 13 March (Mon-Fri)
Mo
Tu
We
Th
Fr
Sa
Su
Feb
17
18
19

20

21

22
23

24

25

26

27
28
29
1
Mar

2

3

4

5

6
7
8

9

10

11

12

13

14
15
16
17
18
19
20
21
22

St Andrews, The University of

Pay & equality + Pensions

week one: 20 & 21 February (Thurs-Fri) | week two: 24, 25 & 26 February (Mon-Wed) | week three: 2, 3, 4 & 5 March (Mon-Thurs) | week four: 9, 10, 11, 12 & 13 March (Mon-Fri)
Mo
Tu
We
Th
Fr
Sa
Su
Feb
17
18
19

20

21

22
23

24

25

26

27
28
29
1
Mar

2

3

4

5

6
7
8

9

10

11

12

13

14
15
16
17
18
19
20
21
22

St Mary's University College, Belfast

Pay & equality

week one: 20 & 21 February (Thurs-Fri) | week two: 24, 25 & 26 February (Mon-Wed) | week three: 2, 3, 4 & 5 March (Mon-Thurs) | week four: 9, 10, 11, 12 & 13 March (Mon-Fri)
Mo
Tu
We
Th
Fr
Sa
Su
Feb
17
18
19

20

21

22
23

24

25

26

27
28
29
1
Mar

2

3

4

5

6
7
8

9

10

11

12

13

14
15
16
17
18
19
20
21
22

Stirling, The University of *

Pay & equality + Pensions

week two: 24, 25 & 26 February (Mon-Wed) | week three: 2, 3, 4 & 5 March (Mon-Thurs) | week four: 9, 10, 11, 12 & 13 March (Mon-Fri) | week five: 16 & 17 March (Mon-Tues)
Mo
Tu
We
Th
Fr
Sa
Su
Feb
17
18
19

20

21

22
23

24

25

26

27
28
29
1
Mar

2

3

4

5

6
7
8

9

10

11

12

13

14
15

16

17

18
19
20
21
22

Strathclyde, The University of

Pay & equality + Pensions

week one: 20 & 21 February (Thurs-Fri) | week two: 24, 25 & 26 February (Mon-Wed) | week three: 2, 3, 4 & 5 March (Mon-Thurs) | week four: 9, 10, 11, 12 & 13 March (Mon-Fri)
Mo
Tu
We
Th
Fr
Sa
Su
Feb
17
18
19

20

21

22
23

24

25

26

27
28
29
1
Mar

2

3

4

5

6
7
8

9

10

11

12

13

14
15
16
17
18
19
20
21
22

Sussex, The University of

Pay & equality + Pensions

week one: 20 & 21 February (Thurs-Fri) | week two: 24, 25 & 26 February (Mon-Wed) | week three: 2, 3, 4 & 5 March (Mon-Thurs) | week four: 9, 10, 11, 12 & 13 March (Mon-Fri)
Mo
Tu
We
Th
Fr
Sa
Su
Feb
17
18
19

20

21

22
23

24

25

26

27
28
29
1
Mar

2

3

4

5

6
7
8

9

10

11

12

13

14
15
16
17
18
19
20
21
22

University of the Arts London (UAL)

Pay & equality

week one: 20 & 21 February (Thurs-Fri) | week two: 24, 25 & 26 February (Mon-Wed) | week three: 2, 3, 4 & 5 March (Mon-Thurs) | week four: 9, 10, 11, 12 & 13 March (Mon-Fri)
Mo
Tu
We
Th
Fr
Sa
Su
Feb
17
18
19

20

21

22
23

24

25

26

27
28
29
1
Mar

2

3

4

5

6
7
8

9

10

11

12

13

14
15
16
17
18
19
20
21
22

Ulster, The University of

Pay & equality + Pensions

week one: 20 & 21 February (Thurs-Fri) | week two: 24, 25 & 26 February (Mon-Wed) | week three: 2, 3, 4 & 5 March (Mon-Thurs) | week four: 9, 10, 11, 12 & 13 March (Mon-Fri)
Mo
Tu
We
Th
Fr
Sa
Su
Feb
17
18
19

20

21

22
23

24

25

26

27
28
29
1
Mar

2

3

4

5

6
7
8

9

10

11

12

13

14
15
16
17
18
19
20
21
22

University College London (UCL) *

Pay & equality + Pensions

week two: 24, 25 & 26 February (Mon-Wed) week three: 2, 3, 4 & 5 March (Mon-Thurs) week four: 9, 10, 11, 12 & 13 March (Mon-Fri) week five: 19 & 20 March (Thurs-Fri)
Mo
Tu
We
Th
Fr
Sa
Su
Feb
17
18
19

20

21

22
23

24

25

26

27
28
29
1
Mar

2

3

4

5

6
7
8

9

10

11

12

13

14
15
16
17
18

19

20

21
22

Wales, The University of

Pay & equality + Pensions

week one: 20 & 21 February (Thurs-Fri) | week two: 24, 25 & 26 February (Mon-Wed) | week three: 2, 3, 4 & 5 March (Mon-Thurs) | week four: 9, 10, 11, 12 & 13 March (Mon-Fri)
Mo
Tu
We
Th
Fr
Sa
Su
Feb
17
18
19

20

21

22
23

24

25

26

27
28
29
1
Mar

2

3

4

5

6
7
8

9

10

11

12

13

14
15
16
17
18
19
20
21
22

Warwick, The University of

Pay & equality + Pensions

week one: 20 & 21 February (Thurs-Fri) | week two: 24, 25 & 26 February (Mon-Wed) | week three: 2, 3, 4 & 5 March (Mon-Thurs) | week four: 9, 10, 11, 12 & 13 March (Mon-Fri)
Mo
Tu
We
Th
Fr
Sa
Su
Feb
17
18
19

20

21

22
23

24

25

26

27
28
29
1
Mar

2

3

4

5

6
7
8

9

10

11

12

13

14
15
16
17
18
19
20
21
22

Winchester, University of

Pay & equality

week one: 20 & 21 February (Thurs-Fri) | week two: 24, 25 & 26 February (Mon-Wed) | week three: 2, 3, 4 & 5 March (Mon-Thurs) | week four: 9, 10, 11, 12 & 13 March (Mon-Fri)
Mo
Tu
We
Th
Fr
Sa
Su
Feb
17
18
19

20

21

22
23

24

25

26

27
28
29
1
Mar

2

3

4

5

6
7
8

9

10

11

12

13

14
15
16
17
18
19
20
21
22

York, The University of

Pay & equality + Pensions

week one: 20 & 21 February (Thurs-Fri) | week two: 24, 25 & 26 February (Mon-Wed) | week three: 2, 3, 4 & 5 March (Mon-Thurs) | week four: 9, 10, 11, 12 & 13 March (Mon-Fri)
Mo
Tu
We
Th
Fr
Sa
Su
Feb
17
18
19

20

21

22
23

24

25

26

27
28
29
1
Mar

2

3

4

5

6
7
8

9

10

11

12

13

14
15
16
17
18
19
20
21
22
Last updated: 14 February 2020