•
•
•
Strikes at nine further education colleges in pay row
5 February 2009
| last updated: 11 December 2015
Nine colleges across the country will be brought to a standstill today in a row over their failure to honour a pay deal agreed over four years ago.
Members of UCU will be out in force on picket lines at the nine colleges hit by the action which are Croydon, Greenwich, College of North West London, Dearne Valley, Doncaster, Rotherham, Sandwell, Sussex Downs, and Askham Bryan.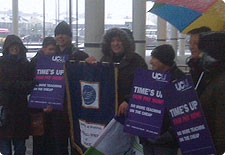 UCU members on the picket line at Doncaster College All nine colleges have categorically refused to honour a ground-breaking national pay deal, which was thrashed out in 2004. The deal should have a left a mid-ranking further education lecturer earning £4,511 more a year. The union has described the failure by those colleges still to honour the deal as one of the longest IOUs from management to staff in the history of industrial relations.
Industrial action has been suspended at two further colleges that were originally targeted by the union. At Nelson and Colne College and Evesham College an agreement has been reached in principle and further talks will now talk place between the union and the colleges to discuss the finer details.

UCU general secretary, Sally Hunt, said: 'The colleges only have themselves to blame for today's disruption. The staff are not greedy; they are merely asking for the money they should have been paid four years ago. It is the intransigence of the "IOU colleges" that has pushed members' patience too far and forced them into today's industrial action.

'Nobody involved with any of the colleges wants to see industrial action and once we again ask the colleges to now sit down with us and discuss ways to resolve the issue and avoid any further unnecessary disruption. Flexible agreements have been agreed at a host of other colleges with serious financial difficulties to implement the deal.'