•
•
•

The Friday email: 18 June 2021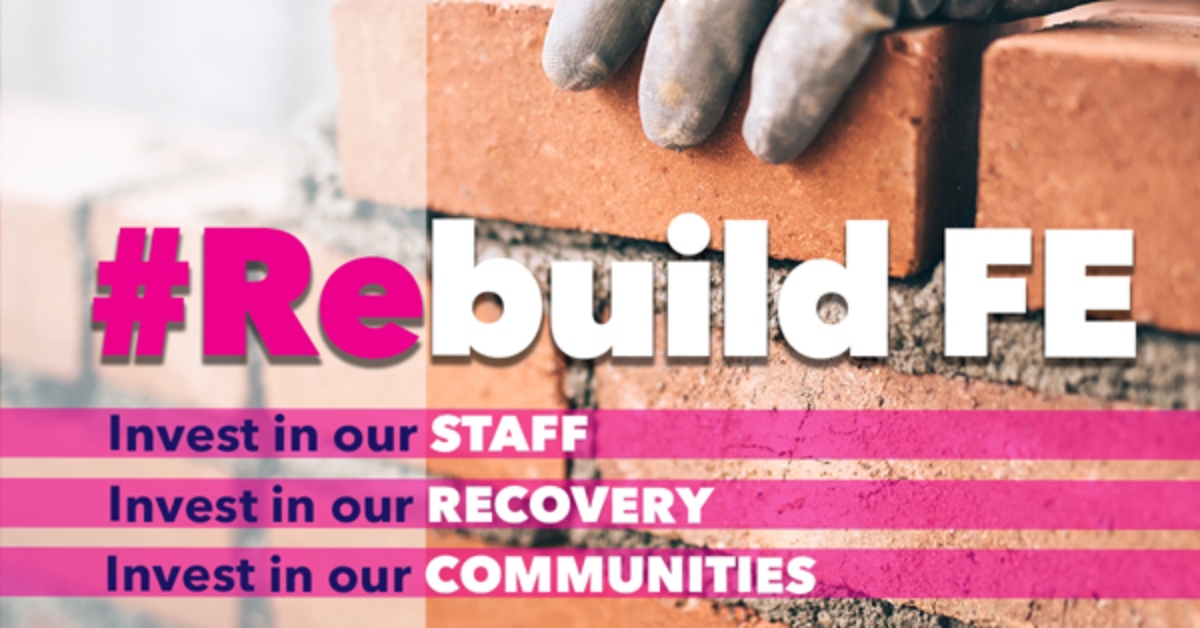 The Friday email: 18 June 2021
Further education: pay, workload and professional autonomy
UCU Congress recently voted on a range of issues affecting college staff including on pay, workload and professional autonomy and further education (FE) branches have also been asked to hold meetings to update members. Please do attend your local meeting, ask questions and get involved.

As part of the #RebuildFE campaign UCU members in eleven colleges in England are currently being balloted for industrial action. If your branch is included, please remember to complete and send back your vote.
Higher education pay and pensions: next steps
Congress also made some key decisions about issues facing the higher education sector and you can see voting results here. To build a broad understanding of and support for UCU's campaigns over pay and pensions, UCU branches in universities are asked to hold meetings open to all members to report back the outcomes of Congress and answer questions. Please try to attend your local branch meeting and help build the member level campaign that will be crucial in winning the battles ahead.

Find out how proposed changes to the Universities Superannuation Scheme (USS) will affect your pension and share the result with #NotTodayUUK.
Liverpool UCU marking boycott over job cuts
As part of the campaign to save jobs in health and life sciences, today UCU members at University of Liverpool start a marking boycott which follows an amazing three week strike over proposed redundancies. Please send messages of support to University of Liverpool UCU branch president Anthony O'Hanlon. A.M.O-Hanlon@liverpool.ac.uk
UCU members fighting back
UCU branches across the UK are fighting to defend jobs and conditions and you can read our roundup of local disputes including the latest ballot at University of Hull here.
Justice for Osime Brown
We are very pleased to report that Osime Brown, a young boy with autism and learning difficulties, will be allowed to remain with his family following a Home Office decision to withdraw the deportation order. Osime had served a prison sentence under the disputed joint enterprise policy and was due to be deported to Jamaica but a campaign supported by UCU has succeeded in ensuring Osime will now remain at home in Dudley with his mother.
Stand up to University College Birmingham attacks on staff
Please sign the UCU petition opposing a restructure at UCB which places 73 senior lecturers at risk of redundancy and requires staff to re-apply for 42 new senior lecturer roles which have increased workload with no additional pay. Other staff not at risk have been given new job descriptions which with huge increases in workloads and little possibility of future promotion. UCB plans to bridge the shortfall in staff by using more Graduate Teaching Assistants (GTAs) and lecturers at the bottom of the pay spine.
University of Leicester: marking boycott could delay graduation
Please continue to boycott University of Leicester and show your support for staff fighting job cuts. UCU members have taken strike action and are now undertaking a marking and assessment boycott which it was reported this week could delay graduation if management do not change course and negotiate a way forward with the union.
Mental Health Matters: suicide awareness webinar, 29 June
Join a great range of speakers including UCU president elect Janet Farrar for this Mental Health Matters online even discussing suicide awareness with a look at some of the organisations who provide life-saving support to those who need it. Tuesday 29 June, 4.30pm-5.30pm register here.
UCU LGBT+ research conference call for papers
UCU LGBT+ research conference will be held online over 3 days during the first week of November 2021. This notice announces the opening of the call for papers. For further information and to submit a proposal please use this link.
Last updated: 18 June 2021