•
•
•
•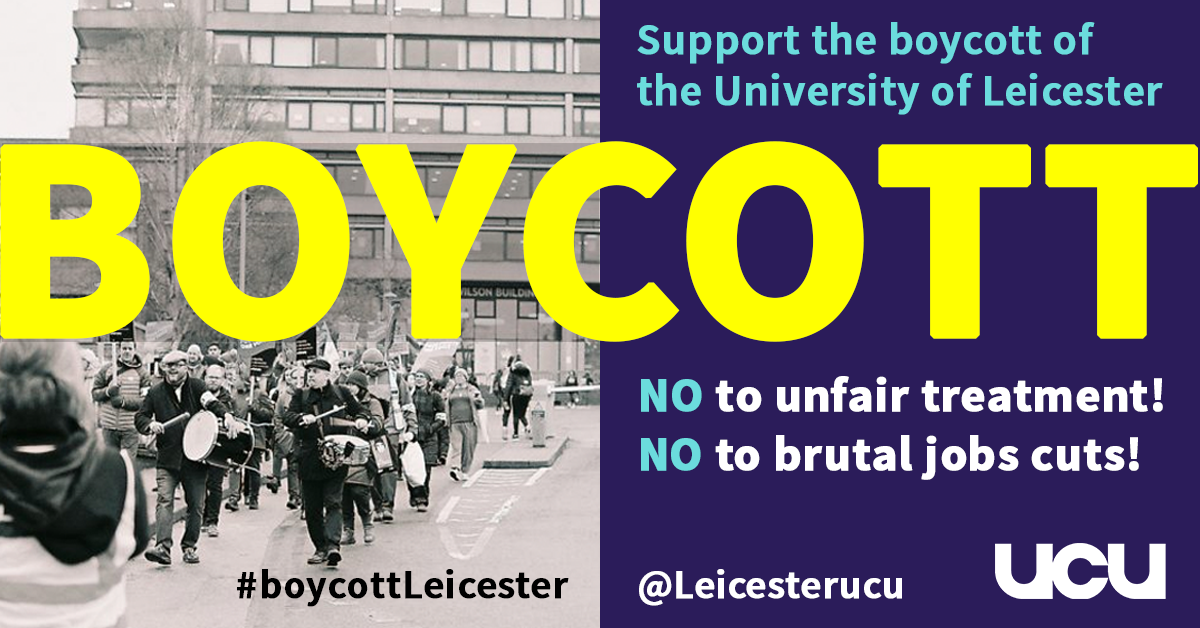 Don't let Leicester get away with this!
18 May 2021
| last updated: 21 May 2021
An injury to one is an injury to all, and this week we are calling on every UCU member to actively demonstrate how seriously we take this by registering their support for our colleagues at the University of Leicester.
The outpouring of support we have already seen has been immense, but it is imperative that we escalate our action to increase the pressure on management.

The attacks we have seen at Leicester is a culmination of some of the most egregious trends in the sector being implemented by cry-baby bullies. After targeting staff because of their research specialism the university has since moved to replace them with lower paid staff on 5 month contracts.

If we, as a union, tolerate these attacks, they will be repeated elsewhere. If you need reminding of some of the other disgraceful reasons members have been made redundant at Leicester please see the branch website.

What can you do?

Help us send a message and get #BoycottLeicester trending every day this week!

Every day this week we are calling on members to take small but important actions between 12-2pm to raise the profile of this dispute on the international stage. Please use your international networks, use your professional networks, reach out to colleagues in your department, your school, your institution, your college, every day to make sure everyone you know has registered their disgust and support for the boycott of Leicester.

From now until Friday, between 12-2pm, please be creative, tweet your own home made signs, messages of solidarity, tweet your resignation letters and feel free to engage in the many online activities our pet owning members have developed; and please use #BoycottLeicester.

Please retweet any #BoycottLeicester tweets you see.
In addition, on Wednesday, please email the university's president and vice-chancellor Nishan Canagarajah (vc@leicester.ac.uk), and Gary Dixon (gd104@leicester.ac.uk), who chairs university council. Please Tweet #BoycottLeicester when you have taken this action.
On Thursday - please use and share our template letters for students, alumni, honorary graduates, partner institutions, external examiners or anyone due to take part in a University of Leicester organised event. Please Tweet #BoycottLeicester when you have taken this action.
On Friday - please share this social media graphic, tagging @UniOfLeicester, @NCanagarajah and @LeicesterUCU and use the hashtag #BoycottLeicester
Thank you to everyone who has supported our global boycott of the University of Leicester so far, please help us elevate the prominence of this campaign, and prevent any other vice-chancellors seeking to repeat these disgraceful actions.

Thank you

Jo Grady
UCU general secretary