•
•
•

The Friday email: 26 February 2021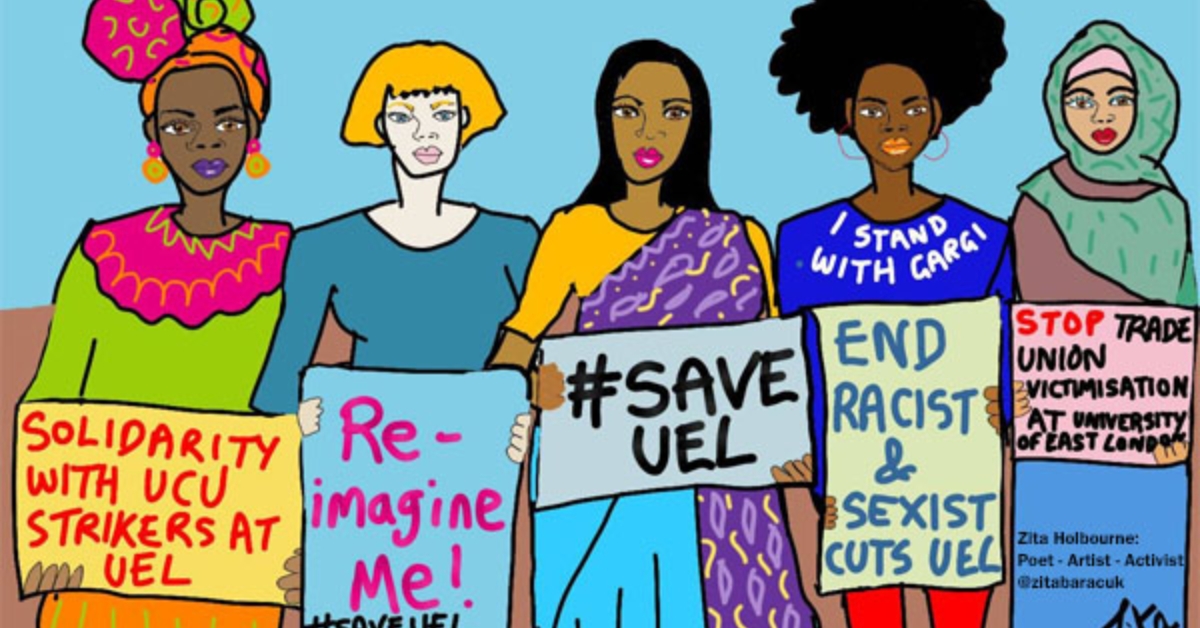 The Friday email: 26 February 2021
UCU members fighting back
UCU branches across the UK are fighting to defend jobs and conditions and you can read our roundup of local disputes including this week's strike action at University of East London here.
Covid crisis: Jo Grady speaks out on BBC Question Time
Our general secretary Jo Grady appeared on BBC Question Time last night and answered questions on the PPE shortage, the idea of summer schools for student catch-up, the idea of vaccination passports, and the lack of government support for workers throughout the Covid-19 pandemic. Catch up on the highlights here.
Meanwhile commenting on this week's government announcement on the easing of lockdown restrictions, UCU has responded by insisting that any wider reopening of college and university campuses from 8 March is irresponsible and risks undoing the country's hard work to get Covid-19 rates down. Full statement here and all our guidance and information on the pandemic is here.
Northern Ireland further education staff pay dispute
UCU has declared a dispute and is considering industrial action over staff pay across all six Northern Ireland further education colleges. Colleges have offered a pay increase of 7% over the next four years which amounts to an annual pay rise of just 1.2% over a nine-year period and a real terms pay cut. Jo Grady said: 'On top of their usual vital work, our members in colleges across Northern Ireland have worked flat out to support students throughout the pandemic. They deserve fair pay just as much as school teachers and NHS staff.'
Prison education - has your MP signed the motion?
UCU has worked with MPs in Westminster to get a parliamentary motion tabled calling for more investment in prison education technology and greater support for staff and prisoners.
Please contact your own MP and encourage them to add their name to the current list of signatories, you can find your MP's contact details here.
Rally for a Workers' Budget, 7.30-9pm, 2 March
The night before Rishi Sunak's budget, Jo Grady will join others to demand a workers' budget!
As the pandemic rages, unemployment rises and thousands are forced to work in unsafe conditions, unions are campaigning for a pay rise for all our key workers, safe workplaces and decent sick pay for all. Sign up now and save a place at the online rally.
Capturing migrant members' experience of the immigration system
UCU is currently supporting some research into migrants' experiences of the UK immigration system; if you'd be willing to be interviewed for this, or for similar research in the future, please email.
Stand Up To Racism trade union conference tomorrow
Saturday 27 February 2021, 11.00am to 3.00pm. UCU members speaking include Victoria Showunmi, UCU NEC and black members committee and Naina Kent on challenging the legacy of empire and slavery: decolonise education. Details and registration here.
LGBT+ mental health webinar Wednesday 17 March, 4pm
UCU LGBT+ will host an online event about LGBT+ mental health on Wednesday 17 March 2021, 4.00- 5.30pm.
Last updated: 26 February 2021