•
•
•
•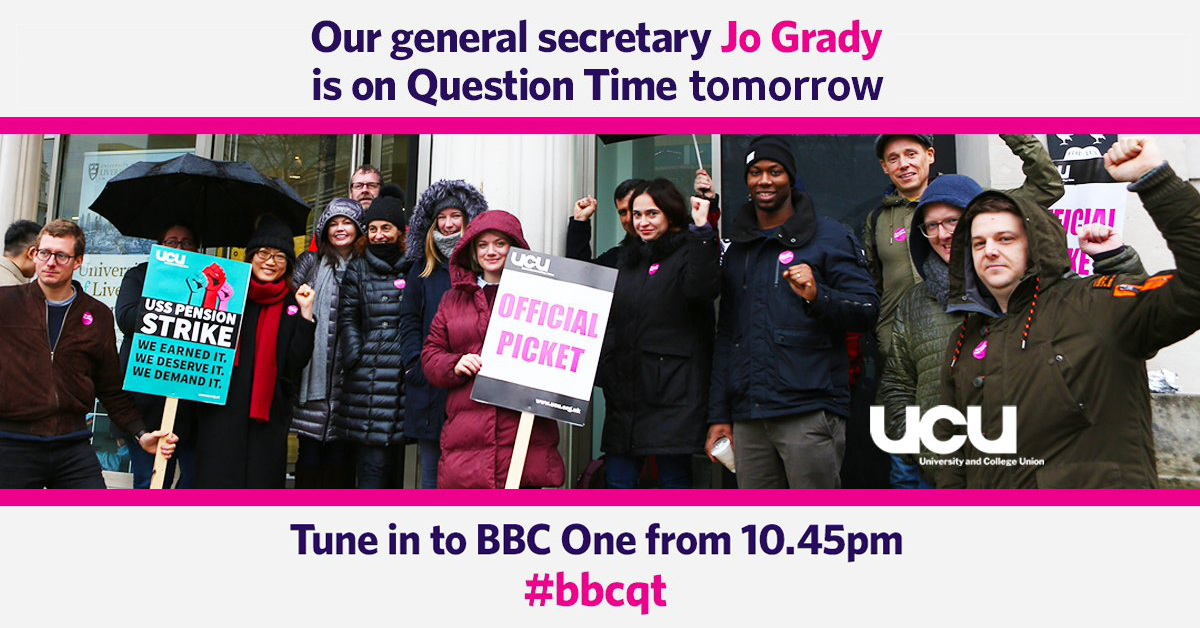 UCU on Question Time, Thursday 10:45pm
24 February 2021
| last updated: 25 February 2021
Tomorrow (Thursday) at 10:45pm, I will be representing UCU on Question Time on BBC One.
Trade unions and the workers they represent are rarely platformed in mainstream political discussion. The fact that UCU has been invited reflects the amazing work which everyone in this union has done throughout the pandemic: to stand up for health and safety, defend jobs, and advance the interests of our students as well as ourselves. The prominence we've achieved in the national media will continue on Thursday, and as ever I will do my best to speak up for workers across our sectors and across the trade union movement.
Please do tune in watch from 10:45pm. If you are on Twitter, use the #bbcqt hashtag to take part in the discussion and tag the @UCU account. It would be great to see masses of UCU members joining in and drawing attention to what is happening in your workplaces.
Covid has laid bare so many problems across our sectors and in society and this week's programme will undoubtedly focus on the immense obstacles facing the government's roadmap out of lockdown. I'll do my best to speak about these during the show, but nobody is better placed to educate the public about the state of our sectors than the people working in them.
NEC elections
Don't forget to vote in UCU's annual elections for seats on the national executive committee (NEC). Tomorrow (Thursday) is the last date you can safely post your ballot paper in your return envelope before the election closes on Tuesday 2 March.
These elections are your annual opportunity to determine who sits on that committee and makes decisions in your name. The higher the turnout, the stronger the democratic mandate NEC members will have to represent you with. For full details of the elections, click here.
Rally for a workers' budget
Finally, I will be speaking alongside the shadow chancellor and other speakers at an online Rally for a Workers' Budget organised by the Trades Union Congress (TUC) next Tuesday, 2 March, from 7:30pm - the night before the chancellor delivers his budget. Please join us by registering for the event here.
Jo Grady
UCU general secretary